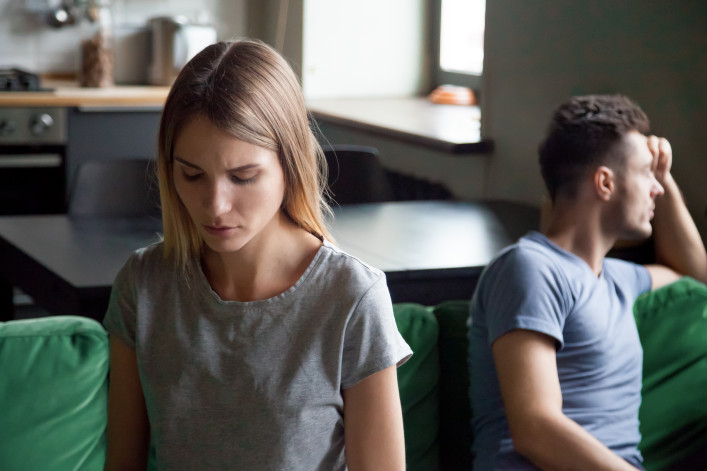 Buying and selling your apartment in NYC is complicated enough but divorce throws another wrench in the works. To a buyer, it may not be obvious at first that an apartment you're considering is being sold because of a divorce, but if you do find that out, you can expect negotiations to be slower than usual and viewings possibly to be a bit more complicated.
Sellers don't need to give away the reason for their apartment sale and most brokers know that disclosing personal information like this could affect the deal. A buyer's broker will, however, do what they can to find out about the circumstances of the sale. Michael Holt, an agent with Halstead, says he is often surprised by how many agents do disclose it. To him, "it's a flashing sign saying, 'motivated.'" 
The priority for the seller's agent is to establish whether there is a legal document, either a settlement or decree, dividing the asset between the divorcing couple. Aleksandra Scepanovic, managing director of Ideal Properties Group, says if the agreement is contested "a divorce can affect a property's sale, primarily by the introduction of a pair of adversarial sellers."  
Brokers with experience in these types of sales say if you're buying from a divorcing couple, the main issue is to be prepared for possible indecisiveness and delays.  
A longer timeframe for the deal
Divorce is often accompanied by a breakdown in communication. "There's usually a lot of emotions and opinions flying around on the selling side that can make the communication process a bit slower," says Holt.  
It's possible a buyer needs to be a little more patient in these circumstances but Holt says there shouldn't be a concern regarding any legal pitfalls. "A divorce sale will be treated just like any other transaction in NYC with the buyer having an attorney, title agent, and real estate professional," he says.
Difficulties for the seller's agent
A seller's agent will likely take the brunt of the discord. Mary Lou Currier, an agent with BOND New York, says when offers come in, the couple might disagree about what number to counter and this can delay the transaction. She says in some cases she has had to act as a therapist at times.
"Buyers and agents may notice that their presence represents loss and unhappiness and anyone who was living in the familial home may be resentful," she says. Her advice is to make one member of the couple the point person for the transaction. 
Leslie Penny, an agent with Halstead, says in her experience, one spouse is usually more upfront than the other. "The most important thing for a broker is to be honest with potential buyers and be as diplomatic as possible with the sellers so they understand that time can be of the essence," she says. 
The apartment may be messy
Showings are complicated when a couple is divorcing and selling an apartment. You may be hooked by the first showing, and surprised by a messy state on a follow-up visit.
"Oftentimes people in the throes of [divorce] may not have time to tend to the home or do much-needed repairs. In my case once the couple was living separately and the husband would entertain other women in the home and leave high heels, wine bottles and glasses strewn about," says Currier. On another deal, Currier says the seller's college-age daughter refused to leave her room for showings or allow buyers to see it. 
It's not unreasonable to think about saging the apartment to remove bad vibes once you buy an apartment from a divorced couple, says Currier.
Brick Underground articles occasionally include the expertise of, or information about, advertising partners when relevant to the story. We will never promote an advertiser's product without making the relationship clear to our readers.