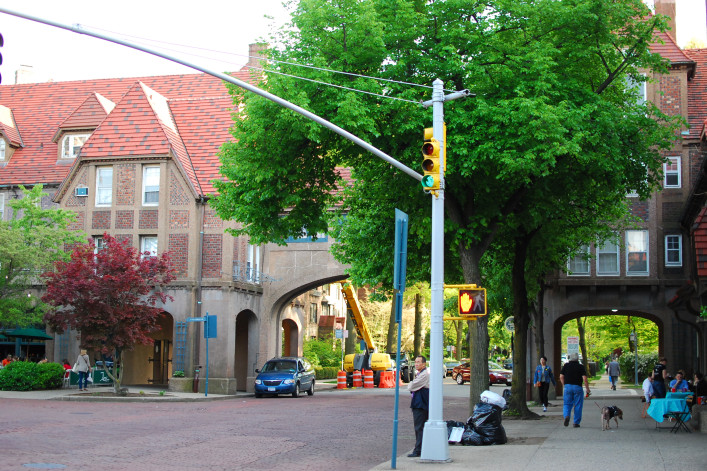 It's that time of year, when families leave the city en masse, trying to make it to greener pastures before the new school year begins. But what if you could stay in the city and still still reap some of the benefits of the suburbs—namely more space, a parking spot and some greenery?
Child-rearing in NYC doesn't have to mean cramming the family into cramped apartments or schlepping strollers down treacherous subway stairs: Some say that they've found a happy medium between city and suburban life, little corners of New York where they can split the difference between the two.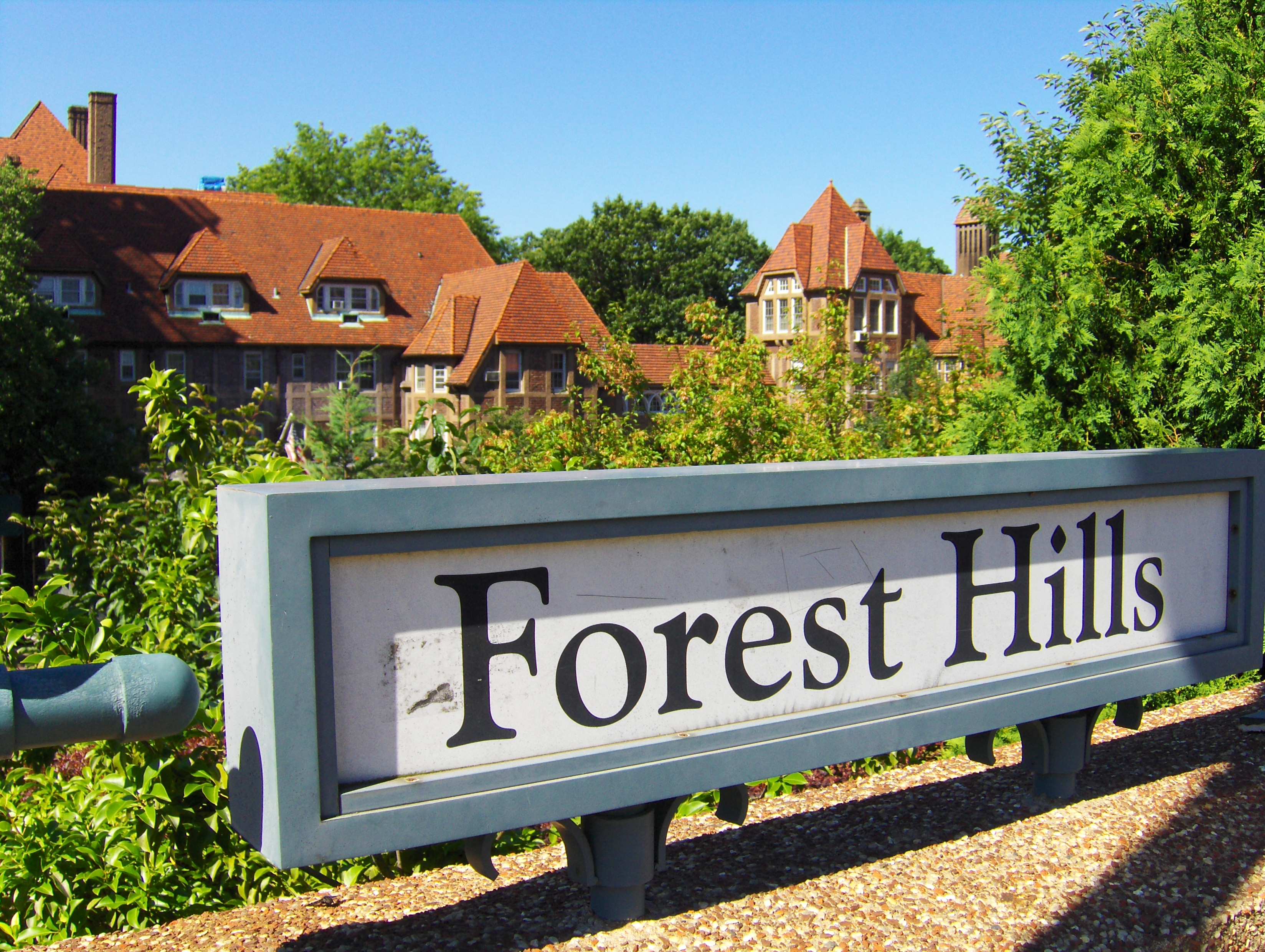 The Forest Hills LIRR station Peter Dutton
A supportive community in Forest Hills
When they started planning for a baby, Melanie Littman and her husband considered relocating to Long Island, where she grew up and where her parents still live. The idea of being near family who could help with childcare had some appeal, but ultimately, they found themselves reluctant to make the leap to a full-fledged suburban lifestyle. 
A few years before, the Littmans had moved to Forest Hills and felt quite comfortable there, so they started apartment hunting locally. "We found a great place with a lot of space in a good building, but it was a complete fixer-upper," she says. They had to move in with her parents for three months while they did a full renovation, and Littman says that the inconvenience was ultimately worth it. "We saw a lot of potential in the apartment," she says, "and living here when I had my baby was the best thing I could have done.
Forest Hills has a small-town feel, Littman says, and is the kind of place where parents take turns hosting their children's friends at their apartments and buzz on the street when a new restaurant is slated to open. The housing stock is mostly low-rise buildings and standalone houses, and many residents have lived there for decades. When the Littmans moved into their apartment, for instance, they replaced the original owner—who'd been living there since the property was built in 1944. "Within the first couple weeks after having the baby, I connected to a group of moms," Littman says. "Now I have a whole group of people I know who I run into all the time. I can meet up with them and play in the park or go to someone's apartment. I don't have to get into the car."
Unlike many other NYC neighborhoods, it is relatively easy to have a car here—the Littmans use the garage in their building—but there's also easy access to the F and E trains, as well as the Long Island Rail Road. And Forest Hills includes busy commercial areas along Queens Boulevard and Austin Street, which are lined with bars, restaurants, and retail. "There is definitely hustle and bustle, but if you walk two or three blocks, you'll find peace and quiet," Littman says.
One downside is that this best of both worlds scenario is attracting plenty of newcomers. "It's a draw for families," Littman says, and new businesses are popping up to cater to the young people moving in after being priced out of Manhattan and Brooklyn. (The New York Daily News was onto the trend in 2014, writing that Forest Hills was being refashioned with the opening of places like Keuka Café, a wine and oyster bar.) And the reopening of Forest Hills Stadium has made the area more of a nightlife destination, at least when big acts are in town.
As a result, some local schools are having trouble handling the influx of kids. "We're zoned for P.S. 196, which is supposedly a really great school, but they've been saying that the school is full and kids are being bused to other locations," Littman says.
For now, her child is only one and a half, and she has no plans to leave. "But my suspicion is that when my children are older and they start wanting to run around a little more, I might want the convenience of a backyard," Littman says—which could mean a move to the burbs after all.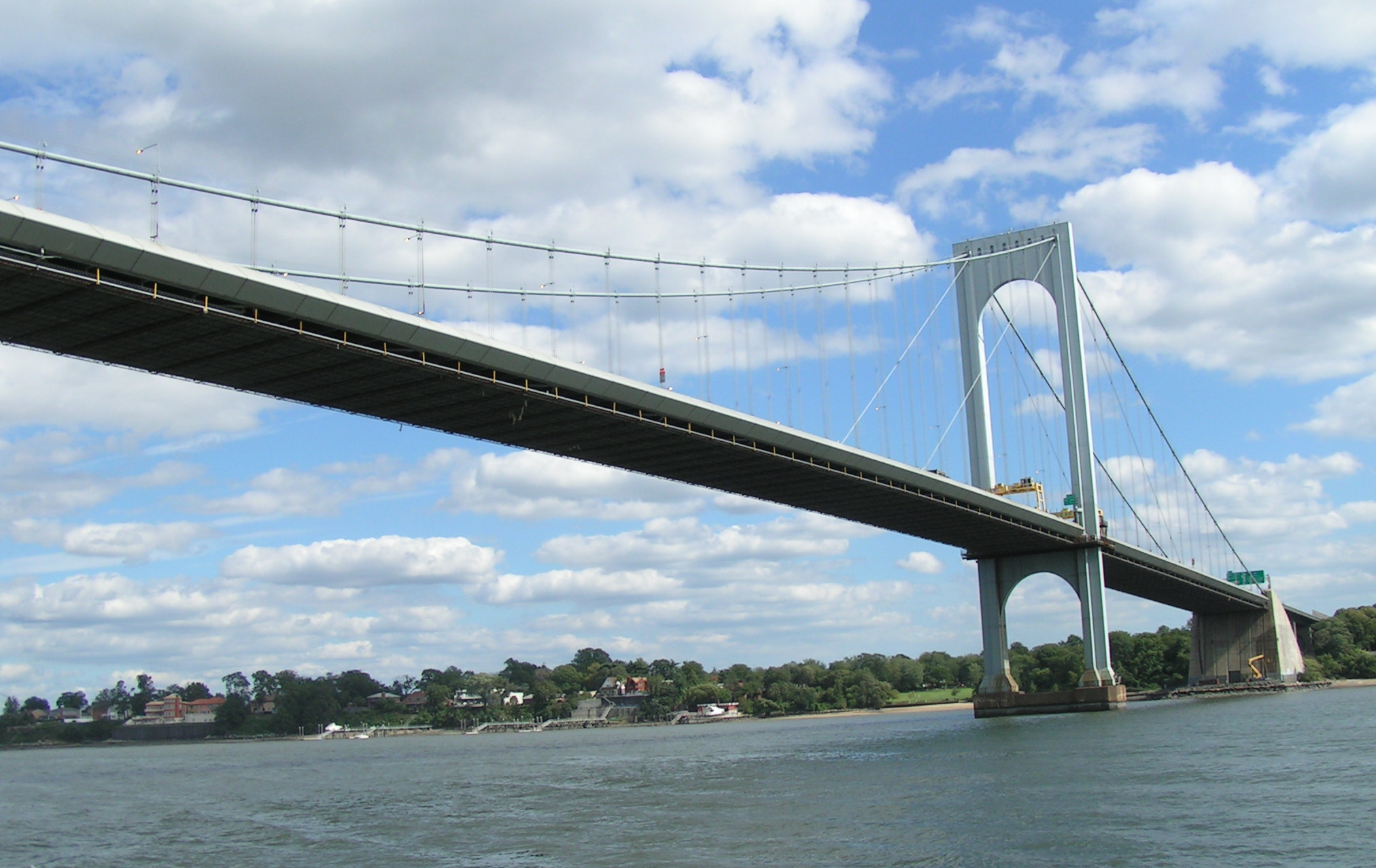 A view of the Whitestone Bridge from the Queens neighborhood reivax
The halfway point between NYC and Long Island
Whitestone sits at the northernmost corner of Queens, geographically not far from tony suburban enclaves like Kings Point on Long Island. Culturally, it occupies a space between the city and the burbs, too: Michelle Sedlitz, a broker for Citi Habitats who was born and raised in Whitestone and still lives there today, says, "people here are still living city life to a degree." At the same time, though, "we look out for each other here. On any given night, you'll be invited to someone's barbecue. You won't find those kind of relationships in other parts of the city."
Sedlitz characterizes the neighborhood as home to mostly middle- and upper-middle-class families, and says that its proximity to both the water and the Whitestone Bridge makes for a pretty, relaxing environment. (Francis Lewis Park offers picturesque views of the bridge, as well as places to play, kayak, and watch outdoor movies in the summer.)
Discover off-market properties in your dream neighborhood that perfectly suit your needs and budget.  Meet and deal with sellers before their apartment hits the market.
Let Triplemint's off-market team give you exclusive access to apartments in your price range and desired neighborhood that no one else has seen. More options, less competition, no bidding wars. 
Stand-alone, single-family homes—some of them quite sprawling—are plentiful, contributing to the suburb-in-the-city feel, though there are also co-op buildings like the waterfront Le Havre complex. "The houses really range in price depending on how close you are to the water," Sedlitz says. "The average three-bedroom, two-bathroom home can go for $900,000 to $1.2 million." 
Part of what you're paying for, Sedlitz says, is the sense of safety and neighborliness, a huge draw for families. "When neighbors go to the grocery store, they'll stop and ask if you need anything," she says. "People care about each other, and they're not afraid of each other."
Sedlitz works in the city and she says she tends to eat out more often in Manhattan; one potential downside is that there are fewer dining options in Whitestone. However, you'll find many eateries along 149th and 150th Streets, including Greek and Italian restaurants, bakeries, and a German beer garden.
Though Whitestone has no subways, the area is car-friendly—Sedlitz says it's a half-hour drive to Manhattan—and served by a number of buses. The Q15, for instance, will deliver you to Main Street in Flushing, and the plentiful retail and eating options there. And Queens Mamas notes the presence of several kid-friendly spots like a gymnastics center and Boosters Beach, a small beach for residents only.
Plus, area public schools are strong: P.S. 79, for instance, rates well above the city average for scores on the state math, ELA, and science exams. And nearby Bayside High School is considered one of the top-performing schools in the city, boasting a 92 percent graduation rate and several options for AP classes. All that means that people tend to stick around. "People don't really want to leave, because they know it's a good place to raise a family," Sedlitz says.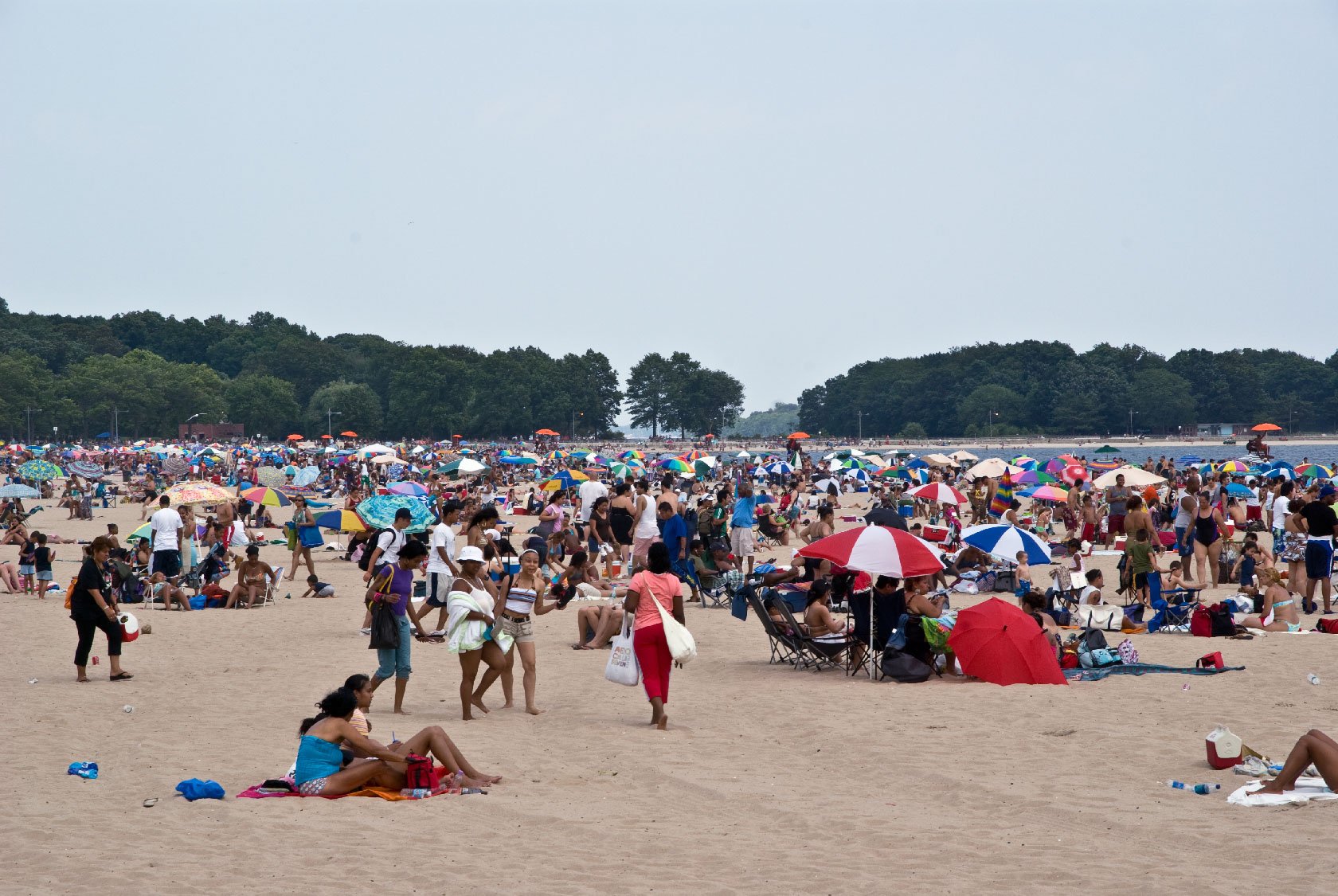 Orchard Beach, part of Pelham Bay park Dan DeLuca
A Bronx tale 
"We've never been so busy within the Bronx before," says Rup Singh, a Douglas Elliman broker who, with business partner John Lajara, represents lower Westchester and the Bronx. "We sold 56 homes in the area this last year."
Riverdale is well-known as one of the borough's most suburb-like, family-friendly enclaves, but Singh cites the neighborhoods of Morris Park, Pelham Bay, and Country Club, in the eastern Bronx, as an area that has become very appealing to young New Yorkers with children. Country Club in particular is "a family-oriented neighborhood," Singh says. "It's like a city within the city where you can be part of a community. There are parks and events for children, and homes have backyards and driveways."  
The neighborhood is right on Eastchester Bay, facing City Island; its name, evocative of a cloistered, upscale club, is reflected in its grand waterfront properties. There are also plenty of single- and multi-family homes, many of which are in the $450,000 to $550,000 range, Singh says, and inventory moves fast. Prospective renters will find much more reasonable deals than they would in Manhattan or Brooklyn, he says, with three-bedrooms available for between $2,000 and $2,300 per month.
Singh has noticed millennials buying multi-family properties in the area, and offsetting their expenses by bringing in rental income; the convenience is a big attraction, as well. "You can take the train or bus to the city, you don't need a car, and you're near everything," he says. "You won't get that feeling anywhere else."
To the north and east of Country Club, Pelham Bay and Morris Park are a bit cheaper. The New York Times called the former, right at the end of the 6 train line, "an intriguing blend of the urban and the suburban," and its proximity to Pelham Bay Park and Orchard Beach means solid recreational options for families. Morris Park, meanwhile, has a cozy feel thanks to zoning laws restricting its density, the Times says, and its many long-term residents take pride in maintaining a strong sense of community. Plus, the area borders the Bronx Zoo and the Botanical Garden, so there's no shortage of outdoor activities available for families.
Another enticing aspect of settling here? Property taxes are low—from $2,000 to $4,000 per year, Singh says. Just over the border in Westchester County, meanwhile, homeowners are paying as much as $13,000, the highest in the U.S., USA Today reports. But young families throughout the city are taking notice, Singh says: "This is the time to make that move."
**This story originally ran on July 16, 2016.
Brick Underground articles occasionally include the expertise of, or information about, advertising partners when relevant to the story. We will never promote an advertiser's product without making the relationship clear to our readers.