During the 19th century, the northwest Bronx neighborhood of Riverdale was a popular summer destination for the wealthy, who found a welcome retreat along the Hudson shoreline. Riverdale's opulent history is still palpable in the leafy historic district of Fieldston, with its sprawling mansions, but affordable options for buyers also abound. The neighborhood's variety is evident in the many different celebrities, from John F. Kennedy to Arturo Toscanini to Kool Keith, who grew up or spent time here.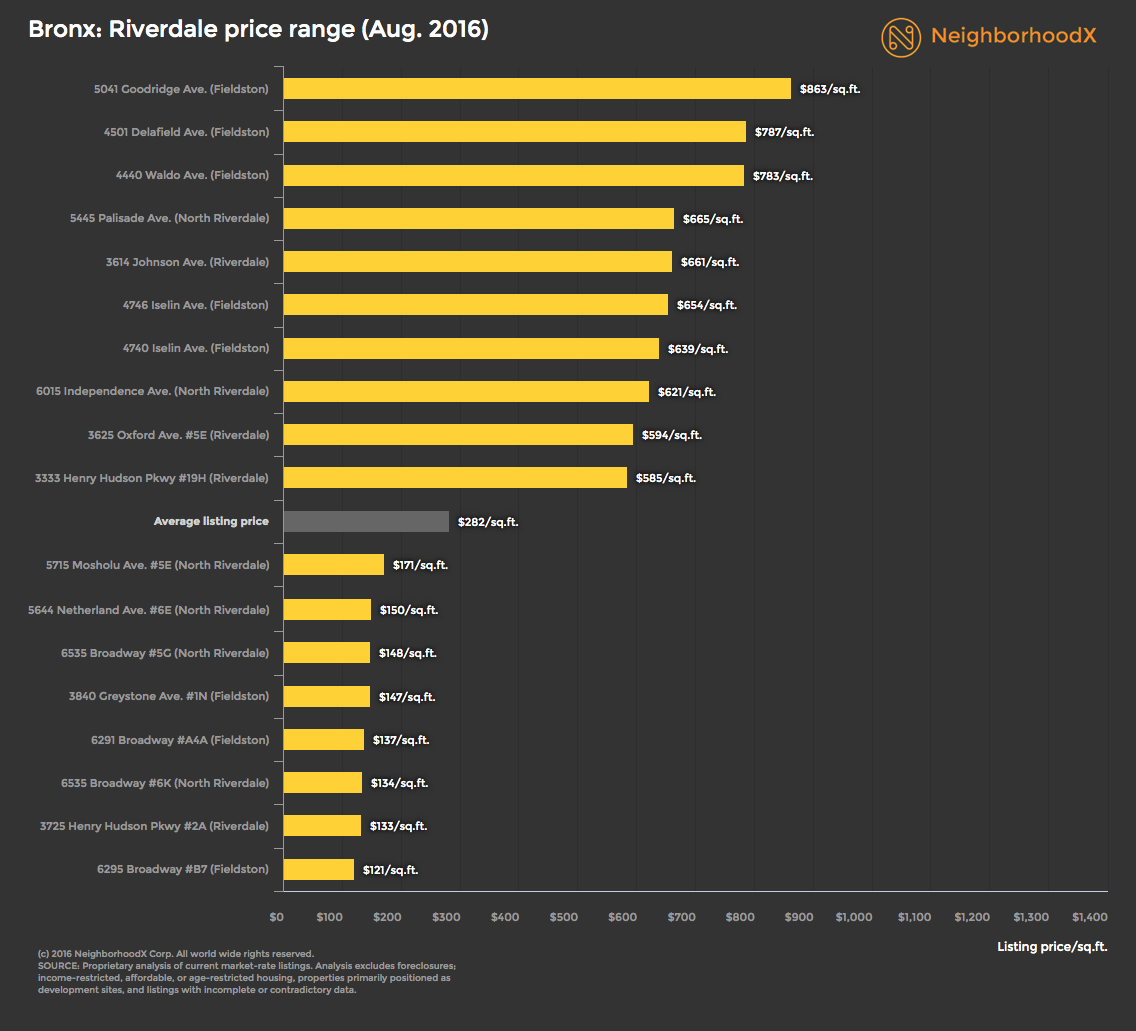 Data site NeighborhoodX analyzed the price range of Riverdale homes currently on the market (explore an interactive version here), and the findings reveal a corner of New York in which buyers can find everything from yes, a $65,000 studio to a $7.75 million, eight-bedroom estate. 
The numbers paint a promising picture of a neighborhood where New Yorkers on tight budgets have choices—and could settle in for the long term, says Constantine Valhouli, founder of NeighborhoodX. "It's a sign of a healthy, heterogenous neighborhood where you have a diversity of income," he says of Riverdale's price range, noting that a buyer could start with that $65,000 studio, and as their earnings increase, upgrade to a two-bedroom for under $200,000.
"Different neighborhoods appreciate in different ways," said Valhouli, citing Williamsburg as a neighborhood that was undervalued, despite its proximity to Manhattan, until the late 1990s, when a burgeoning dining, shopping, and nightlife scene put it on people's radar. Riverdale, by contrast, may be an example of a neighborhood that is already stable and desirable, so prices may rise more slowly.
Looking at the prices for homes in Riverdale is like "traveling back in time to 1995," Valhouli says. "There are people who feel stuck, but if they acknowledge that they're priced out of places like Gramercy Park and Williamsburg, depending on where they work, this is more than a viable alternative."
And the average listing price—$282 per square foot—comprises a dramatic spectrum of properties. A prospective buyer on a budget who is considering entering the neighborhood via one of the more affordable homes should be encouraged by the fact that "someone is willing to pay $7.75 million to live up the road," Valhouli points out. He calls this an "anchor of affluence" that suggests the neighborhood will remain desirable for years to come. 
That said, Riverdale covers a large area, within which you'll find micro-neighborhoods like Fieldston and Spuyten Duyvil. "Each sub-neighborhood has its own distinct characteristics, and in some ways is its own market," Valhouli says. "One set of buyers may prefer a more developed part of the neighborhood as it offers more nightlife options, while another prefers the seclusion and peace of a larger estate in a less densely-developed section."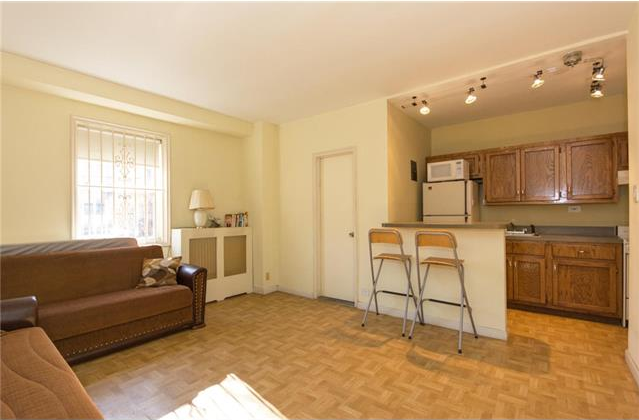 So what will you find at the cheaper end? This north Riverdale studio at 6291 Broadway, listed for $55,000 or $121 per square foot, offers just the basics. But for someone willing to put in the work to renovate, the 533-square foot unit could be a solid starter apartment: the monthly maintenance is a mere $537, and the property is steps from Van Cortlandt Park, as well as close to several highways, making for a quick commute for drivers. "You can find tremendous bargains if you're willing to put the time in," Valhouli notes.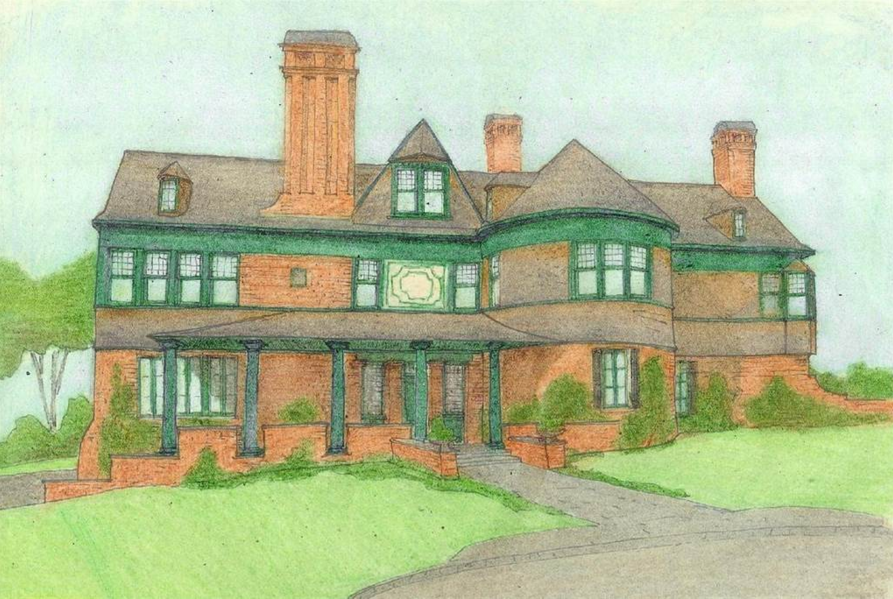 Meanwhile, at the opposite end of the spectrum is this yet-to-be-built estate at 5041 Goodridge Avenue, listed for $7.75 million or $863 per square foot. The eight-bedroom, six-bathroom mansion will sit on a compound that includes an in-ground swimming pool, front and back porches, a vast lawn and gardens, and a three-car garage. 
The listing notes that the home will be positioned at the highest elevation in the borough, which makes sense, Valhouli says: The Bronx was developed before it was common to use dynamite to level geography, so unlike mostly flat Manhattan, the borough features hilly terrain and winding roads. At the highest points in Riverdale, you might have views of the Hudson and the Palisades as well as of the city—which naturally brings up the prices. The varied landscape "takes on characteristics of both Westchester and the city," Valhouli says. "It's an interesting overlap you don't often see." 
Right around the median, you'll find options like this two-bedroom co-op at 645 West 239th Street, listed for $235,000 or $261 per square foot. The junior-four includes a recently renovated kitchen and bathroom, new hardwood floors, and relatively low monthly maintenance charges at $747. The space looks friendly to young families, in close proximity to parks and schools. 
Though some New Yorkers may consider Riverdale to be at the edge, both physically and conceptually, of what's truly "in the city," Valhouli points out that there's a full, thriving community already there. He notes that Columbia houses faculty in the neighborhood, and that one area quirk is the presence of the official residence of the Russian mission to the U.N.—which has also inspired plenty of storytelling about espionage. Another neighborhood perk are the public gardens at Wave Hill, which further bolster Riverdale's suburban feel. 
Valhouli predicts that while places like Mott Hill may start taking on an artsy, early-Williamsburg vibe, Riverdale will "develop in different ways and for different reasons from the South Bronx—it may become more like Park Slope," he says. 
In which case, taking the long view and buying in Riverdale could turn out to be a very wise investment. 
Brick Underground articles occasionally include the expertise of, or information about, advertising partners when relevant to the story. We will never promote an advertiser's product without making the relationship clear to our readers.