Park Slope figures prominently in many New Yorkers' imaginations as a picturesque Brooklyn neighborhood, chock full of classic brownstones, greenery, and trendy restaurants—not to mention strollers. The area gets plenty of flak for its identity as a super-gentrified haven for wealthy families—a few years ago, the Village Voice ran a round up of the best bars in Park Slope "not yet ruined by babies"—but the truth is that there are more affordable living options than one might expect.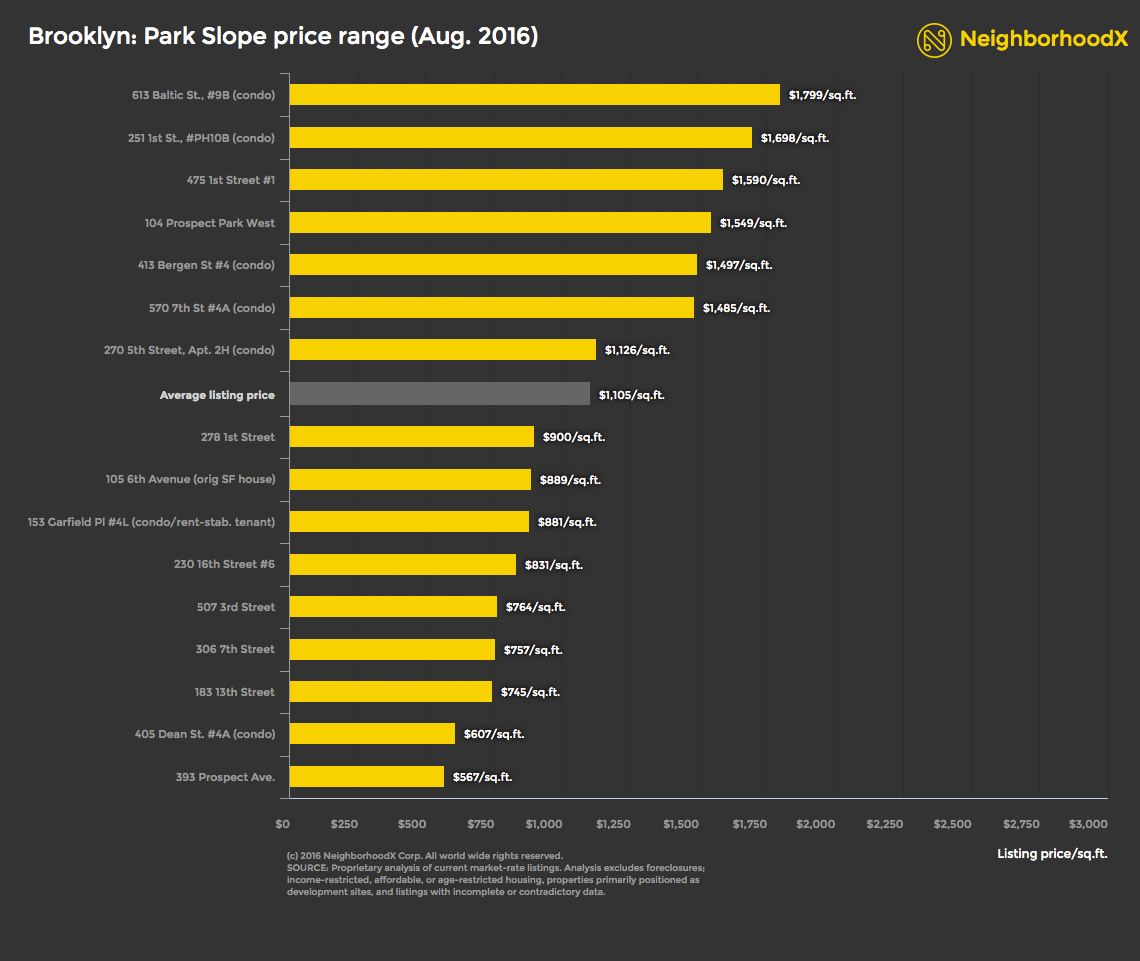 Constantine Valhouli, founder of data site NeighborhoodX, looked at the prices of Park Slope homes on the market right now—see the interactive chart here—and found a striking range in costs per square foot. The most expensive property is listed for $1,799 per square foot, while the cheapest is $567 per square foot. What this means, Valhouli says, is that "one could afford the most iconic properties for under $600 per square foot. You also have people willing to pay almost three times that much to live in the same neighborhood."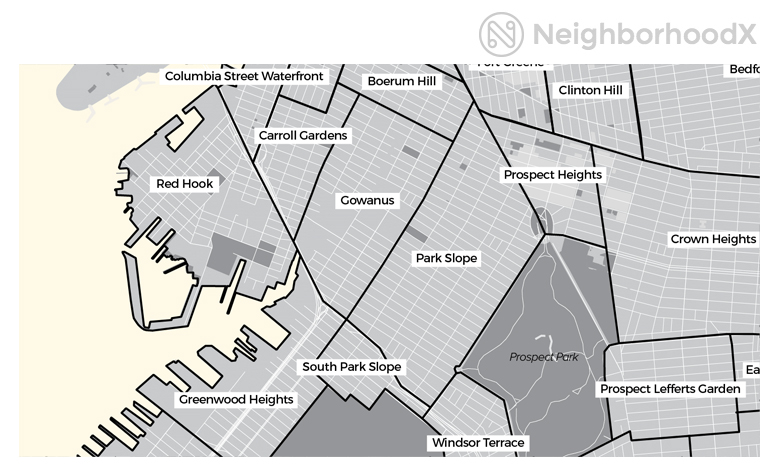 The neighborhood does draw those in search of kid-friendly amenities—and other parents. "Park Slope has a reputation of being more amenable to people with families than many other neighborhoods," Valhouli says, "and at that point in life, you want to be surrounded by friends, since your ability to travel with kids is constrained. Having a social support network is important."
Another noteworthy aspect of Park Slope is the housing stock: Its grand, Gilded Age townhouses and brownstones are legendary. Valhouli says many of these properties benefited from "benevolent neglect" in the years before the neighborhood became an in-demand place to live. And while it never was considered a major nightlife destination, by the 1990s, Park Slope was starting to become known as an appealing alternative to Manhattan for New Yorkers ready to settle down.
He notes the stunning, vast limestone mansion at 104 Prospect Park West—currently listed for $11 million, or $1,549 per square foot—as an example of the kind of home that likely languished while most New Yorkers had their hearts set on living in Manhattan. Now, such places have "redeemed desirability—but think of the discount they traded at for many years," Valhouli says. Meanwhile, you can still find ornate properties like this one for a fraction of the price in nearby neighborhoods like Bed-Stuy and Crown Heights, he adds.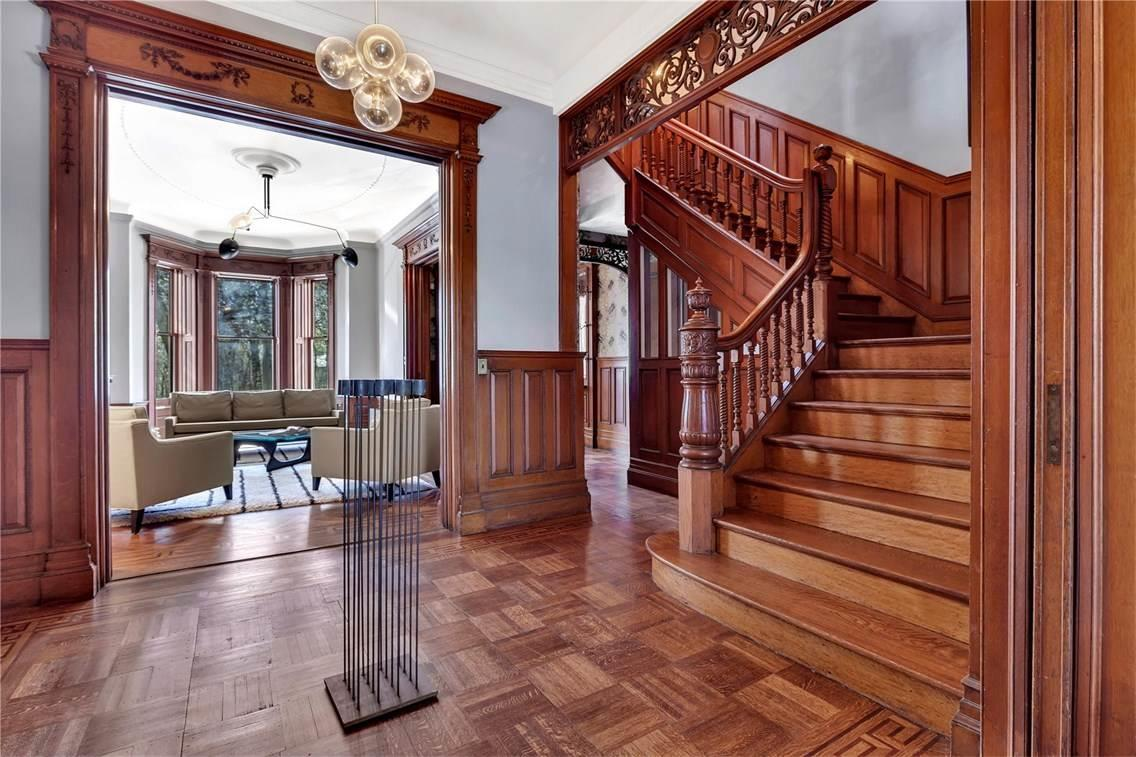 The five-story, 1899 home has been thoroughly restored and features gorgeous woodwork, stained glass, custom cabinetry, and bay windows looking directly onto Prospect Park.
At the cheaper end of the spectrum is a multi-family townhouse at 393 Prospect Avenue, listed for $1.35 million or $567 per square foot (well below the neighborhood median of $1,105 per square foot), which comprises an owner's duplex and a top-floor rental. The home includes a rear deck and a backyard, though it doesn't boast the newly renovated features you'd find in Park Slope's pricier properties.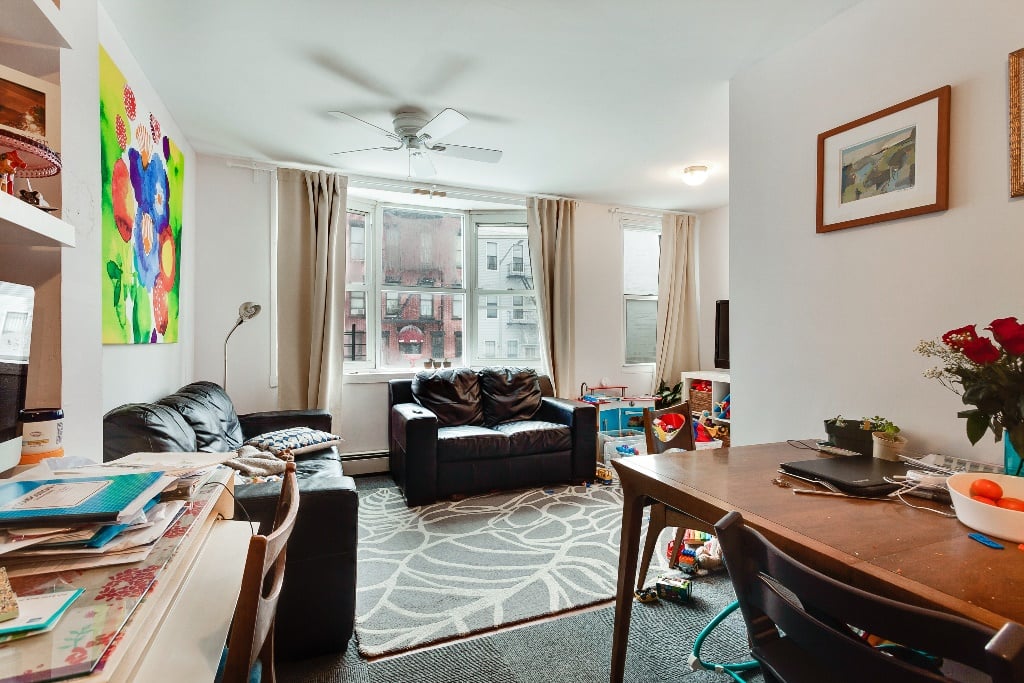 This is to be expected: "Sometimes what you're looking at with the more affordable homes is that you still have to do work on it. It might have a hornet's nest that's big enough to be sent to the Museum of Natural History, or a pool of standing water in the basement," Valhouli explains. "In other cases, you might have a longer walk to subway or not be living as close to commercial corridors."
Demand is still high throughout Park Slope, though. Take the apartment at 153 Garfield Place, listed for $760,000, or $881 per square foot. The buyer would have condo rights to the two-bedroom, but it could be a long wait to move in: a rent-stabilized tenant will be living there for the foreseeable future. (The listing notes that the unit "represents incredible long term possibilities.")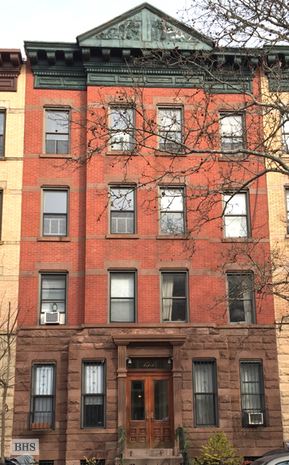 "This means that someone is willing to pay that much for a property where they have to essentially wait for the tenant to die," Valhouli says. "It establishes a point of references for the entire neighborhood."  
On the other hand, the stats reveal that people can still get into Park Slope at a relatively modest amount, Valhouli says, but they'll have to act fast. "You can get into Park Slope at half the average and be there for life," he says. "But you're going to see fewer and fewer of those bargain properties as the years go by." 
Brick Underground articles occasionally include the expertise of, or information about, advertising partners when relevant to the story. We will never promote an advertiser's product without making the relationship clear to our readers.