This prewar East Village one bedroom, #15, at 228 East 13th St., could really benefit from some TLC, according to architect S. Lindsay Klein of Manhattan's Lindsay Architecture Studio.
"It's very compact," she says (the apartment is 425 square feet altogether). "And when you open the front door, you practically hit a kitchen cabinet. You immediately get an impression of smallness."
But there is one thing that Klein loves about the apartment, which is listed for $525,000. 
"There are windows everywhere," she says. "There's a window in the kitchen. There's a window in the bathroom. It's pretty rare."
For this week's Reno Ready, Klein explains how she'd make this space feel a little less cramped without spending a fortune.
"I'm not going to go over the top," she says. "But I would like to make it more valuable in terms of resale."
Brightening up the living room 
Closet: There isn't a photo of the closet—the only one in the entire unit—but a look at the floor plan shows that there's only a single small door to the closet, and the closet is long, making it tough to make full use of the space. Klein would knock down the wall separating the closet from the kitchen and install sliding doors here, to make it all more accessible.
"You need every inch you've got," she says. Prices for the demo work will vary by contractor, says Klein. She thinks the new sliding doors and track should cost about $500 or so.
Floor: If money's no object, Klein would put down a new wood floor, "something slightly whitened, a pretty silvery gray or a pale brown," Klein says, to brighten up the space. If the new owner is trying to save money, Klein advises leaving the floor as is and simply covering it up with area rugs. She believes that a new floor would cost about $8,000 for the entire apartment. This contemporary area rug is $219 on Overstock.com.
Paint: Klein says that it looks as though the apartment was recently repainted, so she'd leave the walls and ceiling alone.
Windows: She isn't too keen on the color of the casings around the windows.
"The windows would look bigger without dark brown lines around them," she says, so she would recommend "subtly coloring them to slightly whiten and brighten them up."
A gallon of wood stain is $49 on Amazon.
The bars on the left-hand window are a bit of an eyesore, but Klein guesses that there's probably a fire escape out there so there's nothing that can be done about them. She would add pleated top-down/bottom-up shades to cover them up, and add some privacy. These JCPenney Home shades are $50.
Heater: Klein doesn't love that monstrosity of a heater on the right side of the room, so she suggests having a custom piece built with a bookcase up top and a heater enclosure with a grille on the bottom. She would paint it the same color as the kitchen cabinets since they're all essentially in the same room. She believes that this piece should cost between $500 and $1,000.
Lighting: There doesn't look to be a light on the ceiling at the moment, and since many prewar buildings have cement ceilings that cannot be drilled into, Klein advises going the simple route and buying some floor lamps. This adjustable LED floor lamp is $269 on houzz.com.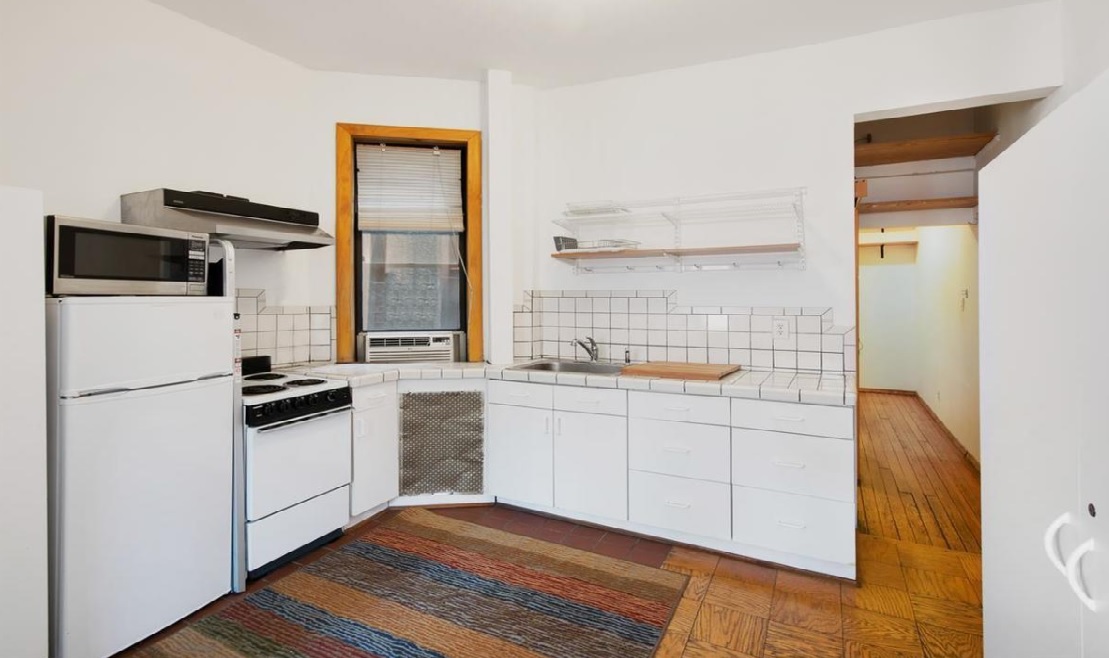 The kitchen floor dilemma
Floor: The floor in here is a strange mix of wood and tile (which is partially hidden under a rug). Again, if the new resident can afford it, she'd simply have a new wooden floor put in. If not, she'd suggest a larger rug, something that can cover up that terrible tile.
Appliances: Since the appliances in here look positively archaic, Klein would get new, smaller ones that will fit better in this teeny kitchen. She'd get a new cooktop, and a new oven to go under it, a new fridge (which she recommends splurging on since it'll add value to the kitchen), and a new recirculating hood (that she'd vent through the window if the building allows it). She would also add a drawer dishwasher to the right of the sink. This 24-inch Summit gas wall oven is $770 on AJMadison.com. This 24-inch gas cooktop from Verona is $519. This Sub-Zero fridge/freezer is $6,835. This under-cabinet range hood is $229 at Lowe's. She thinks that having a carpenter vent the hood out the window should cost about $500 or so. This 24-inch Fisher and Paykel drawer dishwasher is $649 on AJMadison.com.
Window: Here too, she would lighten the color of the casings with wood stain to make the room brighter.
She'd also lose the shade to clean the space up a bit, but would replace it with privacy film that she'd apply to the window itself. This roll of window film is $24 on Amazon.
Cabinets: She'd lose the current cabinets and replace them with new custom cupboards. She'd also add a row of upper cabinets to maximize storage space.
"I'd paint them an elegant green or a lovely chocolate," she says. She thinks that having a carpenter make these cabinets should cost about $6,000.
Walls: She's okay with the paint in here, so for the small part of the wall that's still visible, she would leave it as is.
Countertop, backsplash, and sink: Klein hates the tiled countertop and (oddly multiple-level) backsplash, so she'd get rid of it. She isn't entirely sure what she would replace it with, but she says "these days, there are so many good quality materials that, unlike stone, don't need to be carved out of the earth and shipped from Italy."
She'd go with something simpler, such as large-scale porcelain tiles that resemble stone, or even Corian. She'd then extend that material from the counter up to the new upper cabinets. If she does go with Corian, she'd even have a sink made of that same material "so that it can all be seamless," she says. She thinks that Corian would cost around $100 or so per square foot, and that porcelain would be a bit less.
Bar: It's not visible in the photo, but the floor plan seems to depict an island next to the fridge that can be used as a breakfast bar. Klein would keep it and make it a focal point.
"I'd curve the island so you have a little bar with some comfy bar stools," she says. "It could double as a prep counter and an eating counter."
She says prices for doing this will vary by contractor. These Joss & Main swivel bar stools are $88 each.
Lighting: Since it's essentially part of the living room, she'd choose something fancy that can be shown off. She'd install under-cabinet lights, too. This bell jar flush-mount lantern chandelier is $139 on Overstock.com. This LED under-cabinet lighting bar is $58 at Wayfair.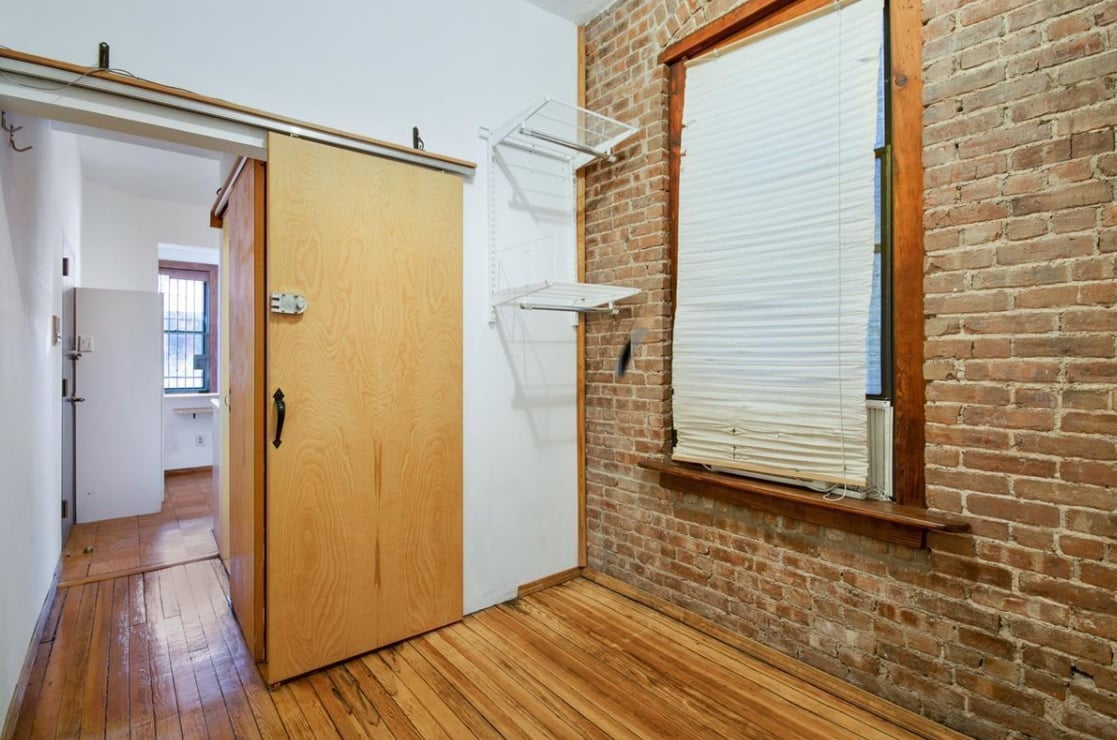 Bedroom space constraints
Floor: Whatever Klein does to the floor in the living room, she'd do here, too. If the new owner opts for a new floor, she'd get a light-colored wood. And if he can't afford anything new, she'd invest in an area rug.
Lighting: Klein recommends installing a ceiling fan with lighting. It'll light up the space, as well as help circulate the air. Prices for this Clarity ceiling fan start at $399 on YLighting.com.
Door: "You don't really need that rolling barn door," she says, noting that it's unwieldy and its track takes up precious wall space.
She suggests putting up a simple curtain. Or, if the new owner prefers, installing a door in the empty doorway separating the kitchen from the hallway leading to the bedroom. That way, you wouldn't have to bother with a curtain or a door on the bedroom at all. It'll make things feel a bit more open. This door curtain is $49 at Urban Outfitters. This new door is $157 at The Home Depot.
Hooks: Since there's no closet in this room, Klein proposes putting some hooks on the wall near where the door is currently. That way, you'll be able to maintain some sense of order. These hooks are $11 on Amazon.
Window: Here too, she'd stain the casing to make it lighter. And she'd switch out the dilapidated shade with a top-down/bottom-up pleated shade that matches the one in the living room to lend a sense of continuity.
Walls: Klein thinks the paint on the walls looks relatively new, so she wouldn't bother repainting. And she loves the exposed brick wall, so she'd leave it alone.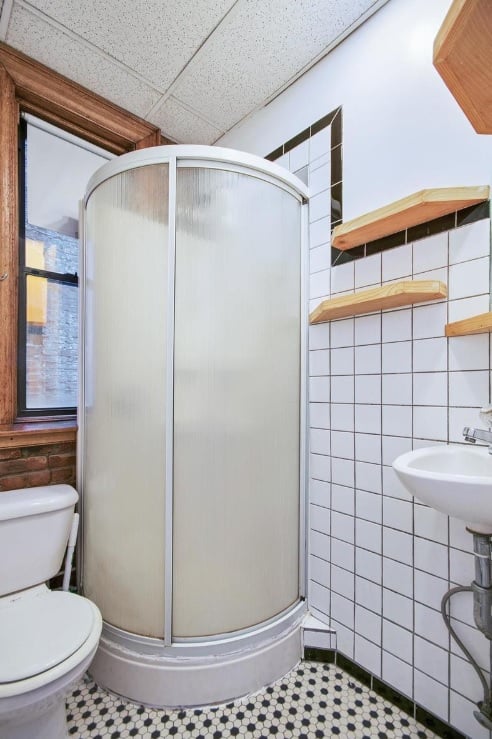 Opening up a weird, tiny bathroom 
Toilet: Klein thinks that the current commode looks old, so she recommends buying a new one. This Toto Ultimate one-piece toilet is $380 at The Home Depot.
Shelves: She isn't a huge fan of the wooden shelves along the wall, but since there isn't much storage in this tiny space, she's inclined to keep them. She'd paint them white to match the walls so they won't stand out as much. Plus, she'd remove the one closest to the shower to put up hooks.
"There's nowhere to hang a towel at the moment," she says. This towel hook rail is $54 on houzz.com.
Wall: "The wall tile looks new," Klein says. So she'd hang onto it.
For the part of the wall that isn't tiled, Klein's torn as to what to do. She thinks the current white paint looks fine, so she's okay with keeping it.
"But the bathroom looks pretty antiseptic," she says. She suggests injecting a little color. Whatever the client's partial to.
A gallon of Benjamin Moore's Perspective, a light gray, is $75.
Floor: The tile on the floor is a different story, according to Klein, who calls it "depressing." But rather than take on the expense of replacing the entire floor, Klein says she'd suggest paying a visit to a discount carpet place, choosing a remnant that you love—"a short pile or a weave, no shag"—and having a piece fitted to cover the floor completely—with cut-outs for the toilet "and that funky shower," as Klein calls it.
"When it gets wet, you can simply lift it up and take it away to let it dry elsewhere," she says. She thinks this piece of carpet should cost about $100.
Ceiling: Klein despises the strange paneled ceiling, which she assumes was probably put in to hide unsightly pipes. She'd remove the tiles and expose the apartment's original high ceiling, which is probably made of plaster.
"If there's just a pipe or two up there, I'd take those and wrap them with white rope to give it a sort of nautical look," she says. This length of rope is $99 on Amazon.
Lighting: Klein would choose a new fixture to put above the shelf atop the sink. She advises getting an LED light "because the color is good," and steering clear of fluorescent "because they make the face look green." This LED bath vanity and wall light is $299 on houzz.com.
Shower: "I'd give it a good scrub and pray," Klein says. It's odd, but if it still works, she'd keep it.
Windows: She'd treat the casings around the window the same as she would in the living room, staining them to lighten them. And, since she can't tell if the windows are frosted, she'd add a layer of privacy film. It's an inexpensive way to avoid giving your neighbors a peep show every time you strip down to shower, she says.
Sink: "It's small and it fits in here, so I'd leave it alone," she says.
Brick Underground articles occasionally include the expertise of, or information about, advertising partners when relevant to the story. We will never promote an advertiser's product without making the relationship clear to our readers.