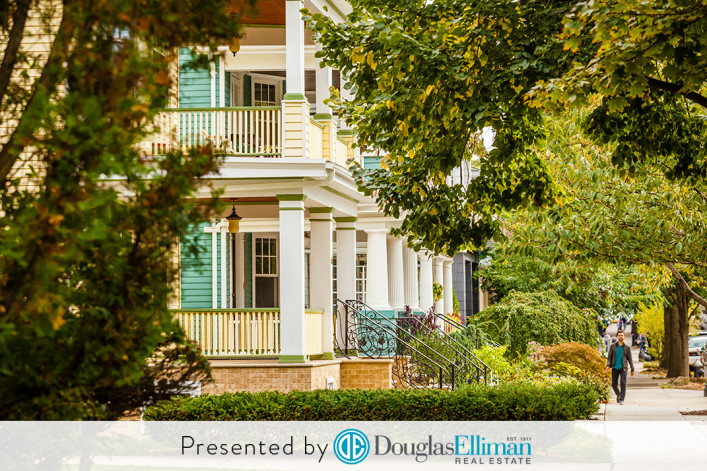 Brooklyn's Ditmas Park is known far and wide for offering the best of all worlds: it is at once a bustling New York City neighborhood with the appeal of a small Midwestern town thanks to its local vibe, friendly neighbors, and, most iconically, huge standalone Victorian homes. The area has become so beloved, so recognizable, and closely affiliated with its most unique and defining attributes – fresh air, green space, period housing – that the historic district's perimeters have been colloquially expanded to include adjacent portions of Flatbush while the actual Ditmas Park borders have in fact maintained the same humble boundaries.
"There are so many great things about Ditmas Park," says Jan Rosenberg, a Licensed Associate Real Estate broker with Douglas Elliman and former co-owner of boutique firm, Brooklyn Hearth Realty Ltd. "The tree-lined streets, the large, hundred-year old Victorian houses – with front yards, driveways, and porches – the mix of people who live here – all ages, many ethnic groups, different social classes – and mix of businesses that serve them, are unique to Ditmas Park to name a few."
In fact, there may be no other areas in NYC where co-ops coexist among such epic properties to the degree they do in Ditmas Park – and at comparably affordable prices.
Don't believe the hype? Here are 7 reasons to put Ditmas Park at the top of your home search itinerary.
1. City proximity with small town vibes
Despite the neighborhood's almost suburban feel due to the plentiful grass, fresh air, and open space, (the neighborhood doubled for Iowa on the television series "Girls") it is less than half an hour away from Manhattan.
"It takes 15 minutes to get from Ditmas Park to Downtown Brooklyn, 25 minutes to Union Square and 30 to 35 minutes to Midtown Manhattan," says Douglas Elliman Licensed Associate Real Estate Broker and former co-owner of Brooklyn Hearth Realty Ltd., DeAnna Lenhart.
Transit options abound.
"Ditmas Park has access to the Q/B line, which is a great train," says Rebekah Carver, Douglas Elliman Licensed Associate Real Estate Broker and also a former co-owner of Brooklyn Hearth Realty Ltd. "The BM1 is an express bus that brings you to the Wall Street area from Cortelyou Road in 10 short minutes. The B68 bus travels up and down Coney Island Avenue and Prospect Park Southwest so you can get to Windsor Terrace or Park Slope pretty quickly."
The transit hubs are easy on the eyes, too. The Beverley and Cortelyou Road subway stations are both outdoors with ironwork of another era and an overall aesthetic which prepares visitors for the neighborhood's lovely housing stock. Newkirk Plaza is also a singular station surrounded by a quaint pedestrian mall with an array of shops.
2. A bargain compared to the brownstone belt
While Ditmas Park offers Park Slope levels of community and grand housing stock, the prices are a stark contrast.
"The neighborhood has proved to be a great value for the space and price of housing," says Carver. There are, of course, the area's iconic Victorian standalones, but there are also plenty of affordable co-ops – in other words, an array of options.
According to Lenhart's estimates, most studios will run buyers in the $300,000 to $400,000 range, one-bedrooms are in the $475,000 to $575,000 range, and two-bedrooms go from $575,000 to just over $1,000,000.
At 1701 Albemarle Road, a primely located co-op building with common outdoor space, a gut renovated two-bedroom is asking just $799,000. This spacious one-bedroom at 2515 Glenwood Road, a pet friendly pre-war unit with multiple exposures and 9-foot ceilings throughout, is less than half that price. On Foster Avenue, a pre-war one-bedroom with original details in a building with its own exercise room is only listed for $549,000 – a steal when compared to similar units in the brownstone belt.
3. Historic houses for period prices
Ditmas Park has nowhere to go but up, it seems. "The neighborhood continues to offer great value, particularly when compared to the neighborhoods where people are moving from, including Park Slope, Cobble Hill, Crown Heights, and Prospect Heights," says Rosenberg.
Indeed, in addition to its distinctive housing stock, Ditmas Park also has a very special square footage to price ratio especially when compared to a number of other popular Brooklyn neighborhoods. A two-bedroom that is asking less than $550,000 in a prime co-op building illustrates that space can be affordable, a reality hardly ever the case in the borough's most well-known neighborhoods, and one making Ditmas Park a particularly good place to look for a first-time buyer.
Thanks to higher owner occupancy and stronger financials, co-op prices have steadily risen alongside commercial revitalization, says Rosenberg, a trend which will likely continue and makes investing now wise. Property values have reliably "risen steadily over the last 15 years," DeAnna attests. There's no obvious reason that shouldn't continue to be the case.
4. A living museum of housing styles
Walking down a single street in Ditmas Park is like taking a tour of 20th century home types. The Ditmas Park Historic District, designated in 1981, may not even be 10 square blocks, but it contains a diversity of housing styles. Among the wealth of Colonial Revivals there are also Mission Revivals, Neo-Tudors, Swiss Chalets, and more.
"The biggest draw of Ditmas Park are the large Victorian homes with driveways, backyards, and wrap-around porches," says Carver. "There are only a handful of new construction condo and rental buildings so the neighborhood has kind of escaped the noise of construction areas." Any New Yorker knows, this is no small benefit.
"Ditmas Park has blocks of large, beautiful, hundred-plus-year-old Victorian homes mixed with blocks of 6-story pre- and post-war apartment buildings," says Rosenberg, "The neighborhood is known for the Victorian houses, but a large majority of neighborhood residents live in apartments."
5. Street parking galore
One undersung benefit of Ditmas Park life is the shocking availability of street parking – a true rarity in other parts of the borough.
"Street parking is pretty good in Ditmas Park – much better than most neighborhoods, because of low density," says Lenhart. Indeed, not only do many homes have allotted space for cars, but there are simply not as many people living in Ditmas Park as in more apartment-heavy neighborhoods.
"The number of homes that have driveways really frees up a lot of parking spaces on the street," says Carver. Rosenberg adds that alternate side parking is only one day a week in the area.
6. An enviable food and bar scene
Longtime favorite Sycamore is a combination bar and flower shop and just one of Cortelyou Road's many quality eateries, which have begun spreading in recent years to Church Avenue, now also boasting a growing array of places to grab a bite or beer.
In the mood to eat-in? Ditmas Park has its own food co-op which, unlike Park Slope's notorious equivalent, does not require membership. There's also a year-round farmer's market.
7. Small town neighbors on big, green, city lots
Despite the thriving and growing commercial stretches, "Ditmas Park feels like a small town because all the neighbors know each other," Carver says.
Roots run deep in the area, and although there's a good deal of space between many of the properties, the neighborly bonds are palpable. The comparisons between Ditmas Park and small town USA don't stop at the housing stock.
"So many people who 'discover' the neighborhood say, 'I can't believe I'm in Brooklyn!'" says Rosenberg. Indeed, this level of fresh air, space, and quality of life can be quite shocking when compared to the rest of New York City, and that's all not to mention the proximity to Prospect Park.
Some don't realize, "Ditmas Park is close to the south side of Prospect Park," says Carver, but who even needs everyone's favorite Brooklyn green space when the neighborhood itself is basically a green space?
"Walking through the neighborhood feels like you're walking through a park," Carver says.
Ready to browse listings in Ditmas Park? Search online here or call 718.856.3572 to speak to an agent in Douglas Elliman's Ditmas Park office.
Douglas Elliman is New York City's #1 brokerage and continues to grow with local offices across Brooklyn. Look for us in Brooklyn Heights, Park Slope, Williamsburg, Carroll Gardens, Fort Greene, Ditmas Park, and Bedford-Stuyvesant.
Brick Underground articles occasionally include the expertise of, or information about, advertising partners when relevant to the story. We will never promote an advertiser's product without making the relationship clear to our readers.