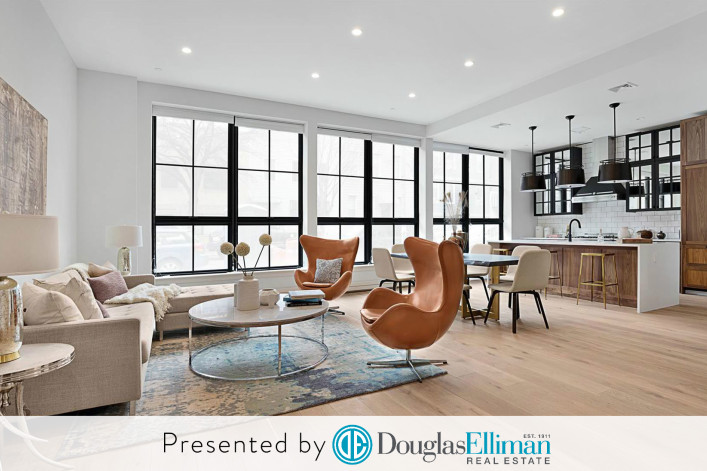 To many people inside and outside of New York City, Williamsburg has earned a reputation as Brooklyn's capital. Teeming with chic and indie bites, bars and boutiques alongside a lively mix of musical and theater venues, Williamsburg also boasts serene waterfront parks, family-centric offerings, supermarkets galore, diverse architecture and peaceful side streets.  
"Williamsburg is no longer the haven of starving artists priced out of Manhattan and it hasn't been for 15 plus years," says Douglas Elliman agent Rodrigo (Ro) Guzman, who has been brokering deals for over 17 years back when the area had a much different feel.
Williamsburg's industrial existence still lingers, infusing modern Williamsburg with its history and richness of character. But these days you can find an Apple store, Whole Foods, WeWork and an independent bookstore specializing in rare books within a block of each other.

In short, says Guzman, "Williamsburg has become a highly sought-after destination."
Still don't believe the hype? Below, six reasons why buying a place in Williamsburg may be the best idea you've had in ages:
1. Transportation options galore—with or without the L train
In addition to the L train--which connects Williamsburg to Manhattan--the neighborhood also has the G, J, M, Z, East River Ferry service, a multitude of bus stops, bike paths and bridge access. Of the subway lines, all but the G will take you to Manhattan. NYC Ferry has a landing point in South Williamsburg and a second in North Williamsburg, which will respectively deliver you to Wall Street in 20 and 13 minutes for the cost of a MetroCard swipe. By train, you can be in Midtown in 30 minutes or less.
Going to the Lower East Side? A walk over the Williamsburg Bridge's pedestrian path will take you across the river in less than 30 minutes. The J, M or Z trains will get you there in less than 20 minutes.
"You can be in Union Square in under 15 minutes," says Binnie Robinson, a Douglas Elliman agent and native New Yorker with more than 18 years experience in the New York real estate market. Williamsburg's "proximity to LaGuardia and JFK Airports is very attractive to people who travel frequently," Robinson adds.
As for the L train's upcoming April 2019 shutdown of Manhattan to Brooklyn service, it's only temporary. In the meantime, there will be increased subway service on every one of the neighborhood's other train lines, free MetroCard transfers at certain stations, additional bus service and new rush hour HOV3 restrictions on the Williamsburg Bridge, with advocates pushing to get a dedicated bus lane on the bridge. Service will be better than ever once the East River tunnel is repaired. In the meantime, the L will continue running within Brooklyn, providing convenient access to neighboring Bushwick and the slightly farther afield Ridgewood.
2. You can still get a deal on real estate compared to Manhattan and other parts of Brooklyn
With Williamsburg's reputation as the Brooklyn neighborhood where you are most likely to have your cake and eat it too, you might be expecting out of this world asking prices for real estate.
But the 'Burg – especially certain pockets – actually boasts some of the best deals in the borough. The true value lies in the one- and two-bedroom units, Guzman says, the average price of the former being about $650,000 (similar to the price for a studio) while a two-bedroom will run you in the $1 million range.
"There are many more expensive options to choose from, but generally speaking, there is phenomenal value in Williamsburg," Guzman adds.
Generally speaking, say Stephanie O'Brien and Jessica Peters, leaders of the Peters - O'Brien Team, one of Elliman's top ranked teams in Brooklyn, re-sale prices range from $1,250 - $1,500 per foot, while new development ranges from $1,350 to $2,000 a foot.
Even the most luxurious properties make Manhattan prices appear more than a tad inflated. At Sixth & Myer, this three-bedroom, three-and-a-half-bath with state-of-the-art utilities, custom millwork, modern amenities galore, loft-like dimensions and oversized windows on North 6th Street will run you $3.999 million.
Similarly, this generous, light-filled one-bedroom condo loaded with charm, in a building with amenities such as a gym, common roof deck and courtyard, storage and even the option of a private parking space, would be next-to-impossible to find across the river for its asking price of $875,000. 
3. Property values are stronger than your morning cold brew
Brooklyn is hot, and in many ways Williamsburg is the center of the flame. The neighborhood's property values have proven over the past two decades that if they're going anywhere, it's up.
"The area has had a very strong track record for stable and increasing sales numbers," says Robinson, noting that not only is demand stable, supply is limited.  "The future seems solid."
A growing number of local job opportunities is further bolstering the price of real estate, say Peters and O'Brien.
"We expect Williamsburg property values will only go up from here," they predict. "Williamsburg has everything a community needs to thrive."
4. So many distinctive housing styles to choose from you might want to buy two
Williamsburg's industrial past perhaps shines through the most when it comes to the impressive assortment of architectural styles and home types which populate the neighborhood. A buffet of options have sprung from the area's former docks and warehouses, with everything from unique condo loft conversions, low-rise single and multifamily residential warehouses, townhouses, high-rise waterfront condo buildings, boutique condo projects and a handful of co-ops, according to the Peters - O'Brien Team.
"Since most of the development has been post 2000's, most of the unit mix consist of newer condos which are highly desirable," Robinson says, noting there is also a fair supply of smaller townhomes.
"The options are limitless," says Guzman.
5. If you're bored here, you're doing it wrong
The neighborhood's reputation speaks for itself: Williamsburg knows how to get the most out of life. Entertainment venues hosting local and international acts nightly include Baby's All Right, Brooklyn Steel, Music Hall of Williamsburg, the Knitting Factory. An incredible array of bars – like Westlight, Maison Premiere, Radegast Hall, Donna – offer soaring views, gorgeous interior design, and excellent food. Or treat yourself to a meal at world-renowned, Michelin-starred restaurants like Delaware and Hudson, Aska, Meadowsweet, and Peter Luger Steak House.
"Williamsburg is still one of the prettiest and most culturally-driven neighborhoods in New York," says Guzman.
For any budget bracket, if you live in Williamsburg and you're not sure what to do, whether it's a weekday or a Saturday night, just go outside and let the neighborhood inspire you with its plentiful offerings.
As if the nightlife, food, and bar scene weren't enough, Williamsburg is also home to a wide variety of parks--and views.
Park spaces include McCarren Park, North Brooklyn Farms, and Bushwick Inlet Park not to mention a variety of farmers markets in warmer weather, and also Smorgasburg, note the Peters - O'Brien Team. The brand new waterfront Domino Park will also be opening soon.  
It's all excellent news for pets and their owners, and the air quality for all. It's "city living with greenery," Robinson says. The waterfront has some of the best views of the New York skyline in the entire city.
Looking to work out? If the great outdoors don't entice you, take your pick from the neighborhood's wellness and fitness studios like Yoga to the People, SoulCycle, Flywheel, Pure Barre, SLT and Bar Method.
6. Something for stages of life and budgets
"As the hippest part of Brooklyn, with parks, water views, shopping, grocery stores, an unmatched food scene, and tons of paid parking available, Williamsburg appeals to a wide range of buyers," Guzman says, "Williamsburg has it all."
The mix of available units, including one-bedrooms, make the area an especially good fit for first-time buyers, Robinson adds.
Not a ton of communal space in your apartment? Big parties can easily be entertained at any of the numerous venues just outside your doorstep. "Even if your residential space is small, the community is large, diverse, fun and forever evolving," the Peters - O'Brien Team says.
Ready to browse listings in Williamsburg? Search online here or call 718-486-4400 to speak to an agent in Douglas Elliman's Williamsburg office.
Douglas Elliman is New York City's #1 brokerage and continues to grow with local offices across Brooklyn. Look for us in Brooklyn Heights, Park Slope, Williamsburg, Carroll Gardens, Fort Greene, Ditmas Park, and Bedford-Stuyvesant.
Brick Underground articles occasionally include the expertise of, or information about, advertising partners when relevant to the story. We will never promote an advertiser's product without making the relationship clear to our readers.