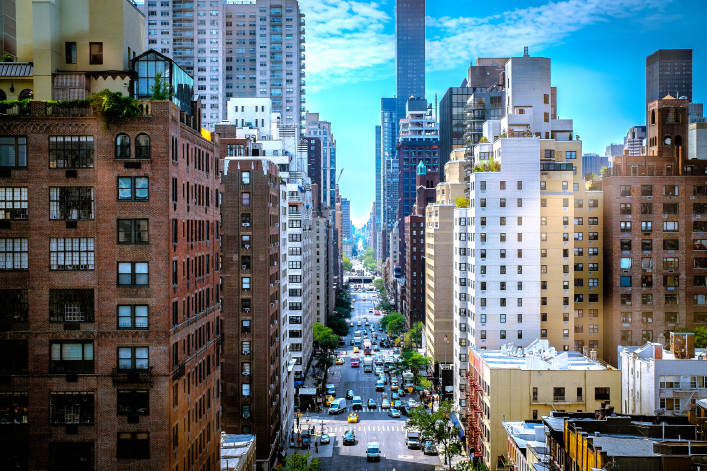 If you're thinking of buying or selling an apartment in New York City, or you're involved in the business of buying and selling, you are no doubt wondering how the coronavirus crisis will impact the price of real estate.
"It's an understandably urgent question among our buyers and sellers, and the advice we are giving is based on our analysis of prior recessions and the similarities and differences to the current situation," says Thomas Kutzman, a former financial markets professional and the co-founder of Prevu, a NYC real estate brokerage that gives a substantial rebate to buyers and sellers. 
The four most common questions buyers and sellers are asking: 
How does this period compare to prior crises?

What will this mean for NYC real estate prices?

Should I wait to buy a NYC apartment?

Should I wait to sell my NYC apartment?
Will the impact on real estate resemble the 2008 recession, 9/11, or something else?
"It is to be expected that fears of a now widely anticipated recession draws people's memories to the last recession in 2008, when U.S. housing prices dipped about 20 percent," Kutzman says, who argues that the comparison is unfair. "Sometimes referred to as the Great Recession, the 2008 recession was the unprecedented crisis of its day. It was a period of economic turmoil, triggered by a housing and mortgage crisis, that was an existential crisis threatening financial markets and paralyzing the banking system."
It is not at all clear that this will be the case now, Kutzman believes. 
"Yes, there is a temporary disruption for businesses due to social distancing and many economists agree that we are in the midst of a recession," Kutzman says. "However, banks are well-capitalized, interest rates are near historic lows, and the government is providing both fiscal and monetary stimulus more swiftly than recent recessions and at unprecedented levels." 
For example, the Troubled Asset Relief Program (TARP) was $700 billion during the 2008 financial crisis compared to the current $2 trillion Coronavirus Aid, Relief, and Economic Security (CARES) Act.
Kutzman says the earlier business-driven recessions of 1980, 1981, 1991, and 2001—in which real estate prices did not significantly correct—are a better comparison.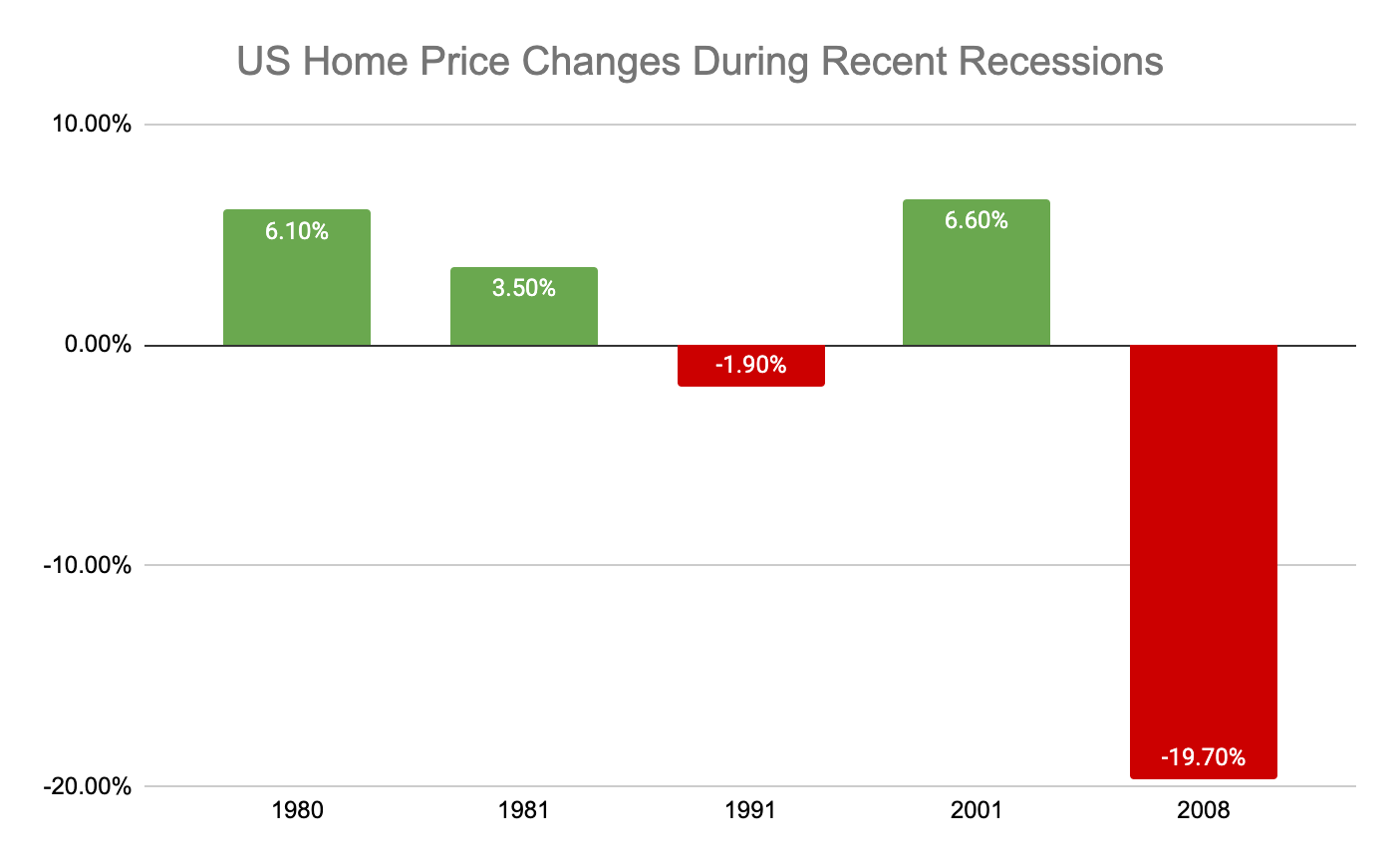 "The best analogy to the current coronavirus crisis is the recession that occurred in 2001 in the wake of the 9/11 terrorist attacks," Kutzman says. "The similarities are much more pronounced. Just like 9/11, coronavirus Covid-19 has been a sudden and tragic event that has created fear and uncertainty, and taken the lives of many New Yorkers and Americans. The industries most negatively affected immediately following 9/11 also mirror what we are witnessing today—airlines, hospitality, retail, and restaurants." 
There was an initial contraction in the number of real estate transactions in the three months following the September 11th attacks, and real estate prices in Manhattan dropped by a percentage point or two during the fourth quarter of 2001. However, as normalcy returned, NYC real estate prices rebounded quickly to pre-attack levels in first quarter of 2002.
Moreover, Kutzman notes, unlike in 2001 and 2008, "NYC real estate prices in the first two months of 2020 before the coronavirus crisis began were not at or near record highs. This removes a portion of risk of an immediate re-pricing or drop in prices since they were not inflated or extended coming into the first quarter 2020." 
Near-term impact on buyers and sellers
"The biggest adjustment for active buyers in the current climate will be adapting to delays in accessing properties based on government orders, owner restrictions or the lack of virtual tours," says Kutzman.
Offers are still being accepted during the current crisis, he says. There is an increase in pre-coronavirus negotiations being resurrected as buyers and sellers that were initially apart on price find fair compromises while other units sit on the market. In addition, opportunistic buyers unfazed by the virus are making offers in the eye of the storm, with less competition on properties they had seen before the stay-at-home order. 
"While some deal seekers have hoped to get better prices due to emotional selling, extra discounts have been rare and 'panic' discounts have not really transpired," Kutzman says. "Sellers still have bottom lines, and buyers have been more likely to see patience rather than panic from sellers in terms of agreed upon prices. This is especially true as stock markets have stabilized and government stimulus packages have been signed."
Further, because most co-ops in NYC require conservative financing, these sellers are often very well capitalized, at least with regard to their apartment and have a greater wherewithal to hold out for their desired price.
When will the real estate market bounce back?
"In January and February, the NYC real estate market was very active. Historically low mortgage rates after three years of recent declines in NYC apartment prices were attracting a strong resurgence of buyer interest in the city," Kutzman says.  
The length of the current disruption will affect the timing and strength of the recovery.
"If coronavirus is only a temporary disruption, buyers are unlikely to see deep price cuts from sellers after the declines in recent years. If we face a prolonged disruption, broader economic conditions may provide additional headwinds for NYC real estate, and the rest of the country will be in the same boat," Kutzman says.
Either way, he says, after a period of no showings allowed, as the NYC market is currently experiencing, there is a strong possibility that there will be a powerful surge of activity when normalcy returns.
"Life events drive real estate decisions, and life doesn't stop for a crisis," Kutzman says. "Whether you need more space for your growing family, want to buy your first place or start life together as a couple in a new apartment, buyers will continue to buy for their needs. The majority of buyers tell us that they are eager to get back out there once they are allowed to leave their apartments."
For perspective, he notes, China experienced the initial surge in coronavirus cases and subsequent flattening of the curve several weeks ahead of what New York City is witnessing now. 
As China is coming back online, with businesses reopening and people going back to work, there is a surge of real estate activity. In recent reporting by South China Morning Post, transactions in at least eight large cities indicated buyers have returned in recent weeks with volume surpassing the average levels in the final quarter of 2019 as the virus abated, Kutzman points out.
"NYC real estate will likely see a similar bounce in activity in the coming months, with competition for properties leading to a stabilizing force for NYC real estate prices in the near term," Kutzman predicts.
Spring selling season shifted, not cancelled
Kutzman predicts a clear divide among apartment buyers in NYC when we exit the current uncertainty.
On one hand there will be hesitant buyers, particularly first-time buyers, who are conservatively patient amid the uncertainty and waiting for price drops that may not transpire. On the other extreme, there will be buyers who have been ready to take advantage of low mortgage rates and a landscape of government stimulus.
"Sellers that were preparing to list are now faced with the question of whether to continue with their plans to list or wait for the short-term fear in the market to dissipate," Kutzman says. "The marketing strategy may vary depending on a seller's immediate need to sell or their ability to be patient. If sellers are relocating for work, downsizing to a smaller place, or need to sell for financial reasons, sellers will continue to list their places despite a crisis."
Prevu is a digital home buying platform that enables you to search, offer, and save up to 2 percent when you buy. Click here to learn about Prevu's Smart Buyer Rebate or to browse listings in your favorite neighborhood.
Brick Underground articles occasionally include the expertise of, or information about, advertising partners when relevant to the story. We will never promote an advertiser's product without making the relationship clear to our readers.