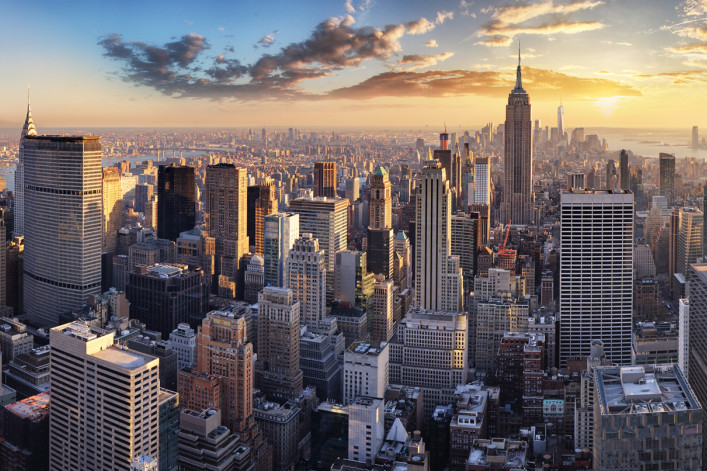 The Federal Reserve Bank raised its benchmark rate another quarter percent in September, marking the bank's eighth raise since 2015, and it is anticipated to make one more increase before the end of the year. Rates are now at their highest level since shortly after the fall of Lehman Brothers 10 years ago, and first-timer buyers have been getting jittery this year.
The Fed rate is just one factor in determining mortgage rates, which as of October 4th was 4.71 percent for a 30-year fixed-rate mortgage, according to Freddie Mac. This represents a 22 percent increase from 3.85 percent one year ago.
What effects are rising interest rates having on buyers now that increases appear to be the trend? Brick Underground asked several experts for their opinions and found some who thought they could give buyers a nudge into the market. Still, other brokers thought rising rates might scare off buyers, at least for now. Here's more of what they had to say.
Buyers moving more quickly …
As rates rise, it might "knock some people who are waiting off the fence," says Lisa Garey, an associate broker with Compass.
"Rates are still low, but consumers are going to want to look to lock in their interest rates and close quicker to avoid a rate increase during their loan process," says Robbie Gendels, senior loan officer for National Cooperative Bank (a Brick Underground sponsor).
When the rates went up earlier this year, Lisa Chajet, a broker with Warburg, had a lot of frantic buyers looking to get their deals done before the rates rose any further. But she believes there's a psychological barrier at 5 percent, even though it's still less than rates 30 years ago. On the high end, rates don't have much of an effect, but it does affect buyers looking for more affordable apartments much more, she says. Still, she says, for some buyers, rising interest rates will make rentals a more attractive option.
… or it could put their plans on pause
That is what Seth Levin, associate broker for Keller Williams NYC Tribeca, is seeing. He says that in his 16 years of experience, when interest rates go up, he gets calls from buyers asking whether they should get in, how to beat the rise in rates. This time he's getting more calls asking if he thinks we're at the bottom of the market yet.
"I think it will further soften the market if rates go up another 1 percent, because people are not only looking at the purchase price, but also at their monthly nut. If they have less purchase power, the same money will get them a better apartment in a rental market. But, when the rental market goes back up, people will jump back into the buying cycle," Levin adds.
Larger down payments
For some buyers, just coming up with the required down payment can be a challenge. But for people with extra savings, increasing their down payment can help to keep their monthly costs low, despite increasing rates.
"With the rise in interest rates, you may start to see consumers putting down a larger down payment to offset the higher monthly payments," Gendels says.
A drop in prices
Usually, sellers are the last to arrive at the party and the buyers are right on the cutting edge of "what can I use to get a lower price," says Jonathan Miller, president of real estate appraisal firm Miller Samuel. "What you're starting to see is sellers are traveling further to meet the buyer, and the buyers aren't budging. Part of that thinking is the rates will rise more before they fall, so that adds to the cost. Buyers are cognizant of that and sellers are at a point where they need to decide if they really want to sell or not.
"It takes one to two years for a slowdown in sales to impact prices. We're in the thick of it now; it's finally happening," he says.
Pro Tip:
Thinking of selling?  To find out what actual buyers are willing to pay for your co-op, condo or brownstone, consider discreetly "pre-marketing" it.  New York City real estate brokerage Triplemint has an entire data-driven pre-marketing platform that provides a way to quietly test your asking price and your marketing strategy  among real-life qualified buyers before publicly listing your home. There's no charge to participate and no obligation to enter a traditional listing agreement at the end of the pre-marketing period if your place hasn't sold. Click here for more information.
While real estate prices soared a few years ago, they have come down in the past 18 months, making the current market very much a buyers' heaven, adds Dolly Hertz, an associate broker with Engel & Völkers NYC. "With inventory so flush and prices so reduced, a point or two on a mortgage just isn't a deterrent. The smart money says go for it now before the next wave of higher purchase prices."
Tough to get financing on the lower end
REBNY's most recent Residential Broker Confidence Index was 4.63 for the second quarter of 2018. That's the first time in the history of the index that it dropped below its midpoint of 5, or neutral, and ventured into negative territory. The Residential Broker Future Confidence Index, which gauges brokers' thoughts on the market six months from now, also dropped below 5. Brokers responded anonymously to the survey, but rising interest rates was one of the main factors mentioned by several respondents. They also noted the uncertain implications of the recent tax reform, oversupply in the market, political instability, and increased tariffs as other factors.
"Though the interest rate is still at a low level, the [upward] movement is a cause of concern. It will impact buyers' ability to get financing, particularly on the lower end, under $3 million, where financing is more important," says Michael Slattery, senior vice president of research for REBNY.
Buyers will adjust
The priorities of buyers may have to shift, either in terms of what they can afford, or where.
Any time the costs go up for a buyer, there's going to be some level of a question mark in their mind as to what they can or can't afford, says Gary Malin, president of Citi Habitats. "Tax deductibility, SALT [state and local taxes] plays a role. We don't know what the real impact [of the tax change] is yet because 2018 is not over. Fundamentally, those that choose to buy versus renting are buying for specific reasons. Maybe rates will impact the location, price, size [of their options]. But those people will want to stay in the for-sale market. Their priorities may have to shift a little bit."
People will look at different neighborhoods. Brooklyn is very vibrant and now you have sections that have become more desirable than in Manhattan, says Albert Safdie, a salesperson with BOND New York. "If it's cheaper on the Upper East Side than in Park Slope, people are looking where they can find the best value. It's changing all the time and opens opportunities for people to buy within their budget."
Richard Grossman, president of Halstead, agrees. "Ten to 15 years ago you had people buying in Soho, Tribeca, and the Village. Now Williamsburg, Park Slope, Carroll Gardens, Long Island City are considered acceptable as well. Buyers have a wider range of choices."
Some see a minimal effect
Some of the people Brick spoke to remained bullish on the real estate market and didn't think that the current increase or even minor future ones would have much of an effect, pointing out that rates are still historically low.
Buyers are really looking for value, and if the interest rates go up, that will be the case even more so, but I don't think it will stop buyers from buying, Compass' Garey says.
"If they raise the rate now another quarter point, and another quarter point at the end of the year, it definitely will have a dampening effect, but I don't think it's going to feel determinative," says Frederick Peters, CEO of Warburg Realty. "If you have a $500,000 mortgage, it means a change of $5,000 a year, if it goes up a full point. So that's 800 fully tax deductible dollars a month. For most people with the ability to buy a property in New York, that isn't going to end up being a determining factor."
Brick Underground articles occasionally include the expertise of, or information about, advertising partners when relevant to the story. We will never promote an advertiser's product without making the relationship clear to our readers.