Sell
Brooklyn sales show an increase for the first time in two years, and Queens continues to set records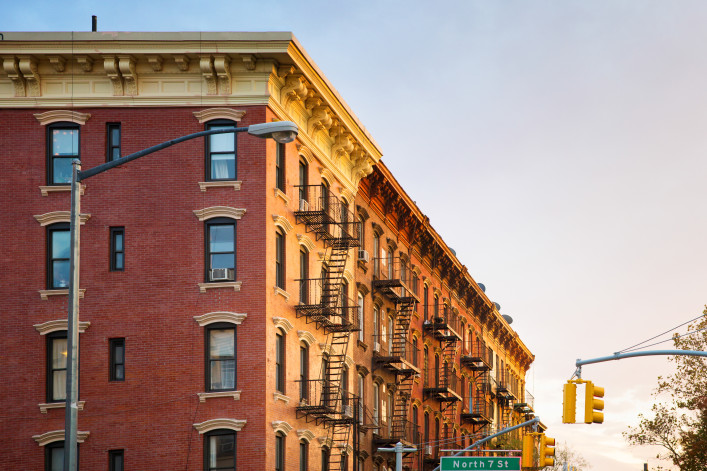 After nearly two years of declines, the number of sales in Brooklyn, as well as the median sales price, have seen increases. It's too early to conclude the market has stabilized but numbers from Douglas Elliman's fourth quarter 2019 sales report for Brooklyn, Queens, and Riverdale show a shift in recent trends. 
The number of sales in Brooklyn rose by 2.9 percent year over year to 2,545. In Queens, the number of sales increased more significantly year over year by 6.8 percent to 3,469. 
Average and median sales prices in Queens have been at record levels or skirting with them for a while and this quarter was no exception. As New Yorkers continue to radiate out from Manhattan in search of affordability, a new record was set with the median sales price in Queens reaching $610,000, a 7.4 percent increase compared to the same time last year. Approximately one in six sales sold above the asking price. 
The median sales price in Brooklyn rose 1.9 percent year over year from $785,000 to $800,000. This rise, along with the fact that one in five sales were above asking, suggests sellers have finally got the message on pricing.
"It's not like there's any fire sale going on, prices are rising but sellers are being more reasonable and deals are being consummated as a result," says Jonathan Miller, president and CEO of appraisal firm Miller Samuel and author of the report.
Overall listing inventory in Brooklyn, which had risen for the past six quarters, slipped 1.7 percent year over year to 2,943. This is the first decline in inventory in seven quarters. This "somewhat unusual" data point is probably due to inventory being "burned off" by the uptick in sales says Miller, but he points out the numbers might also be down to "sellers waiting and not putting their listings on the market."
We are at a point of "peak uncertainty," he says, where the economy is strong but a weakened NYC real estate market grapples with policy changes like higher taxes, rent reforms unfavorable to investors, as well as the specter of a possible pied-à-terre tax. "When consumers are confused they pause," Miller says, pointing out that it's too soon to say whether the edging up of sales and median prices is a sign of a more robust market. 
"There's still a little more weakness in front of us but the heavy lifting has already been achieved. Sales activity leads price direction and it's only one data point but it makes the argument that we are seeing the market stabilize," says Miller.  
A big part of the demand in Queens is from New Yorkers priced out of Brooklyn, but its possible demand in the outer boroughs is also being prompted by high rents.
Over the past year, would-be buyers have camped out in the rental market but as rents rise, New Yorkers may be steered back into the sales market, especially with lower mortgage rates.
In the Bronx, the median sales price in Riverdale increased year over year for the sixth time in seven quarters to $339,000. The number of sales fell 4.8 percent to 118 and the listing discount was down from 3.9 percent to 1.8 percent. 
Other market reports
Properties in Brooklyn spent an average of 137 days on the market according to data from Compass' Q4 report. This is a shorter time frame both year on year and compared to the last quarter, although it hides two extremes with lots of properties selling quickly and plenty lingering. Elizabeth Ann Stribling-Kivlan, senior managing director at Compass, says South Brooklyn offers the most affordability in the borough. 
"52 percent of sales occurred [in South Brooklyn] in the fourth quarter of 2019, with an average price per square foot of $517," she says. 
CORE's Brooklyn Market report suggests there's still plenty of negotiability on price in the borough. The market-wide average discount from the initial asking price was 8 percent. That takes into account an average discount of 6 percent in Northwest Brooklyn and 9 percent in South Brooklyn. 
According to data from Corcoran for the last quarter, values climbed slowly. The report also notes a shift towards smaller apartments as buyers choose to hold the line on price. The report states "studios and one-bedroom sales combined represented 46 percent of sales, the highest in four years while three-plus bedroom residences shrank to its lowest share of sales in over two years."
Brick Underground articles occasionally include the expertise of, or information about, advertising partners when relevant to the story. We will never promote an advertiser's product without making the relationship clear to our readers.