Modular housing in New York City isn't a new concept but these days it is getting fresh attention as a solution for the city's affordability issues. Developers say the construction process is less disruptive to the neighborhood and can often be built faster and safer than conventional housing.
But what about living there—what is it like? Does it feel any different from a typical New York City apartment? Brick Underground spoke to a resident, as well as developers, to get a sense of how the design of these buildings impacts day-to-day life.
When Livia Corredor moved into a one-bedroom unit in Brooklyn's Pacific Park project she wasn't specifically looking for a modular-design building.
"I just wanted a nice apartment and I love it because it's quite high up," she says. The unit she's renting is on the 27th floor of what was, in 2016, the world's tallest modular building, 461 Dean St. "You feel like you are part of the elements up there, whether it is very rainy or windy. The building doesn't sway. There's just the wind whistling ."
Corredor is a real estate lawyer for Forest City, the developer who built 461 Dean St. as part of a massive and complicated redevelopment of the Atlantic Yards area. Each of the 363 apartments were put together in a factory in Brooklyn Navy Yards above the 11 subway lines that all converge beneath the building and neighboring Barclays Center.
She talks about some of the features of her apartment but says she's not sure whether the design elements are tied to the modular aspect of the building or whether they are just aesthetic decisions. Take, for example, the bathroom which has a floating vanity and a wall-mounted toilet.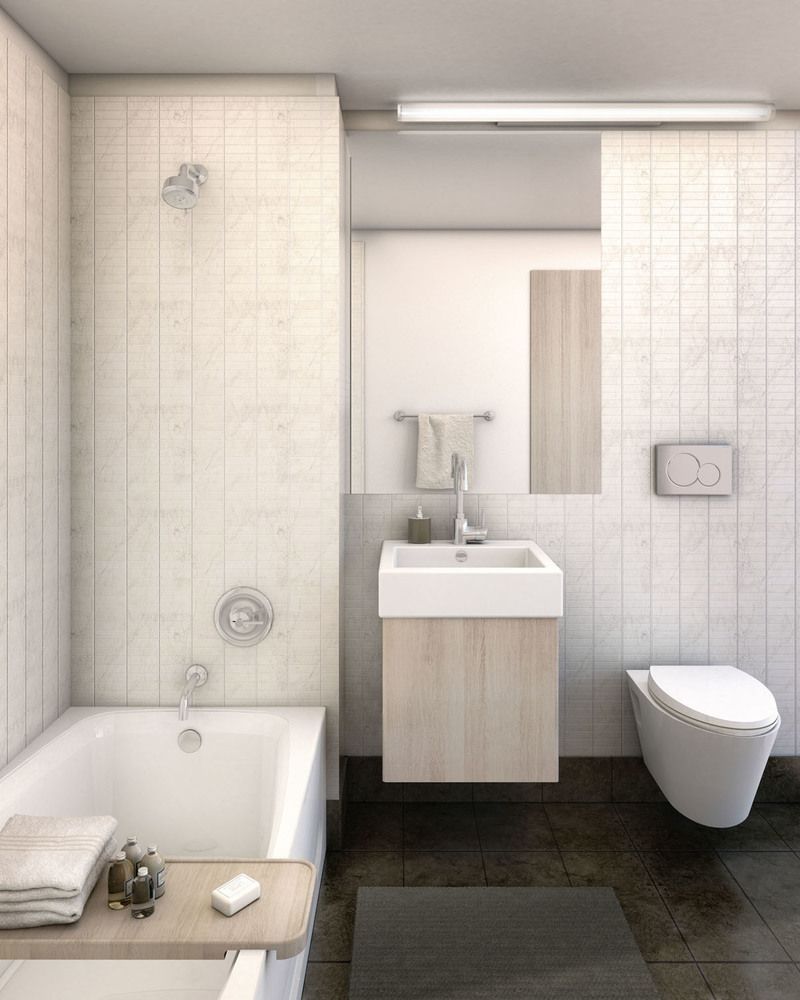 "A lot of the fixtures are like that, you don't see too many pipes because they've all been cemented into the wall," she says, figuring it must be something to do with the units being transported from the factory and having to be connected on site.
Not so, says Daniel Wise, the developer of a modular project in Chinatown, who simply puts it down to a modern aesthetic. "The ones I do also come out of the walls but only because it is cooler. I could have put them on the floor," he says.
The factory format
Wise insists the only difference between a modular and a regular building is in the way it is built. "You're dealing with giant Lego blocks rather than sticks, and when I say sticks, I mean metal beams and concrete. There are still metal beams and concrete in a modular construction but you are building it in blocks," he says.
The prefabricated nature of modular homes suggests the units will be fairly cookie-cutter in design. In fact, 461 Dean St. has three different sections with various floor plans and Wise says even though you are dealing with boxes, it doesn't mean designers can't get creative. "If you can design it in, you can build it. You can do whatever you want. If you want a bay window, you put in a bay window at the factory."
Corredor had a chance to visit the factory when units of her building were under construction and says it was very impressive.
"There'd be a kitchen and they were building the inside of it—the walls, the structure—and next to it was another kitchen that was a bit further along where they were installing the appliances. It really was set up like a factory with plumbers and carpenters working on each unit."
Fine-tuning modular methods
The build-out of 461 Dean St. three years ago hit obstacles, with leaks and alignment issues. Roger Krulak is CEO of FullStack Modular, the design firm within Forest City, and says they learned a ton from some early mistakes.
"We did not spend the time guaranteeing the absolute plumb and squareness of the entire chassis [unit blocks] as we were fitting the building out, because our presumption was that they were already plumb and square." It turns out the blocks weren't as rigid as the engineers assumed. 
"We now use aerospace technology to check the dimensions of our chassis as we are building them, so we build within 2000th of an inch. In addition, we have a system that we are using on site that also scans the chassis as they are put in place to make sure they are dimensionally exactly where they need to be."
One thing Corredor wondered about in her unit is the flexibility of her floors. "They are a bit bouncy. I don't know if there's more air in them."
Krulack says that's not a feature of modular units, but a fault they've worked to resolve as they've improved their modular designs. "The floor was not as rigid as we would like even though it was effective from a structural perspective. It had more play that we liked. We don't do that anymore we use a much more rigid flooring system."
Modular buildings should mirror conventional ones
The goal is to have nothing but the design process that differentiates modular from conventional buildings. "A building no matter how it is built is code compliant so the reality is that at the end of the day a modular building is exactly the same as any other building, with exactly the same codes," says Krulak. 
Forest City hit delays with their Dean Street project but Wise says a modular build should be more efficient. "It's a lot quicker to design build and put up each building because while you are tearing down the old building and digging out the new foundations, you are building the new building at the same time." He says he used to be involved in conventional construction but has now switched to modular building exclusively because he can produce a better quality product.
"The factory is environmentally controlled unlike when you are out on the site in the elements—it's a different ball game. The modular factories have lifts that you can put the module on, you can lift it up, tilt it, you can do what you want with it and it makes it easy for the worker to do a good job." 
Modular maintenance 
Corredor hasn't had any reason to call in the management for maintenance in her unit but Krulak says troubleshooting in a modular unit should technically be easier than a conventional build. That's because the construction involves the creation of a "digital twin" and "in the event that you want to change something, you can look up the model and the model will show you where every pipe is, where every structural strap is, where anything is and all you need to do is do the engineering to accommodate that."
The issue of affordability
Krulak says when you embrace repetition, you increase productivity and lower the cost of production.
 "The first time you build a modular construction using a process you are likely not going to save much money, but the third time you do it you are going to save a bunch of money," says Krulak who is now at work on two more modular residential buildings, one in Brooklyn and one in the Bronx.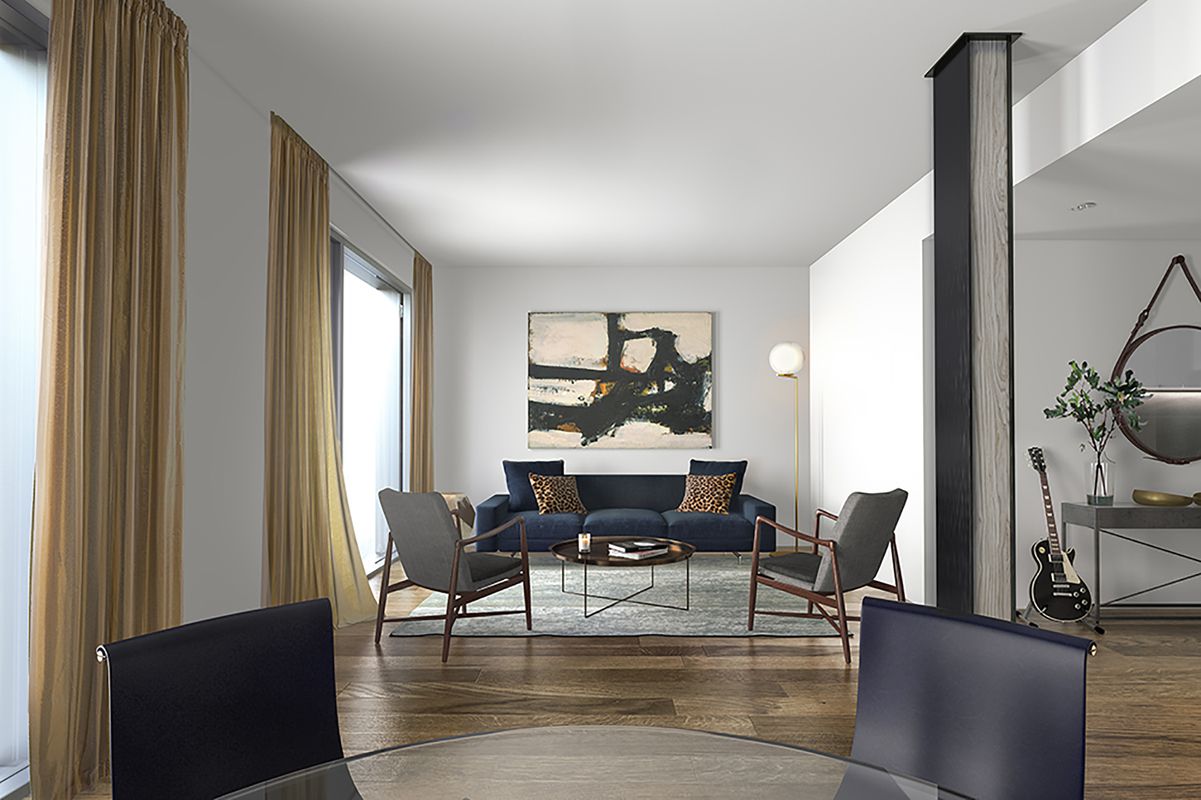 Whether that affordability is passed on to buyers depends on the developers. Wise's six-story condo building is being marketed as a boutique residence with private keyed elevator entry to every floor. On the other hand, Corredor says her building is
 "a 60/30/20 building so it is deemed affordable so it has an interesting mix of people in the building which I like."
So modular, like any other superstructure can be something for everyone. "It's one very good move towards construction technology that is a value proposition for all those involved," says Krulak. Is it the answer to New York City's affordability crisis? "It depends how greedy the developers are. There's no reason it can't be," he says. 
Brick Underground articles occasionally include the expertise of, or information about, advertising partners when relevant to the story. We will never promote an advertiser's product without making the relationship clear to our readers.