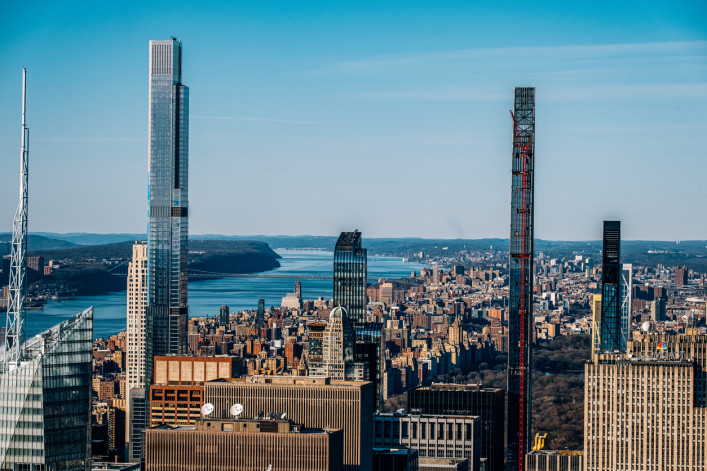 As a buyer in New York City—where the real estate market now favors sellers and is becoming increasingly competitive—you're probably looking for all the ways to spin deals back to your favor. One (very risky) trick is to go into a deal unrepresented by a broker.
Why go this route? Because when NYC sellers sign listing agreements with their brokers—deals are typically structured with a 5 or 6 percent fee that is split in half with the buyer's broker. But some sellers will negotiate a fee chop: If there is no buyer's broker, that fee becomes 4.5 or 5 percent. Unrepresented buyers may think the savings on the broker fee can then be passed along to them.
Similarly, unrepresented buyers going into a bidding war might think they're better positioned to win, since choosing them means a seller's agent doesn't have to share their fee.
While some buyers will forgo using a broker altogether, some will rely on the seller's broker for assistance in sealing the deal. In this case the seller's broker becomes a dual agent—one who represents both the seller and buyer, picking up the task of getting the buyer past the board, for example. Buyers who rely on a dual agent lose the confidentiality of a broker who is working just for them—and as a result may be leaving money on the table, brokers say.
Buyer's expectations
"Buyers think they'll do better and they'll be picked in a bidding war," says Christopher Kromer, a broker at Brown Harris Stevens. The perception is, 'I'm going to be looked at favorably if I don't have representation.'" But the perception is not the reality. "In my experience buyers are not saving anything off the commission or anything off the price," he says.
It's a common expectation, says Mark D. Friedman, an agent at Brown Harris Stevens. "I think every buyer who comes to a property and doesn't have a broker feels that they're going to get a deal," he says.
But by the time a buyer comes along, sellers and their brokers have already agreed to their terms. "No selling broker is ever going to say, 'Oh ok now I'm going to take 3 percent'" because the buyer is unrepresented, Friedman says. "Buyers are woefully misguided when they don't have a broker on their side," he adds.
Friedman recently put a NYC property on the market for $3.5 million and was shocked when three showings involved buyers that didn't have brokers.
One explanation: Thanks to online listing sites like StreetEasy and Zillow, there are so many ways of viewing properties, so a lot of buyers are doing their own searches. These buyers may look first and involve a broker later, he says.
Most NYC buyers use a broker 
Still, most buyers in New York City use a broker—it is one of the ways that buying in NYC is very different. This can come as a surprise to people who are buying here for the first time—especially if they bought somewhere else in the U.S. without a broker and were not attuned to risks inherent with using a dual agent.
But a new national report by Stephen Brobeck, a senior fellow at the Consumer Federation of America, raises the alarm about brokers who represent both sellers and buyers—which he calls "double-dipping." The report deems it "one of the most controversial practices in the residential real estate brokerage industry."
His report estimates that "a million sellers and buyers in home sales with a single agent are charged excessive commissions totaling several billion dollars annually." 
In a seller's market, some buyers appear willing to forgo representation, he writes.
"When buyers do so, those without attorneys are on their own in dealing with an experienced agent who is legally obligated to advance the interests of their seller clients. Without the advice and representation of an agent or attorney, these buyers may end up being charged a higher price for the home, receiving fewer concessions from the seller, and/or not being aware of problems with the property." [Note: Buyers in New York City need to work with an attorney in order to close a deal.]
NYC doesn't have a centralized MLS to record buyers' and sellers' brokers so it's impossible to quantify dual agency in NYC. (Brokers can "claim" deals on StreetEasy, the de facto listing MLS for NYC, but most don't bother.) Some brokers that Brick spoke to estimate that dual agents represent as much as 20 percent of deals in NYC, others put the rate much lower.
Brobeck checked sales data on Realtor.com for Brick Underground and found that dual agents are more common in the outer boroughs than they are in Manhattan. He noted that 12 out of 100 sales in Brooklyn and 32 of the 100 sales in Queens were "double-dipped," and says the latter is "a very high rate." He did not find buyer's agents listed for the batch of deals he checked in Manhattan.
"I wouldn't be surprised if the double-dip rate in Manhattan is on the low side for your area, probably under 10 percent," he says.
The rules of disclosure
Buyers and sellers in New York State sign a disclosure form that spells out the different types of real estate relationships and fiduciary responsibilities, and it covers dual agency as well. In a dual agency situation, the form states, "the agent will not be able to provide the full range of fiduciary duties to the buyer and seller."
"It's a good thing that New York State has very strict rules about disclosure," says Thomas Kutzman, co-CEO of Prevu, a brokerage that gives rebates to buyers and sellers (and a Brick sponsor, FYI). "We're obviously very big advocates for having your own broker when you're doing what's likely the biggest transaction in your life," he says.
"Some agents will try to say [dual agency] it is a faster, smoother transaction but at the end of the day they are incentivized because they're making twice the money," Kutzman says.
Different types of dual agency
Dual agent situations can happen, brokers say, when unrepresented buyers go to an open house just to check out a listing—and find themselves starting the buying process faster than they expected, and agreeing to rely on the seller's broker.
It's also common in new development where you're buying from the sponsor, says Mark Chin, a broker and productivity coach at Keller Williams New York City.
Chin advises agents in his training programs not to act as dual agents. "It puts the agent in a morally hazardous position," he says. But the issue is not the fee, he argues.
"The important issue is that a broker owes a client full disclosure, loyalty, and confidentially which gets undercut in a dual agency representation. A fee of 5 or 6 percent is lot of money but not unwarranted, especially in this town," he says.
The problem for buyers in a dual agency agreement is that they don't really recognize that a seller's agent is still primarily looking out for the seller's interest. "They're not really represented," Chin says about buyers. He says buyers may confide to the agent what their budget is and what they would like their opening bid to be—in effect showing their hand to the seller.
In a resale situation, an unrepresented buyer may be referred to another broker at the same firm as the seller's broker. This is also technically considered dual agency.
"I could be doing a deal with another agent from Brown Harris Stevens across town," Friedman says. "If you didn't allow for [this type of] dual agency, the big NYC real estate firms wouldn't be able to do deals," he says.
He estimates that 80 percent of deals in NYC are co-broked (meaning there's a buyer's broker and seller's broker) and of those deals, close to 50 percent are "direct" and involve agents from the same firm.
"It's rare that people come to properties without a broker these days," he says. "I always find it amazing—it doesn't cost them anything to work with a buyer's broker." (You could argue that the broker fee paid by the seller is baked into the price paid by the buyer—but that's a debate for another day.)
Friedman says buyers working without a broker are in effect flying blind. Brokers make it their business to know how NYC buildings differentiate themselves—for example what their financial requirements are and what they want to see in their board packages—and what sort of deals are being offered at new developments, where there are huge incentives these days, such as paid mansion taxes.
"It's up to the broker to really know what's going on so the buyer can get a better deal," Friedman says. "The buyer thinks it is just about finding the listing on StreetEasy and that is just the tip of the iceberg," he says.
Brick Underground articles occasionally include the expertise of, or information about, advertising partners when relevant to the story. We will never promote an advertiser's product without making the relationship clear to our readers.