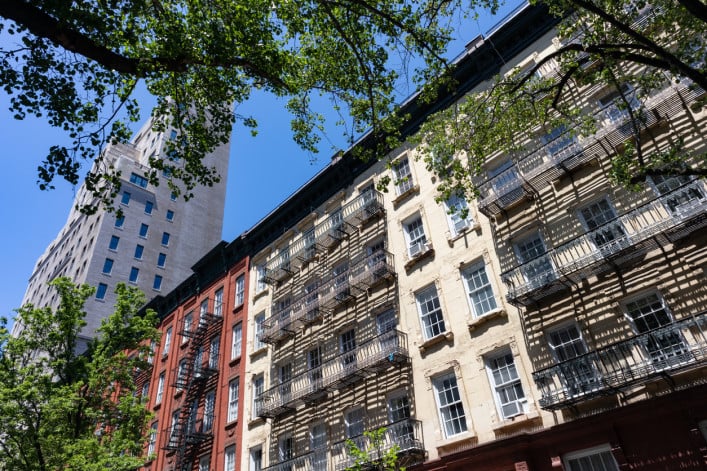 Many New Yorkers are craving extra space as work from home and online schooling is expected to continue into the fall and beyond. If you're in a position to buy an apartment in a building in which you already own—either to expand your footprint or use as a home office—you may be wondering if you still have to go through the lengthy board application process. 
Since you've already been approved once, you may be thinking the process is waived or a mere formality the second time—but that's not the case. Even though you are buying in your own building, you'll likely have to go through all the steps of the board application process, not least because of the uncertainty resulting from the coronavirus.
You may have to jump through some hoops again for a condo board, but it is more limited in its ability to block an additional purchase. A condo board has the right of first refusal, meaning they can buy the apartment at the same price if they don't want to approve the sale. A co-op board, however, can turn down your application for any reason—as long as it is not discriminatory—and is not required to justify or explain the decision. For that reason, this discussion is centered on co-ops.
New scrutiny because of Covid
Michael Feldman, a partner at the law firm Romer Debbas, says a board has a fiduciary responsibility to the building to ensure that a shareholder can meet their monthly expenses. "Especially in this environment, boards are going to want to verify they can carry the unit—that means updated financials and any related information," he says.
However, there may be some formalities that could be skipped, like references or an interview. "If the board has a comfort level with the shareholder they are not going to need reference letters again or a board interview," Feldman says. 
Every building is different and it's possible a board may lean favorably towards an existing shareholder, says Jessica Silver, a salesperson at CORE. But there are no guarantees for approval. "If you're currently in good standing with the co-op, you will still need to submit a board package, but the references and board interview can be eliminated from the process," she says.
Bill Kowalczuk, a broker at Warburg Realty, says he knows of more than a few co-ops that require a full package to be completed and is also aware of a buyer who already owned in the building and was turned down by the board. He says a full financial profile will be the minimum requirement. 
"They'll want to know that the owner or buyer can afford the additional carrying costs of the new purchase and to see if there has been a change in income, assets, or career," says Joel Moss, a broker at Warburg Realty. 
What are your plans for the apartment?
Daniel Wollman, CEO of property management firm Gumley Haft, points out that how the apartment is going to be used, whether one is being sold to buy another, or whether it is going to be combined or sublet, will all create different requirements for the qualifying purchase. If one apartment is being sold to buy another, Wollman says the board is less likely to need a lot of information, unless the price is substantially higher. 
"If the two apartments are to be combined, boards will probably ask for updated financial information from the resident-owner. If the original apartment will be rented, financial records, will be required for the sublet," he says. 
What are co-op boards looking for?
This is where transparency is important, says Lisa K. Lippman, a broker with Brown Harris Stevens. She thinks co-ops should provide documentation outlining exactly what a co-op board is looking for. She says it would be a smart move for co-ops to take the guesswork out of the application. 
"A document might say you need to have three times the price of the apartment in liquid assets and, or 10 times the maintenance in monthly income. People wouldn't then be worried about going through the whole process only to be turned down." She points out that sometimes the board of a co-op isn't entirely sure what they are looking for so having it spelled out for all parties would be helpful. 
Don't hold your breath for this. Feldman says transparency is always a good thing, especially now, but we are unlikely to see co-op requirements outlined on paper because it then "boxes the board into a decision," he says. "If you put in specific requirements, it lessens the boards ability to be flexible and opens the board up to potential litigation if a buyer meets the criteria but does not get accepted," he says.
Brick Underground articles occasionally include the expertise of, or information about, advertising partners when relevant to the story. We will never promote an advertiser's product without making the relationship clear to our readers.