For many apartment-dwelling New Yorkers, a house with a swimming pool seems like something you only find in the suburbs. But while they are rare, they do exist here. So if you're in the market for a new house and are considering getting one with a pool, the end of the season is a good time to look, especially in the current buyer's market.
These houses with pools have been on the market all summer, so try to negotiate and you may be able get a discount and be in the swim of things by next summer.
In this week's Buy Curious, Carolina Sages of Citi Habitats and Georgia Asonitis and Mary Phelan-Kavanaugh of Douglas Elliman tell you everything you ever wanted to know about buying a house with a pool in NYC, including where you should look and how much it'll cost you.
The question:
A house with a pool in New York City would be a dream for someone like me, a lifelong apartment-dweller. What's the upkeep really like? And where should I look if I want a place with a pool that's still close enough for my daily commute into Midtown?
The reality:
It comes down to having enough space. Private houses with backyards large enough to accommodate a pool are rare in NYC.
And you can only realistically use the pool for a few months out of the year. "But if you are truly a sun worshipper and [want to] enjoy your home and its exterior amenities between the months of May and September, I say go for it," Asonitis says. "Your friends and family will love you for it—especially since they have no idea of the cost and upkeep it takes to provide this luxurious and relaxing amenity."
Where should you look?
Sages says to look in the more suburban-style neighborhoods like Dyker Heights and Mill Basin in Brooklyn, Bayside and Douglaston in Queens, Riverdale and Country Club in the Bronx, and Tottenville in Staten Island. Asonitis also likes Beechhurst and Malba in Queens.
Does a pool affect a home's resale value in NYC?
"Throughout my career I've never been able to credibly quantify an associated premium with a pool amenity for a townhouse," says Jonathan Miller, president and CEO of Miller Samuel, a real estate appraisal and consulting firm. He says that they aren't typical, probably because they don't add enough value to offset their cost and upkeep when it comes time to sell. "It seems apparent that if they added a premium they would be much more common in this luxury subset."
Sages mostly agrees, but says that in her experience "if the pool is well maintained, it can potentially add to the property value." If, on the other hand, "things are broken, the pool looks horrible, and landscaping isn't in place, it can actually damage the price of your property."
She continues: "A pool has a notoriously poor return on investment. You have to look at your pool as an investment in your lifestyle—not as a value-add to your home. Many buyers consider a pool a liability since they can be costly to maintain and open you up to lawsuits. This isn't California or Florida, and it takes a specific buyer who wants a home with a pool.
"If the property is a higher-end, outerborough neighborhood where many nearby houses have pools, it has more of an impact on value as it's standard for that community. Buyers looking in that particular area may expect one," Sages says.
If you want to add one, how much will it cost?
"Costs for pools vary widely based upon their size and scope," says Sages, explaining that it cost her nearly $100,000 to add one to her Long Island home (although she notes that that price also included stone work and landscaping around the pool).
In Asonitis' experience, the average cost of installing a pool in NYC is around $33,000 to $36,000.
How much does it cost to maintain a pool?
"For the do-it-yourselfer, pool chemicals and the added utility costs can top $1,000 per year," Sages says. "And hiring a professional pool service will be considerably more expensive."
She notes that in her area of Long Island, a weekly pool cleaning costs around $100 per visit. The fee to open your pool for the season is around $1,500 (including removing the winter cover, cleaning the pool, and checking pumps). There's also an end-of-season charge of about $1,000 to close the pool (which includes periodic winter visits to check that your pool cover is still properly secured so animals can't get in).
Phelan-Kavanaugh thinks that while "you should be ready to maintain a pool at a cost, the convenience of having your own pool far outweighs traveling to a pool club, which may be a large expense for a family."
What safety features will you need?
Our experts agree that all pool owners need a secure fence and a gate around the pool.
"An electric pool cover will also offer peace of mind," Sages adds. "With the push of a button, your pool can be closed, which is a very nice feature when you have small children." But it'll cost you. "It's around $10,000 to have one installed," she says.
Other options include pool alarms and motion detectors that alert you when someone enters the pool area.
Will you need to get extra insurance?
"Most home insurance policies already cover pools," Sages says, "including any damage that may occur to it, and liability related to injuries sustained in or around it."
But she warns would-be pool-owners that "by law, the pool's owner is liable for any person who uses it—whether they have permission or not. [Therefore,] it's recommended to increase your liability protection—up to $500,000. This will cause a small increase in your insurance premiums, but likely not by too much."
Finally, she adds that "it's important to note that many insurance companies exclude coverage for pools with diving boards and water slides. This is because these features create a greater risk for injury." 
In-ground vs. above-ground, what's better?
Phelan-Kavanaugh prefers the look of in-ground pools, noting that they appear more "seamless."
Sages concurs. "Most people agree that aesthetically they look much better," she says. "However, above-ground pools can be a lot simpler to own. Rather than the permanent structure that is a standard concrete in-ground pool, an above-ground pool—which has flexible walls over a steel frame—is considered 'personal property' and can be disassembled and taken with you when you move."
Chlorine vs. salt water?
Salt water pools are definitely becoming more popular these days, but many are still confused by them.
Despite the name, salt water pools do still have chlorine in them—albeit at lower levels than conventional chlorinated pools. And that chlorine isn't added by the pool guy during a periodic maintenance check. Instead, it's created as part of a chemical process through a salt water chlorinator or salt water generator. These chlorinators/generators can be expensive—this one is $1,045—and they'll need to be kept running 10-12 hours a day in order to deliver a steady enough stream of chlorine to stave off algae accumulation.
"This will add to your electric bill," Asonitis says. But since you won't need to continually add chemicals to a salt water pool, you'll likely make your money back on the generator pretty quickly.
Plus, the lower chlorine levels in salt water pools means you'll "have fewer problems like red eyes and itchy skin," Asonitis adds.
Still, for folks looking to save money up front, a chlorinated pool is probably the way to go.
What are some pros/cons of having a house with a pool in NYC?
Our experts agree that the biggest pro is simply that your house will be the place to be when the weather gets warm. "They are a great tool for parents to keep their kids entertained all summer long without having to leave the backyard," Sages says.
And if there aren't any kids to speak of? "Nothing is more relaxing than an afternoon by the pool with a good book and a cocktail," she adds.
That said, "The expense of maintaining a pool can present occasional challenges," Phelan-Kavanaugh says. Things happen. Pumps break. Generators go on the fritz. Heaters stop heating without warning. All of our experts recommend setting some money aside for days when things don't go swimmingly.
Check out these NYC houses with pools that are on the market: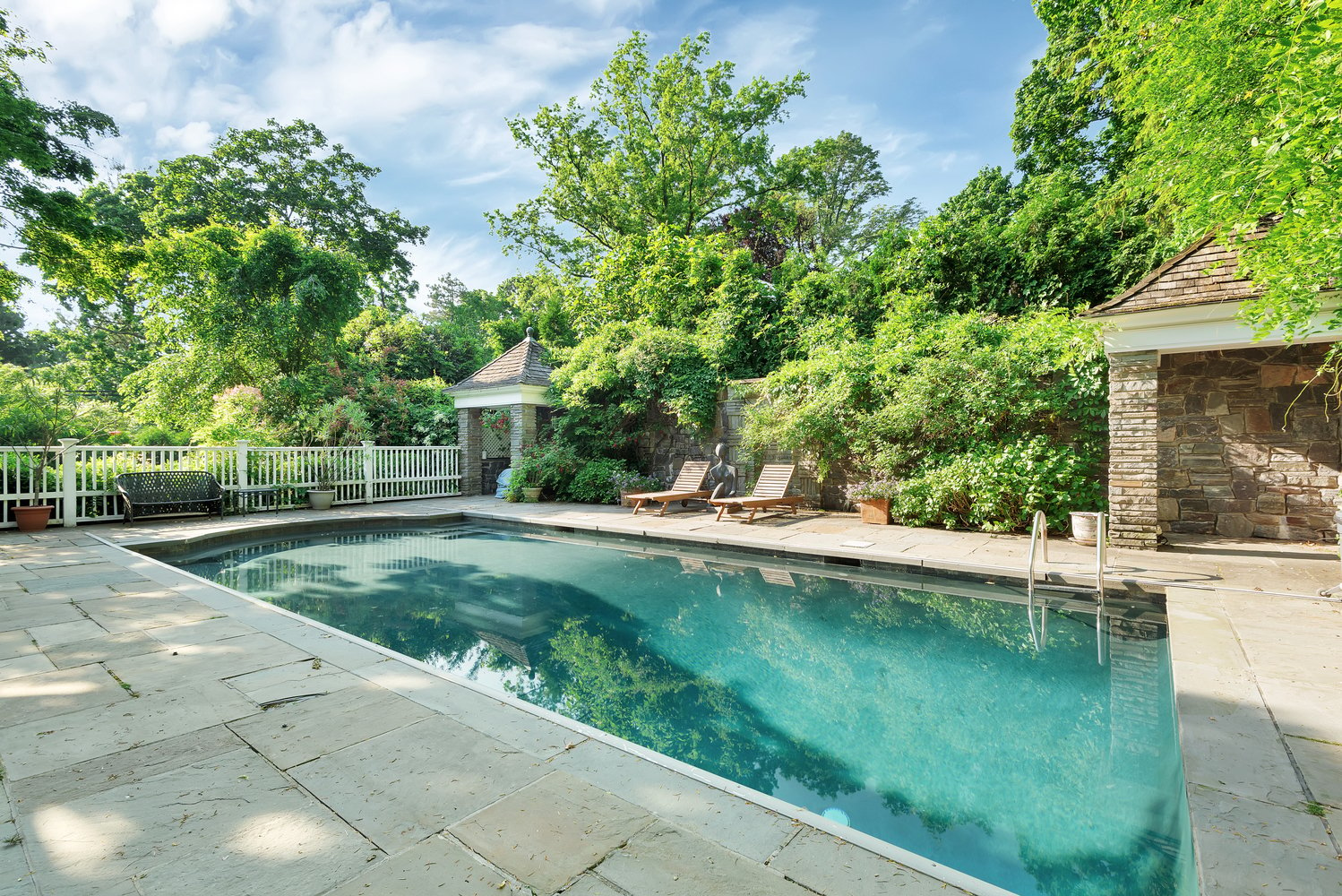 The first floor of this five-bedroom, four-bath Center Hall Colonial (also shown above) has a foyer with a grand staircase, a wood-burning fireplace in the living room, a formal dining room, a modern European-inspired kitchen, and a family room that opens to a pool and a patio. The second floor has a large master suite with another fireplace, walk-in closets, a bedroom, and a home office/nursery. The third floor has three more bedrooms and a full attic above. There's also a basement with a playroom, a mudroom, a laundry room, and access to a two-car garage. It's listed for $3,850,000 and has been on the market for over two months.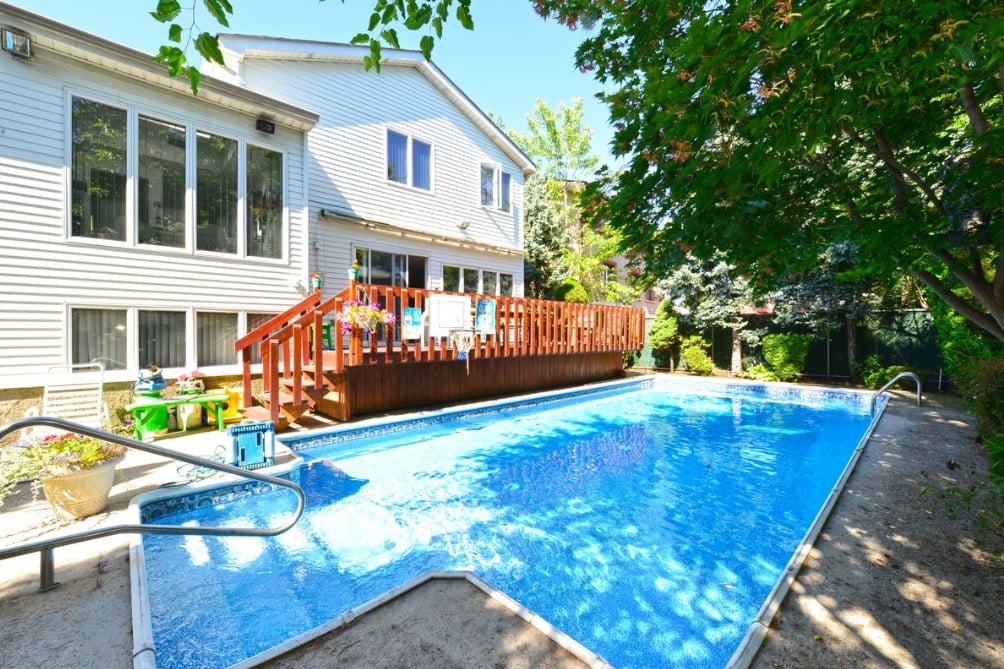 Priced at $1,849,000, this white custom brick, single-family house was recently remodeled. It has four-bedroom, two-and-a-half-baths. The first floor has a grand foyer with a 20-foot ceiling, a large living room, a dining room with an eat-in kitchen, and a guest powder room. The second floor has three bedrooms and two full bathrooms. The basement has two levels with an extra den that can be used as a bedroom, a three-quarter bath, and two family rooms and a summer kitchen. There's also a huge backyard with an in-ground pool and deck, and a garage with private parking for two cars. It's been on the market for two months.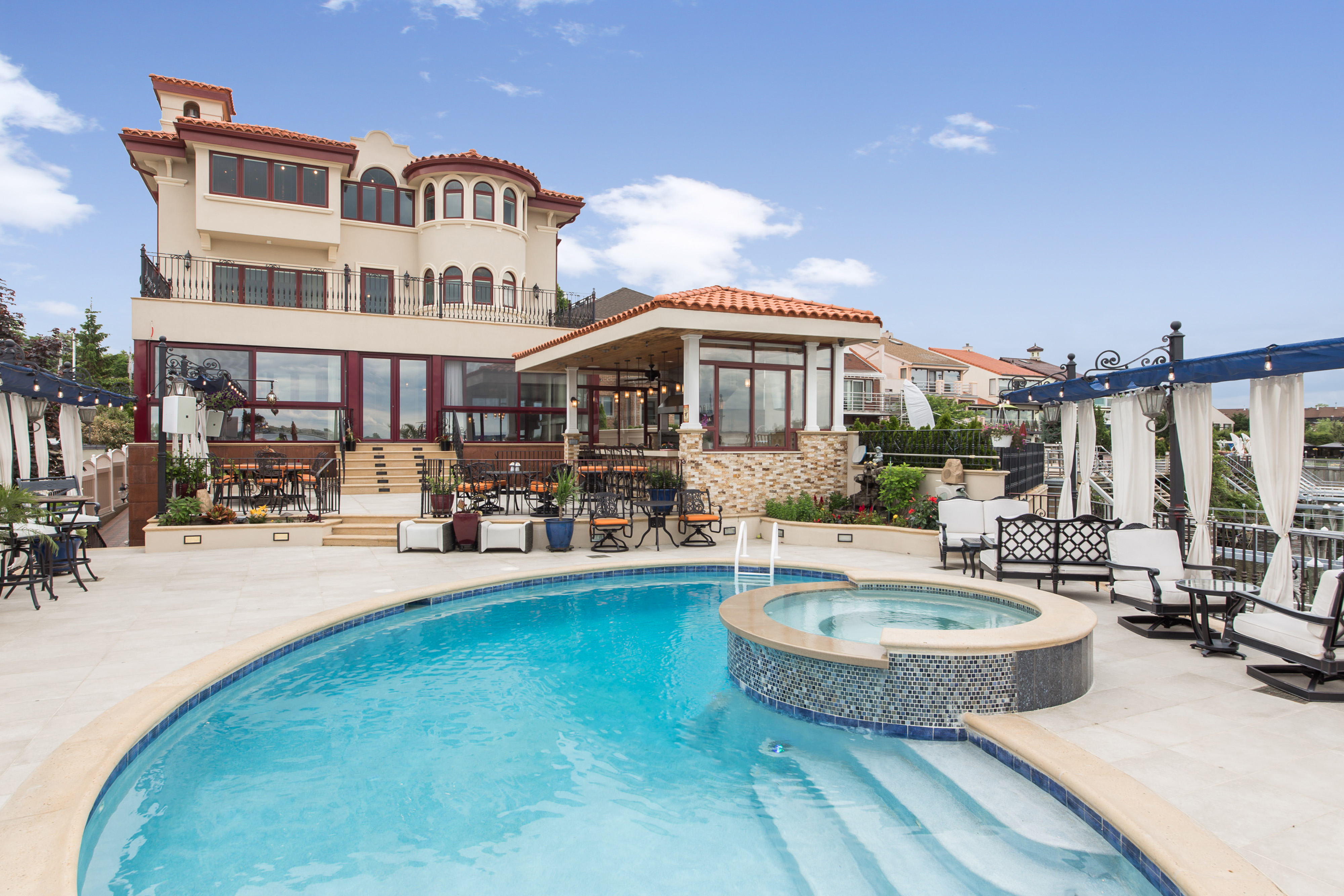 Listed for $7,988,000, this seven-bedroom waterfront Mediterranean villa in a gated community has six full baths, two half-baths, three fireplaces, a family room, a Florida room, an elevator, Viking appliances in the kitchen, a grand foyer with wrought-iron rails and a crystal chandelier, and a four car garage. The exterior grounds include a full stone kitchen/barbecue area, an in-ground pool, a dock for a 60-foot boat, and a gazebo.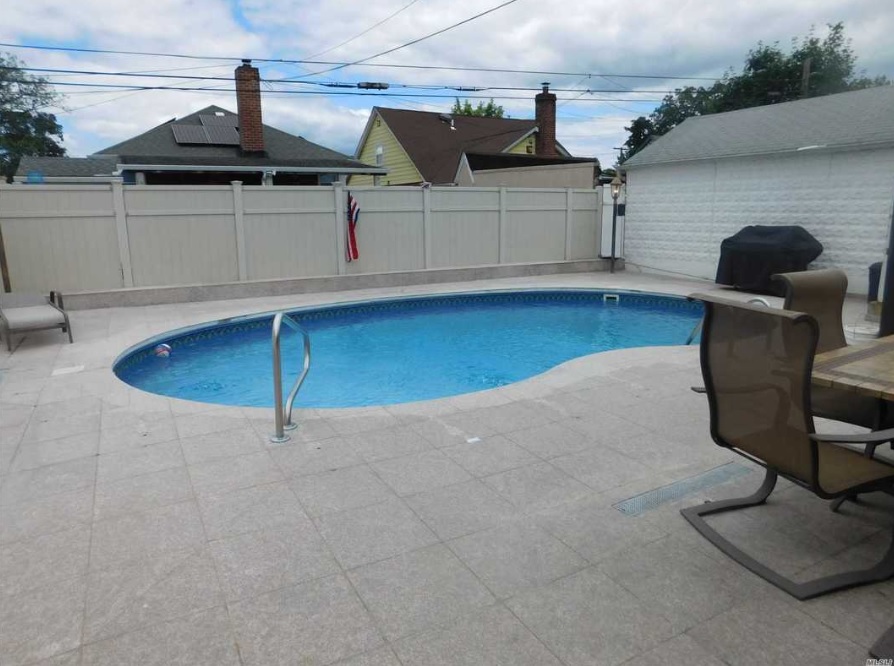 This three-bedroom, one-bath detached ranch house has been completely renovated and now has granite floors and countertops, all new plumbing and electric, central air, a custom-built kitchen with stainless steel appliances, a large finished basement, a detached garage, a long driveway, and an in-ground swimming pool. It's listed for $1,150,000 and has been on the market for three months.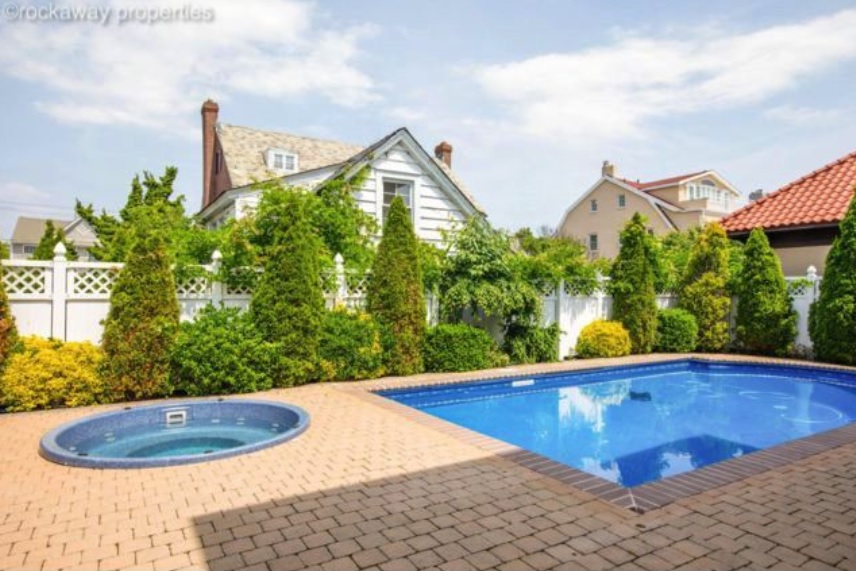 Features of this five-bedroom, three-and-a-half-bath Mediterranean-style house include a large foyer, sitting area, dining room, formal living room with a wood-burning fireplace, an eat-in kitchen with stainless steel appliances, and a master bedroom with a Juliet balcony. There's also an in-house gym, a large backyard, an in-ground pool, a Jacuzzi, and two driveways with parking for seven cars. The price appears to have been dropped to $2,900,000 from $3,250,000. It's been on the market for over three months.
Brick Underground articles occasionally include the expertise of, or information about, advertising partners when relevant to the story. We will never promote an advertiser's product without making the relationship clear to our readers.