Love to swim, but don't want to have to trek to a gym daily to get your laps in? Why not buy in a building with a pool? In this week's Buy Curious, Mirador Real Estate's Kireolos Zakhary and Mdrn. Residential's Nick Sanni tell you everything you need to know before you can get your Michael Phelps on in your very own building.
The proposition
I'd like to buy in a building with a pool. What are the extra costs that come with that? What kinds of buildings have them? Are there neighborhoods that have them?
The reality
How times have changed: Pools, once a rare perk, has now become mainstream—to a fashion. "Pools used to be a luxury amenity, but are becoming more common as the majority of new developments and condo conversions include pools on their amenity list as a standard feature," says Mirador Real Estate's Zakhary. "Your monthly common charges will depend on the luxury factor of the building. The more services, staff members and amenities [there are], the higher your [monthly] charges will be."
And since pools are so often found in these newer, pricier buildings, it's safe to assume you'll probably need to commit to a more expensive building to get one. But it's not all that simple, says Zakhary: "The pool is [just one] of many more amenities. The value of the unit is determined with everything else—not only the pool."
Older buildings will occasionally have pools, as well, but those are fewer and more far between. "The last two waves of New York City development (1980s and mid/late 2000s) both had a number of residences offering luxury amenities including pools," says Mdrn. Residential's Sanni. 
Both brokers caution would-be buyers to always be sure to check out a pool in a building you're considering—one man's Olympic-sized pool is another man's kiddie pool. "Anything marketed as a 'pool' will have lanes," says Sanni. "Some buildings have reflecting pools as an aesthetic feature, but I haven't seen them marketed in a way to make anyone think that you can swim in them." That said, to avoid potential confusion, take a quick peek to make sure the pool that's on premises is exactly what you're looking for.
Read on to find out what else you should know before buying in a building with a swimming pool:
Are there any extra costs associated with living in a building with a pool?
"Any cost associated with an amenity in the building—whether it's a doorman, a live-in super, a concierge, a gym, a playroom or a pool—is reflected in monthly common charges in condos or maintenance fees in co-ops," says Zakhary. "But there is no dramatic increase in common charges because the building has a pool."
Does having a pool in the building add on to the price of the apartment?
It's not as if developers add pools simply to raise prices. "Developers are including pools as a common amenity to have a competitive edge," says Zakhary. "They have to price their product by comparables in the area—not by the cost of the pool construction. Same goes for resale. Prices are made by comps of similar units in the neighborhood, not by a building's amenities." 
Nonetheless, prices do tend to be on the higher side compared to non-pool properties. "Having a pool in the building doesn't necessarily raise the price of the apartment. [It's just that] buildings with pools usually offer a host of other high-end amenities, which overall might lead to a higher price," explains Sanni. 
What's the short answer, then? Most likely. "I don't see amenities like pools as a la carte. In other words, it is very difficult to extract the value of a pool, just like it is hard to extract a health club or a roof terrace. I view these as part of a suite of amenities that add value to a property," says appraiser Jonathan Miller. "With an amenity like a substantial pool facility, it can add a few percentage points to the value—perhaps even a few more. It can also depend on the size of the building. A larger building can more readily absorb the operating costs than a smaller building."
Will you typically have to pay an additional fee to use the pool?
According to Sanni, it's usually free for a sales property—whether a property be old or new, condo or co-op. "You'll find some rental buildings that charge additional fees for use of the pool or other amenities, but you rarely see this in a condo or co-op. It's usually included in the building's common charges or maintenance and you are not charged separately per visit." 
What types of buildings are more likely to have pools?
You can find pools in both new and existing condo buildings, and even in some co-ops, but building size will likely dictate if there is one. "You'll almost always find pools in buildings with hundreds of units," says Sanni. "The building needs to collect common charges/maintenance from a greater number of owners in order to support the amenity without monthlies getting too high." 
Geography can also play a part. "A luxury amenity package including a pool is often used to incentivize buyers into buying into an up-and-coming area," he adds, citing the Financial District as one example of one neighborhood that has done this recently. (Also see: Riverdale in the Bronx.)
Are there any NYC neighborhoods that tend to have more buildings with pools than others?
Zakhary says that "neighborhoods with higher concentrations of new developments or condo conversions have more buildings with pools. For example, Tribeca, Chelsea, and the Upper West Side." 
Sanni adds the following to the list: "The Upper East Side and Upper West Side have the most. After that would be Midtown West, the Financial District and Battery Park."
Check out these listings with pools:
Lincoln Square four-bedroom, four-bath condo, $5.495 million: This 2,353-square-foot home at 50 Riverside Boulevard (between West 61st and 62nd streets) offers river views, a gourmet kitchen with an island and stone slab countertops, and in-unit laundry. Building amenities include La Palestra, a 40,000-square-foot athletic club and spa, a swimming pool, a rock-climbing wall, basketball and squash courts, a two-lane bowling alley, a lounge, a golf simulator, spa facilities, a parking garage, cold storage, and private storage.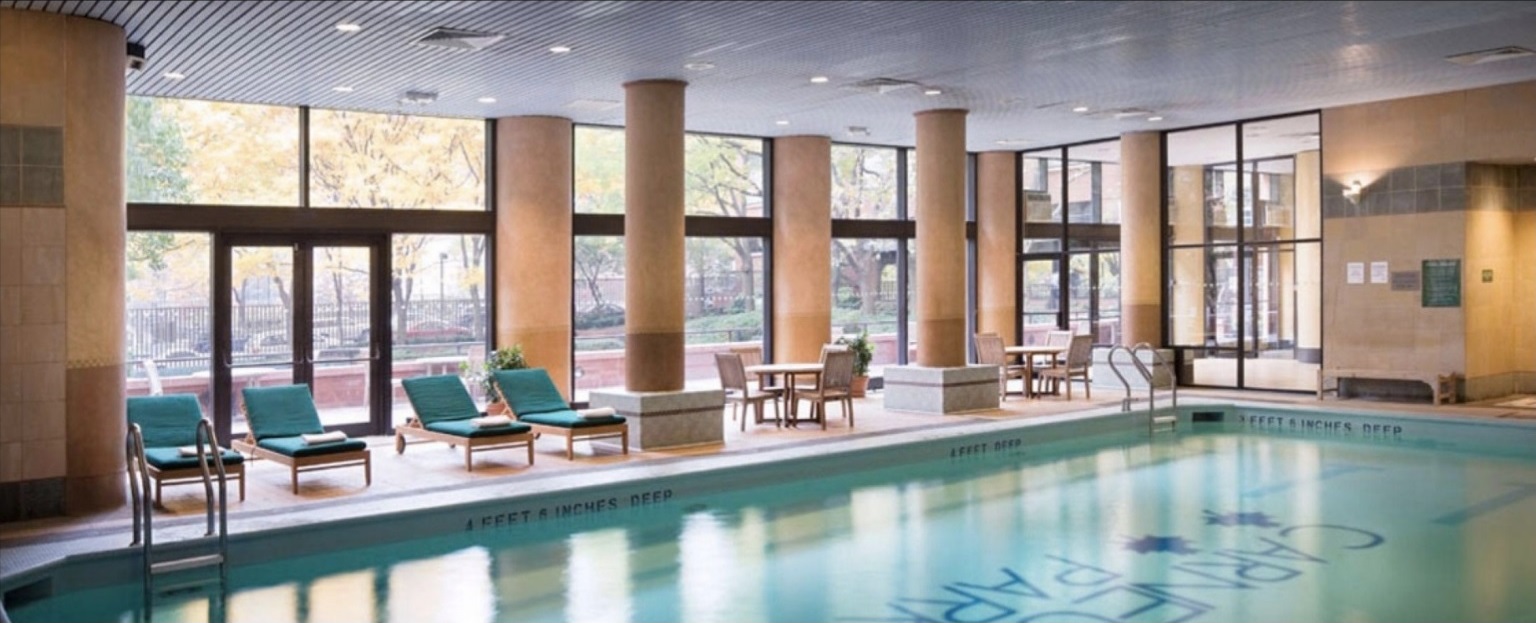 Upper East Side four-bedroom, three-bath condo, $3.795 million: Located at 200 East 94th Street (between 2nd and 3rd Avenues), this 1,880-square-foot residence offers a 17-foot living room with East River views, wide-plank oak floors, and an in-unit washer and dryer. Building amenities include a gym, a children's playroom, a roof deck and a swimming pool.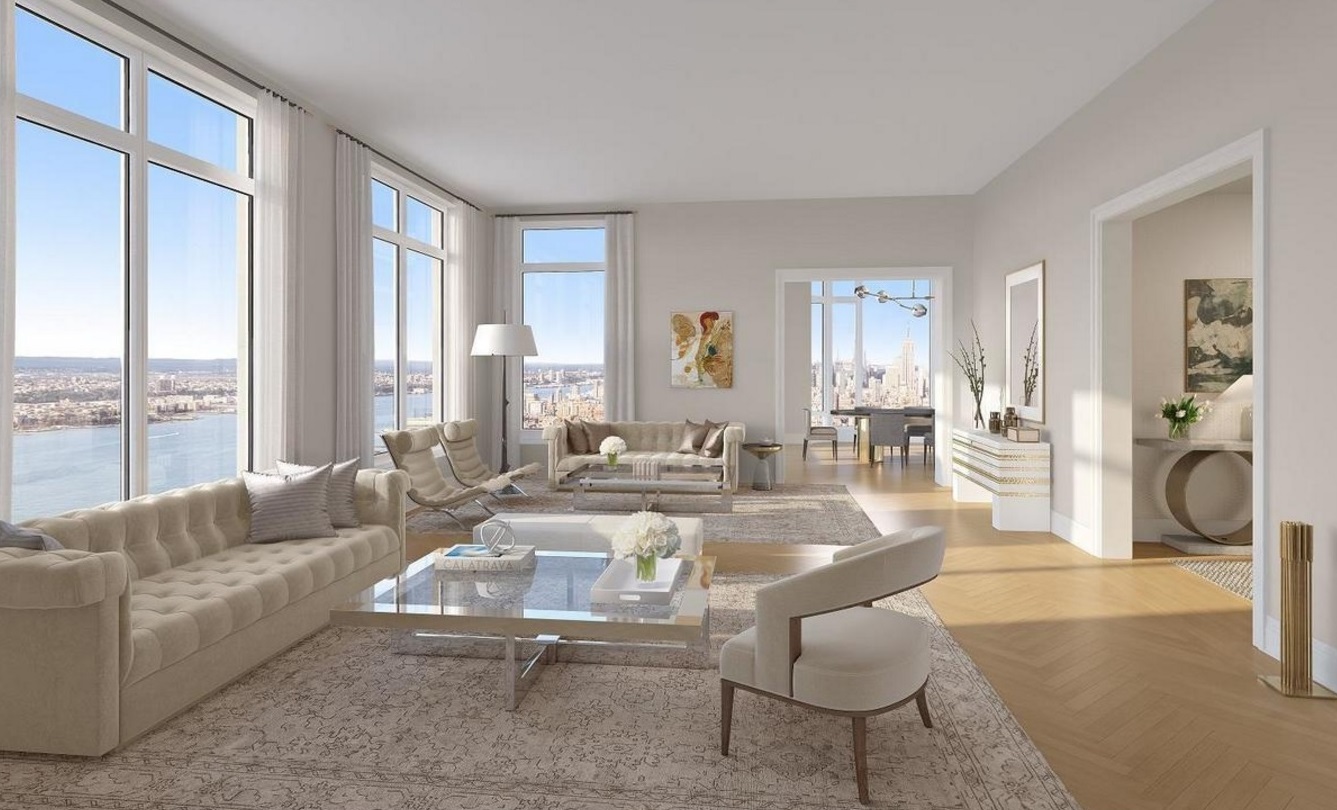 Tribeca four-bedroom, four-and-a-half-bath condo, $9.1 million
: This apartment at 30 Park Place between Broadway and Church Street has a corner living/dining room, an eat-in kitchen, and solid oak wood floors. Building amenities include a spa, salon facilities, an attended parking garage, a fitness center, a yoga studio, and a 75-foot swimming pool.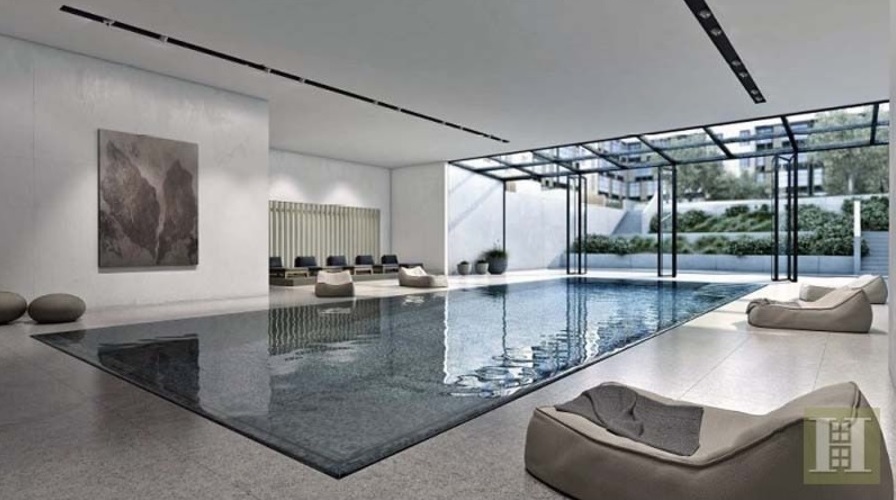 Williamsburg two-bedroom, two-and-a-half-bath condo, $1,975,000
: This unit at 429 Kent Avenue (between South 8th and South 9th Streets) has a private balcony, built-in storage, and custom millwork. Building amenities include two lobbies, a 24-hour concierge, a large courtyard, a lounge, a children's playroom, a fitness center with a spa, a landscaped rooftop with a reflection pool, and a lap pool.
Brick Underground articles occasionally include the expertise of, or information about, advertising partners when relevant to the story. We will never promote an advertiser's product without making the relationship clear to our readers.