Buy Curious
What to know about buying in Hoboken, New Jersey, where you can get more space and amenities, plus a quick commute to NYC
The New Jersey city of Hoboken, birthplace of Frank Sinatra and baseball, has a comfortably scaled-down city vibe and is just minutes across the Hudson River from the real deal.
With its shops, restaurants, bars, and plentiful green spaces, the so-called "sixth borough" has all the vivacious energy of a college (or small) town. What's more, it's walkable—you don't need a car to take full advantage of its many offerings.
In this week's Buy Curious, Joelle Chilazi, a broker associate with Compass, and Jeff Bonk, owner and team leader of The HBB Group, give us the inside story on Hoboken.
The question:
oneI've heard that I can get more for my money if I move from Manhattan to Hoboken. Is that true?
The reality:
It depends on which part of Manhattan you're talking about, Bonk says. "Over the last 10 years, parity has been moving into play; right now, prices are on par with the Upper West Side but are certainly much less expensive than areas like Tribeca."
Chilazi points out that you can still save by living in Hoboken since your money goes farther.
"Although there's more demand than five years ago because word is getting out, it's still a bargain because you get more space and more amenities for your money," she says. "The average price per square foot in Manhattan in the second quarter of 2022 was $1,502; in Hoboken, it's about half of that."
She notes as well that "you'll save money on income tax if you live in New Jersey and work in NYC, and you'll pay less in groceries, sales taxes, and at restaurants. You'll end up with more disposable income."
Where is it?
Situated on the west bank of the Hudson River across from NYC's Chelsea and Greenwich Village, Hoboken has 48 streets that cover only a square mile. The city is divided into six wards, numbered one through six. Jersey City is to the south and west, and Weehawken and Union City are to the north.
Why would
NYers

want to move to Hoboken?

Noting that 70 to 80 percent of her clients are from Brooklyn and Manhattan, Chilazi says that in addition to the price advantages, newcomers are attracted by Hoboken's walkability, its access to public transport, swift commute to Manhattan, its public and private schools, its culture, and its community atmosphere.

"People need more space because they are working at home, and they are running away from the crime of NYC," she says.

The community also attracts a lot of people originally from New Jersey who want to be closer to family and have access to the state's mountains, beaches, and suburbs, Bonk says.

New Yorkers find it attractive because "unlike Manhattan and other NYC areas, there are no co-ops in Hoboken. Condos are easier to buy—you don't need co-op board approval, for one thing—and pricing for them is generally better."

Pro Tip:

Wondering whether Hoboken is a good fit for your budget, commute and lifestyle? The Agency's Gold Coast Guides are standing by to answer your questions, help you figure out which town makes the most sense for you, and show you apartments that fit your needs. Click here to speak to a The Agency Gold Coast Guide or view apartments online.>>
Where in Hoboken should you live?
The city has two sections.
Uptown, which is close to the ferry and is one of the last bus stops before the Holland Tunnel, is the quieter part of the city. Although there are some restaurants, it's primarily residential, and it is known for the ultra-luxury condos that have been created in former factories that used to house the city's iconic companies, such as coffee maker Maxwell House.
"This is the slower part of town," Bonk says. "And it's more family-oriented."
Downtown, which is closer to the PATH system, is in the heart of the commercial corridor's bar and restaurant scene. Its condos are in smaller complexes.
"This area attracts single people in their mid-20s," Bonk says, adding that many move Uptown as they age out. "It has a very lively, cool atmosphere."
What are housing and pricing like?
Condos account for about 90 percent of housing here, Bonks says, adding that there are some single-family attached brownstones and about two dozen single-family detached houses in the community.
Although it's still a seller's market, things "are normalizing," Chilazi says. "We did have a lot of bidding wars, and there's still high demand and low inventory, but it's not like the frenzy during the pandemic."
Bonk agrees, adding that typically houses are on the market for 30 days and generally sell for asking price or slightly lower.
Compared with some NYC neighborhoods, which this year have had far fewer than 100 listings, there is a lot of selection in Hoboken: 178 single-family houses and condos are currently for sale in Hoboken, according to StreetEasy.
Single-family houses typically sell for $1.1 million to $3.2 million, Chilazi says, adding that condos average $700 to $800 per square foot and waterfront units with NYC views start at $1,000 per square foot.
There's a lot of action in the rental market too: Bidding wars and multiple applications are standard.
"Some of the condo owners rent them out," Chilazi says. "People want to rent on the waterfront because of the views and the promenade that has outdoor cafés and food trucks."
One-bedroom rentals generally go for $2,500 and two bedrooms for $2,750 and up to $6,500 (for a 1,300-square-foot unit in the uber-luxurious Maxwell Place on the Hudson condo complex along the esplanade).
Is there a lot of new development? 
Although a couple of new-construction apartment buildings and condos have been built recently, most of the development is confined to gut renovations of older buildings, Chilazo says, because there's not much buildable land available.
Discussions are underway to develop the northwest corner of Hoboken, which is primarily parking lots, Bonk says, adding that a new park is in the works there.
What's the transportation situation?
Hoboken Terminal is the city's transportation hub. There are several rail lines as well as PATH, the Port Authority subway system that connects to Manhattan's 33rd Street Station and the World Trade Center. Ferries, which are $18 round trip, go from Hoboken Terminal to West 39th Street, Battery Park, and Wall Street's Pier 11 in Manhattan.
"It takes eight minutes on the ferry to get to Manhattan," Bonk says. "They run every 10 minutes during commuter peaks and every 20 minutes the rest of the time."
New Jersey Transit trains also are at the terminal along with several New Jersey Transit bus lines, including the 126, with service to the Port Authority in Manhattan as well Washington, Willow and Clinton Streets in Hoboken. The Hoboken Hop shuttle goes around the city.
What is there to do?
Green space beckons. The Hudson River Waterfront Walkway, which is 18 miles long and connects the Bayonne Bridge to the George Washington Bridge, is one of the city's prime attractions.
"It has a huge open space—people play soccer, do yoga, and watch movies [there]," Chilazi says. "There are dog parks and playgrounds."
Other parks in the community include Church Square Park, Sinatra Park, Columbus Park, Elysian Park, Stevens Park, Gateway Park, Jackson St. Park, Legion Park, Madison Street Park, and Pier C Park.
Hoboken hosts several events, including the Hoboken Arts & Music Festival, throughout the year, and "has a robust calendar of events in the parks," Bonk says.
The Monroe Center, which houses over 100 businesses, is considered the city's business and cultural hub.
What's the restaurant/nightlife situation?
Most of the restaurants, bars, and boutiques are on Washington Street.
Popular spots include the Italian deli Fiore's House of Quality (Sinatra used to go there); Benny Tudino's Pizzeria and Italian Restaurant; Antique Bar & Bakery (more Italian); Blues Eyes (yet more Italian); La Isla Restaurant (Cuban food at Uptown and Downtown locales); Elysian Café (modern French bistro); Northern Soul (tavern with live music); Louise & Jerry's (beer, pool and jukebox music); Barbès (French bistro with Parisian atmosphere); and Pilsener Haus & Biergarten (Austrian-Hungarian).
"Two other iconic favorites are the Italian restaurant Augustino's, which has been here forever," Bonk says. "It only has about 10 tables, and it's really hard to get a reservation. And I'd put Dino & Harry's Steakhouse up against any steakhouse in Manhattan."
How about grocery stores?
In addition to Trader Joe's, residents have a choice of ShopRite, ACME, King's Food, Aspen Marketplace, and the Hoboken Farmer's Market. And a Whole Foods in Weehawken is close enough for many residents to walk to.
Check out these listings in Hoboken.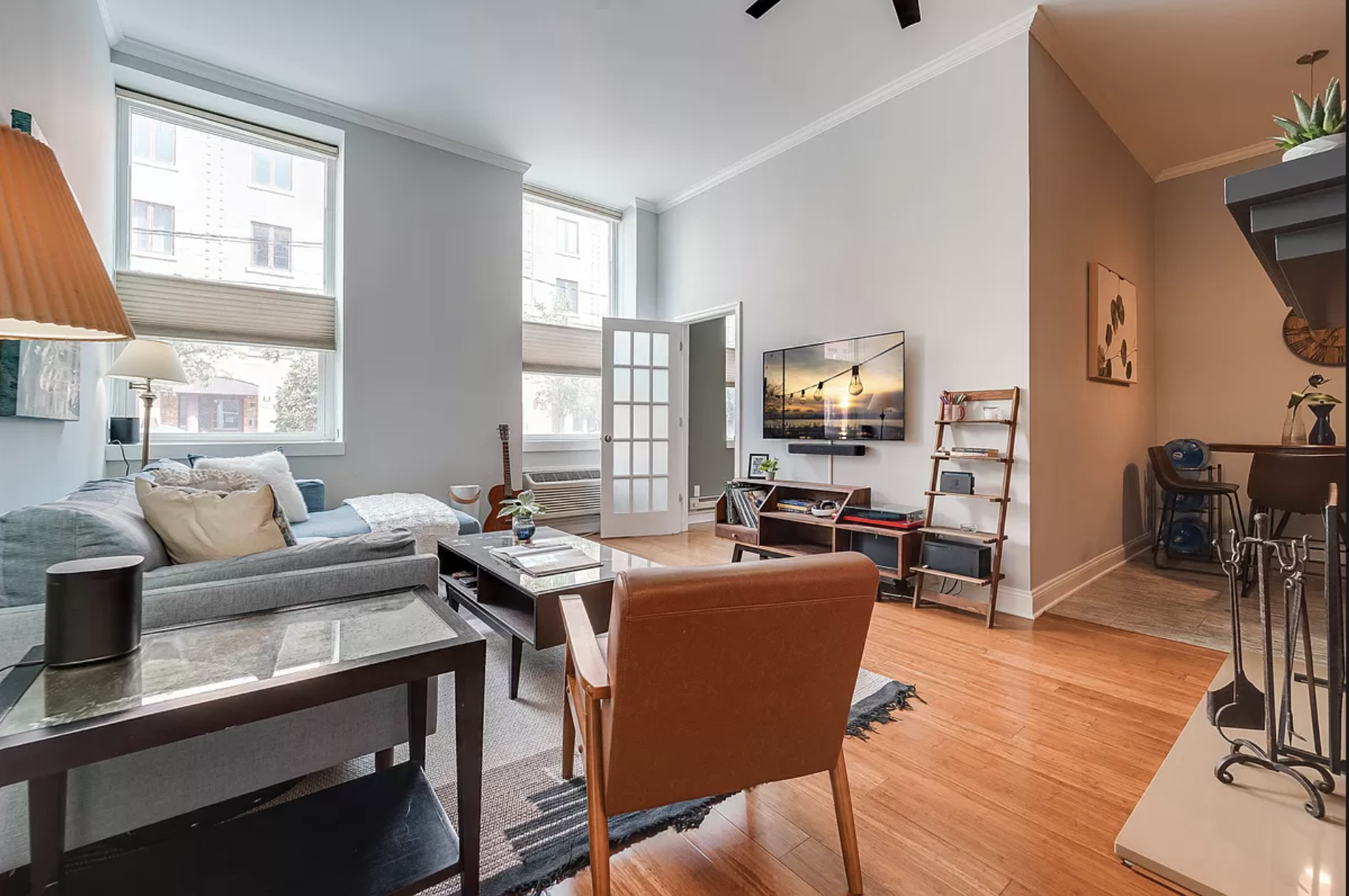 Located in The Grand Court, this two-bedroom, one-bath condo is listed for $625,000. Features include 12-foot ceilings, custom closets, hardwood floors, renovated kitchen with quartz countertops and stainless steel appliances, home laundry, and working fireplace with exposed brick. The building, in a gated community, has an elevator, courtyard, doorman, and outdoor pool.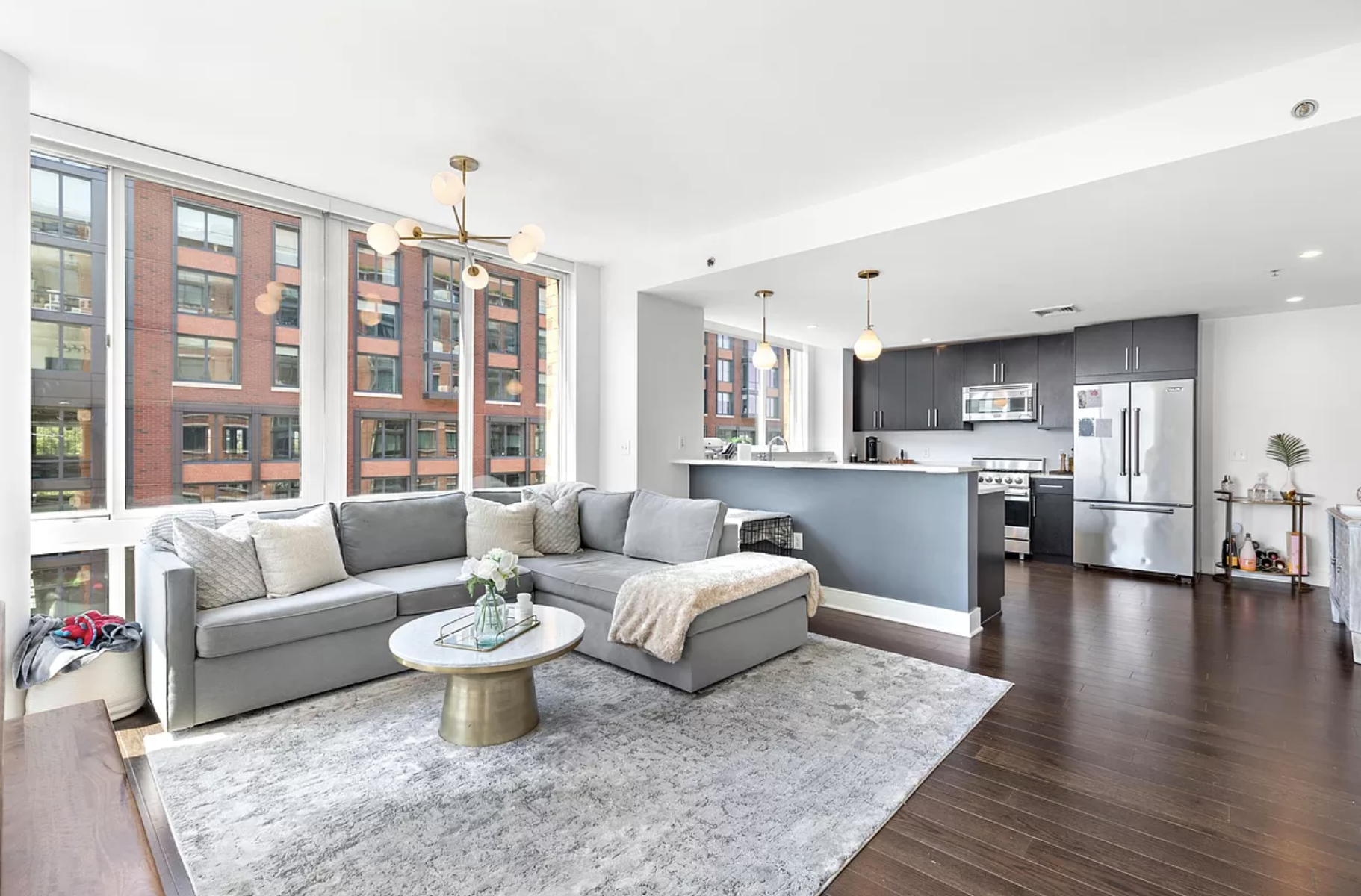 Listed for $1.525 million, this 1,388-square-foot corner condo in the Maxwell Complex has views of the Hudson River as well as two bedrooms, two bathrooms, an open-floorplan chef's kitchen with quartz countertops and stainless steel appliances, and deeded parking spot. The building's amenities include a yoga room, common rooftop terrace with gas grills, two gyms, two pools, and lounges.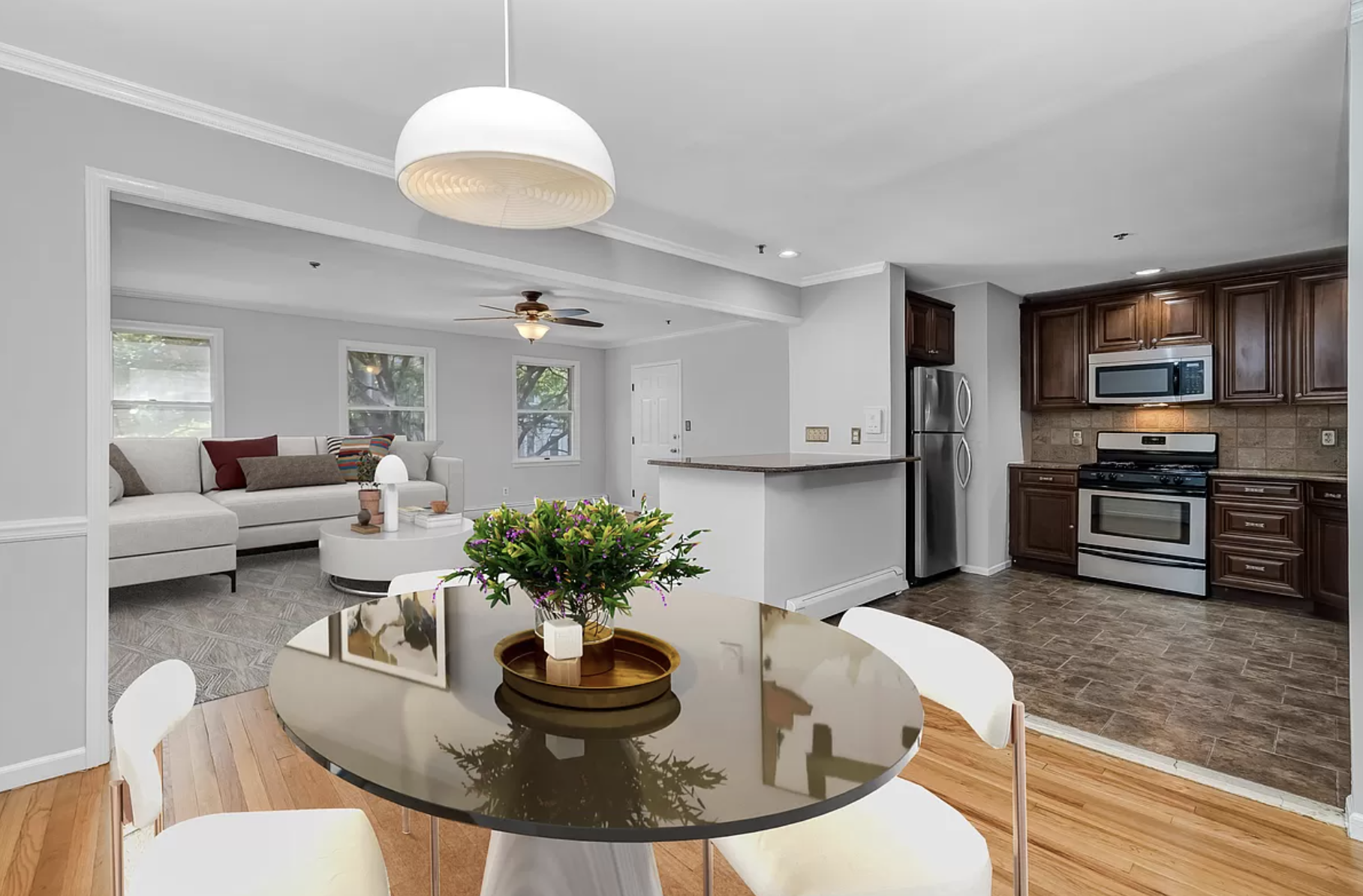 In addition to two bedrooms, one full bathroom, and one half bathroom, this 1,080-square-foot condo on a tree-lined street has a living room, dining room, renovated kitchen with granite countertops and breakfast bar, hardwood floors, full-size washer and dryer, and deeded parking spot. It is listed for $725,000.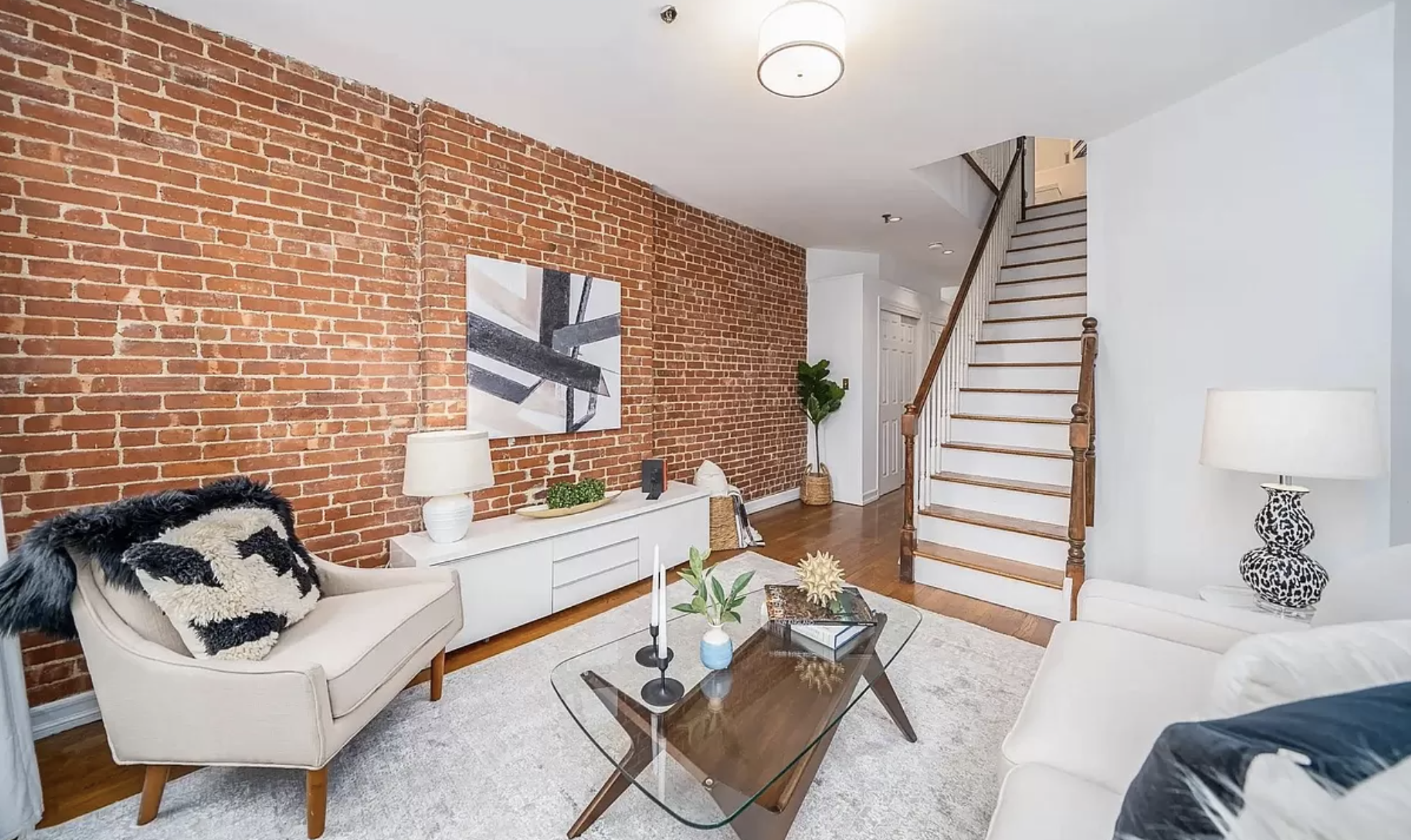 Listed for $685,000, this 1,045-square-foot Downtown duplex has two bedrooms, one bathroom, exposed brick, hardwood floors, a kitchen with granite countertops and stainless steel appliances, washer and dryer, and basement storage.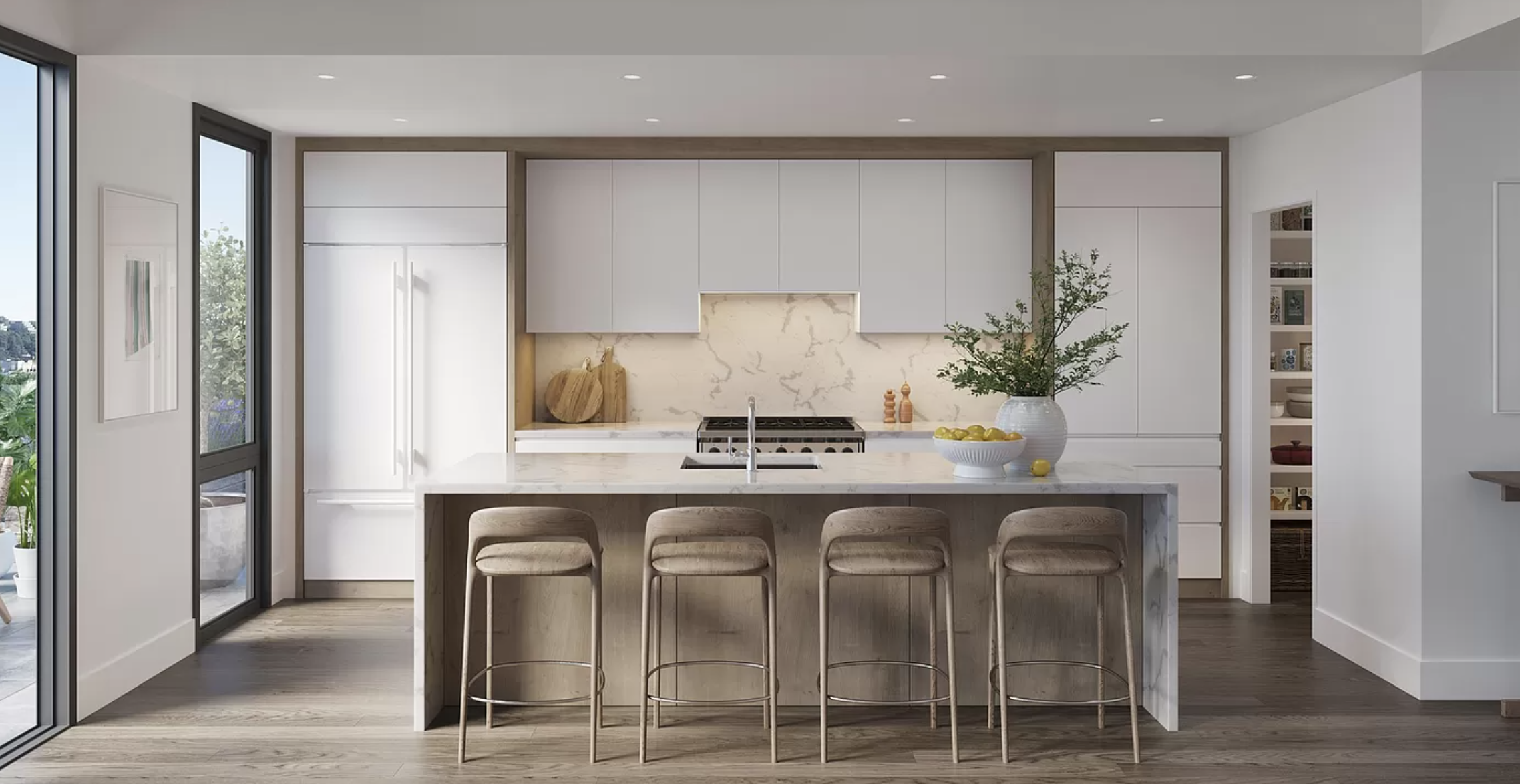 This 1,699-square-foot new-construction condo is in Wonder Lofts, the converted Wonder Bread factory. Listed for $1.999 million, it has two bedrooms, two full bathrooms, one half bathroom, a private patio with gas hookup, high-end kitchen appliances, and private deeded parking space in the building's garage. The 83-unit LEED Gold-certified building has a doorman and infinity-edge pool overlooking Manhattan's skyline.
Nancy A. Ruhling is a freelance writer based in New York City.
Brick Underground articles occasionally include the expertise of, or information about, advertising partners when relevant to the story. We will never promote an advertiser's product without making the relationship clear to our readers.