What Makes More Sense?
Buying an apartment in a small building vs. buying in a big one: Which is right for you?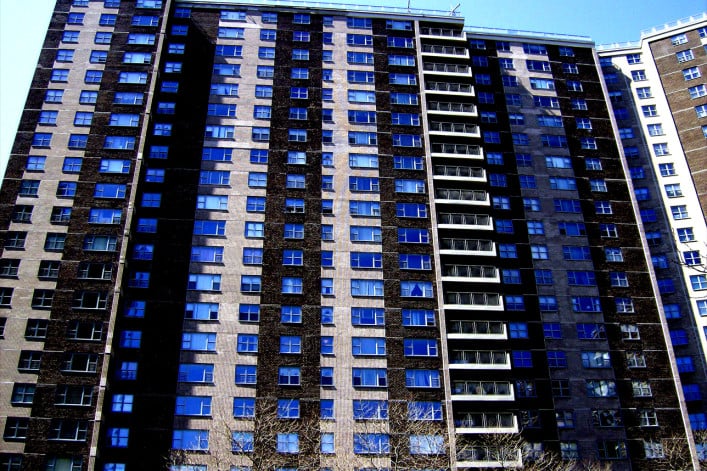 New York City's residential development trends, like so much else in the city, are a study in contrasts. On the one hand, supertalls continue to sprout up across town—the 54-story 262 Fifth Ave. is just one of the latest of these sky-high towers—altering the city's skyline and providing residents with massive, amenity-packed, self-contained communities. On the other, boutique condos have been declared "the sexiest way to live," and they're appearing along the Brooklyn waterfront and in downtown Manhattan, offering buyers privacy, if not tons of perks. And of course, the city is chockablock with older brick buildings with more than 100 units, as well as townhouses and walk-up buildings gone co-op and condo.
So how do you decide which size building is best for you?
When deciding whether to go big or small, it's all a matter of what you're looking for, and it pays to arm yourself with an understanding of the advantages and disadvantages of each. 
Money matters 
From the get-go, larger buildings can make the process of financing easier. Ari Harkov, a broker with Halstead, says that while he hasn't encountered issues with buyers getting mortgages for apartments in small buildings, the approval process can move more quickly in larger, well-established projects that major banks already have on their approved lists.
Whether you're purchasing in a co-op or condo, the monthly charges are likely to be a significant factor in your decision-making process, and big buildings may have an edge here, too. One advantage of living in a larger property is that, should the board need to make a large purchase—say, a new boiler or elevator—the expense of this will be lower, as it will be distributed among a larger group of people. 
In a smaller property, on the other hand, you might face a larger burden when it comes to paying for assessments, or if one of your neighbors falls on hard times.
For example, "If one out of 10 residents isn't paying the common charges, the building has lost 10 percent of its revenue," Harkov says. 
And in the event of a natural disaster like Hurricane Sandy, making major repairs could present a much greater burden to a boutique building, an issue worth considering if you're planning to buy in a flood zone.
"There's going to be a lot less absorption if there's a catastrophic event," says Brian Morgan, a broker with Citi Habitats. "If the boiler or risers go, that could be very expensive. And then the apartments will be tough to sell because of the assessment." 
On the other hand, under some circumstances, selling could be easier in smaller buildings, because there's less competition.
"In a 200-300-unit building, there might be several other units on the market when you go to sell," Harkov says. "But in a 15-unit building where nothing sold for past three years, you're not competing with anyone in your building. You have something more special and unique." 
This can function as a disadvantage when it comes to buying, though. With a large building, you can look at the sales history for other units in the same line as the one you're considering and see what they sold for, Morgan says, but in a small building with fewer points of comparison, "You can open yourself to being susceptible to overpaying if you don't have a good broker." 
Management and boards 
One factor that may help you to decide between big and small is how involved you'd like your building management to be in day-to-day affairs. Larger buildings can come with larger bureaucracies, including a board that has put in place strict rules. Smaller buildings, meanwhile, might be more relaxed, particularly if they are self-managed rather than having a managing agent in place. 
Collin Bond, a broker with Triplemint (a Brick partner), says that self-management can not only bring monthly costs down, but also make it quicker to get approval for renovations or other requests. 
"There are fewer restrictions, so from that perspective it can be very beneficial," he says. "If you just have a board with five people, it can be easier to get things done." 
Buying in a small, self-managed building may require residents to get their hands dirty from time to time, as this New York Times article explains, whether it's taking out the trash, shoveling snow, or filing permits with the Department of Buildings. 
Having a managing agent means less work and more oversight. As Habitat explains, managers will visit the property regularly, be on hand in case of emergencies, handle financial and maintenance records, and more, so this may give a buyer that extra peace of mind she seeks.
In a nutshell, Morgan says, "You'll have a lot more flexibility in a smaller building. In a big building, it's harder to get your opinion heard. It could be a pro or con: Some people want the bureaucracy of a strict building." 
Amenities and aesthetics
A larger building can come with more space and more residents splitting common charges for a wide range of amenities. 
"Bigger buildings typically have more amenities, and they won't be very costly to have," Bond says. 
Take 1 Manhattan Square on the Lower East Side, a new 815-unit condo building with a basketball court, bowling alley, squash court, swimming pool, pet spa, cigar room, and more. The common charges on a $2.2 million two-bedroom are a (relatively speaking) low $1,210 per month. Read the fine print in developments like this, though, because some amenities might require paying an additional fee. 
Bells and whistles aside, a more sizable property is also more likely to have a live-in super, which should mean less stress when it comes to maintenance issues.
"A small building may not have a live-in super, but someone who lives nearby and takes care of several buildings," Bond points out, so if something goes wrong, the response time could be slower. Or you could just have to take care of small fixes yourself.
"That kind of service makes life a lot easier," Morgan says, "but some people want a small building because they're not going to use amenities and don't want to pay for something they don't need." 
For some buyers, the main goal may be finding character. Harkov says he has worked with buyers who find huge properties with gyms and spas to feel more like hotels, and crave something homier.
"But others have lived in a building with a doorman, and now they can't live without the perks," he says.
As for aesthetics, another aspect to consider is whether having spectacular views is on your wish list. Smaller buildings, naturally, will be shorter, so don't expect quite as expansive vistas. 
Some famous people favor the small end of the building spectrum, according to Bond. 
"I've put celebrities in small SoHo buildings," he says. "They don't want the doorman. They want something discrete, with a keyed elevator to their apartment. Fewer people involved, fewer personalities to have issues with." 
The happy medium 
Of course, you don't have to choose between a five- and 500-unit building. Harkov pegs a "happy medium" at a building of about 10 to 30 units.
"It's always going to have an elevator, maybe a small gym, and other people to lean on financially. It's probably the sweet spot," he says. 
Bond points to buildings like the Park Gramercy, a postwar condop of 93 units, as a good example of an in-between property.
"There's a doorman and resident manager, but not a lot of other amenities, and it is a relatively tight-knit community there," he says. 
Many happy medium buildings like these will be older, Morgan says, since new developments tend to pack in the frills.
"The problem is that people want the newer buildings, but they don't want to pay for the amenities," he says. So if you want something more middle-of-the-road, don't overlook New York's aging properties. 
Brick Underground articles occasionally include the expertise of, or information about, advertising partners when relevant to the story. We will never promote an advertiser's product without making the relationship clear to our readers.