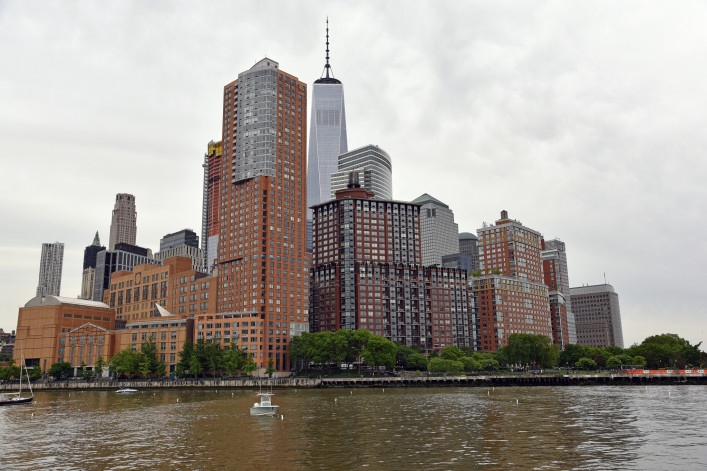 If you're looking to buy anywhere within sight of water in New York City, there's a good chance it'll be in a flood zone. That means along with scenic waterfront views, you'll also inherit higher insurance rates, the possibility that you'll have to evacuate during storms, and of course, potential damage if worse comes to worse.
Not that this should deter you from your dream neighborhood. After all, NYC itself is nothing but a series of highly weather-vulnerable islands, and last time we checked, that hasn't stopped people from flocking here. But it does mean you should arm yourself with some extra knowledge so you can start your search with eyes wide open:
KNOW YOUR ZONE
It's important to note that your flood zone and your evacuation zone, while related, are two different things — and they are often confused. New York City has six hurricane evacuation zones, ranked by risk of storm surge impact, with 1 being the most likely to flood. (i.e., If you live there, you'll be the first heading for higher ground in the event of major storm.) You can determine your evacuation zone here.
Flood zones, determined by FEMA, rate the risk of an area flooding from moderate to high. If you're uncertain if your prospective new 'hood is a potential flood risk or not, you can check FEMA's maps, which can be accessed here and here.  
ASK THE RIGHT QUESTIONS
Whether you're looking at standalone houses or apartments in co-op or condo buildings, you'll want to be alert for a few extra red flags during your search.
"The most important thing is finding a building that's learned from past experiences, like Hurricane Sandy," says broker Gea Elika. For example, check if the building's key electrical equipment and generator have been moved out of the basement and to higher floors, a move many residential and commercial buildings have made post-Sandy.
"Ask if the brains of the building are in the basement, on the roof, or on the second floor," says Elika. Many buildings in areas like lower Manhattan have also invested in portable floodgates, another plus to protect residents from potential flood waters. It's not necessarily a dealbreaker if a building hasn't made these upgrades, but know that if the building does get flooded, you and your neighbors could potentially find yourselves facing down costly assessments for the repairs. 
Steven Charno, president of Douglaston Development, the firm behind Williamsburg's Level and the recently-completed luxury waterfront property One North 4th Place, agrees that all vital mechanicals should be elevated out of areas in danger of flooding, but also advises prospective buyers to find out what happens in the event that flooding does occur. In the case of a wide power outage, does the building maintain life safety systems, i.e., do the elevators and the plumbing systems still work? "A good building will have an emergency generator that's gas-powered," he says.
Talking to both building staff and residents can also provide valuable intel, Charno says. "Ask the management company, 'What happened during Sandy?', ask the super, 'Was there flooding? Was anything damaged?'"
If you're on the hunt for a house, the same questions about vital mechanicals still apply. If the furnace, boiler, and electrical system are all in the basement, you'll either need to brace yourself for damage in the event of serious flooding, or the extra cost of moving them yourself (more on that below). "It's easy to tell a house that was damaged during Sandy," notes Larry Ubell, and inspector with Brooklyn-based Accurate Building Inspectors. "If the boiler, heater, and electrical panel are all brand new, that probably means they were damaged in the storm and had to be replaced."
Halstead broker Peggy Aguayo, who has bought and sold many townhouses in Brooklyn, suggests "bringing in an engineer who's familiar with flood areas [to inspect the house]." A professional can check for what Aguayo calls "telltale signs" a home has been flood damaged, such as water lines along the building, and moisture (or full-blown mold) in the walls. "If it has a brick or wood facade, look at the lines that go horizontally along the building," adds Ubell. "If they're no longer straight, that tells you the foundation has probably moved."
If the place shows signs of serious damage, you may want to move on, but if it just means you'll need to make extra repairs, that's helpful information to bring to the negotiating table.
GET YOUR INSURANCE LINED UP
Insurance is one of the trickier (and pricier) aspects of buying in a flood-prone area. While you can check the status on the address on FEMA's flood insurance rate maps, keep in mind that the zones have changed over the past few years, and city officials have disputed FEMA's recent updates as overreaching (meaning it's possible the current designations could change in the near future). Go here and here to stay up-to-date on flood map changes. 
As Denis A. Miller of Denis A. Miller Insurance Agency in Long Beach, New York (an area hit hard by Sandy) notes, if you're thinking of buying property in an area that's at risk for being rezoned, it's wise to consider buying a flood insurance policy for your current, lower-risk zone to avoid paying a significant increase in your premium after rezoning—you can be grandfathered in at the lower rate. "If you buy in Zone B, you can pay $500 a year for $250,000 coverage; if it's rezoned to [the higher flood-risk] AE, you pay $3,100 a year for less coverage," he says.  
The big story in flood insurance right now is that the largest provider of the policies, FEMA's National Flood Insurance Program (NFIP) is set to expire September 30. If the reauthorization of the program does not happen, no new policies will be issued through the federal program, a development that could prevent mortgage approvals. (Especially if you have a loan backed by the Federal Housing Administration, which does not accept private insurance.) Most people we talked to didn't think a failure to renew was likely, given a real estate-friendly Trump administration, but it's a legislative issue worth noting. 
Also keep in mind that the maximum coverage for FEMA's flood insurance is $250,000 for a house's structure, and $100,000 for the contents, notes insurance broker Jeff Schneider of Gotham Brokerage (a Brick Underground sponsor). If you think you'll need more than that, "there are private insurers who also write flood policies and who offer high levels of coverage," says Schneider, "but most people start with the FEMA coverage." Companies wading into the private flood insurance game include Chubb and Lloyd's of London, although Schneider notes that the companies' rates can be significantly higher than FEMA's. 
Prices vary, but in lower risk zones, he says, the premium for a house with a basement starts at around $495 per year if it's your primary residence. For higher risk zones, says Schneider, you'll usually need a surveyor to come in and write up an elevation certificate (at a cost of around $1,000) to determine the price of your policy. (Though it's worth asking if the seller has had a recent inspection before shelling out.) "The higher your house is elevated above the expected flood water height, the lower the premium," Schneider explains.
As for apartment buildings, Elika notes that many buildings that have either been through floods or are being built in flood-prone areas are now covering themselves with a master policy, and "sometimes that's all you need."
In fact, if you are buying a condo in a flood zone, your building should have insurance through FEMA's group pricing, which allows for $250,000 per unit. But, Schneider warns, you need to read the fine print to know exactly what that gets you. "That sounds like a lot, but there can be no guarantee how that money is spent," he says. "It could go to renovation of common areas...You need to know how much of that is available to you."
Schneider offers an additional caveat for people insuring condos in a flood zone, noting that FEMA coverage is limited. "With flood insurance, water has to hit your apartment. It doesn't pay for loss of use. So if you can't get into your building for two or three weeks, those additional living expenses are not covered." Similarly, flood insurance is structural, meaning it does not cover the contents of your house or apartment. 
Finally, planning ahead is key, as there's a 30-day waiting period to get coverage.  "You can't see on the news a storm is coming and say, 'Oh, I've got to get flood insurance,'" says Schneider.
HOW FLOOD ZONES AFFECT FINANCING
If you're buying with financing, insurance will be key to landing a mortgage. "After Sandy, you cannot buy a house in a flood zone without flood insurance," says Robin Shapiro, Owner of Robin Shapiro Realty in the Rockaways, where she's been doing business for 14 years. "The only way you can do it is with all cash."
"In my experience, we can still finance in a flood zone," says Everbank loan officer Julie Teitel. "We just need to know what flood zone it's in, and have the proper insurance."
Janet Cupp, vice president at National Cooperative Bank (a BrickUnderground sponsor) concurs that financing problems only tend to arise when a building doesn't carry sufficient coverage or is reported as being in an incorrect flood zone. "Typically in New York you don't see that. That's mostly Florida," she says. "Other than that, there's no issue, those are the two things we look at." 
CONSIDER WAYS TO FORTIFY YOUR INVESTMENT
For home buyers, if the seller hasn't already invested in flood-proofing of their own, you may want to spend extra money up front to make the place as waterproof as possible. "The key is strategic planning," says Ubell, "which means looking objectively and thinking about what will happen to this space if it fills up with water."
FEMA offers guides to Reducing Flood Risk to Residential Buildings That Cannot Be Elevated a Homeowner's Guide to Retrofitting to help prevent flood damage. 
Ubell recommends avoiding significant finishes like drywall and carpeting in the basement (instead, opt for area rugs and other easily removable decor), and, as mentioned above, to strongly consider moving significant equipment to a higher floor, or when possible, the roof. Between the electrical, furnaces, and boilers, "you're looking at an expenditure between $5,000 and $10,000," he says, depending on what type of equipment is in place.
Aguayo also notes that many homeowners in low-lying areas invest in sump pumps (which cost between $100 and $200) to help clear liquid out of basements in case of flooding. A de-humidifier can help on this front, too, with some models even coming with built-in pumps to help discharge moisture. "A house that has proper de-humidification performs better and is a healthier house overall," Ubell notes.
Brick Underground articles occasionally include the expertise of, or information about, advertising partners when relevant to the story. We will never promote an advertiser's product without making the relationship clear to our readers.