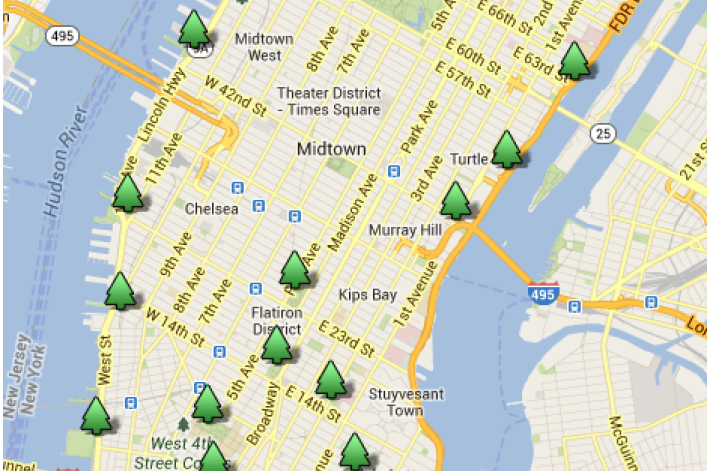 Moving around the city can be stressful enough without discovering unwanted facets of your new neighborhood long after you've signed the lease.
Before you learn the hard way that your dream apartment is sitting on Dog Poop Alley or lacks adequate access to coffee purveyors, do your nitty gritty neighborhood research with the following maps.
1. 
Where It Pays to Have Roommates
Curbed and Splitwise, an app that helps divide restaurant tabs and other group expenses, came together recently to create a map that quantifies how much you can save living with roommates across different neighborhoods. In the red and orange areas, like Midtown and Downtown Manhattan, you won't save that much by joining forces with two others in a three-bedroom. In general, as the map shows, you'll save more by living with roommates in Brooklyn than in Manhattan. 
2. Rats
NYC rats can take out most small dogs and make a no-man's land out of ground-level outdoor space that accompanies your apartment.
This interactive city map
, called the Rat Inspection Portal (or RIP), draws on rat inspection data, including sightings of live creatures and cleanup efforts
. Better yet, 
it's fully 
searchable by address, zip code, block or borough--so you'll never have to wonder if your future dream home is a vermin magnet. And to see where New Yorkers are complaining most often about the critters, head on over to Gothamist, which put together a color-coded map based on rat-related 311 complaints.
3. Public School Situation
If you've got kids (or are thinking of having them one day), you'll find this one helpful. This map, from
Neighborhood Scout
, lets you click on a neighborhood to find out what public schools are nearby, information on said schools and even the racial breakdown of the area's schools. Note, you have to pay to find out specifics like test scores. Dark blue districts boast the best schools, as defined by test scores, while light violet areas are ranked lowest. 
4. Crime
Safety first! The
NYPD's interactive crime map
 shows crimes per number of residents. Created by the police department and updated in real time, you can search by precinct, location and type of crime. At last count, Midtown South was the most criminally-minded hood overall with 123 crimes per 1,000 residents, while the UES and UWS are two of the safest, with around eight crimes per 1,000 residents.
5. Toxic sites
Before you move in, be sure you aren't residing above a toxic waste dump. In 
PropertyShark's Toxic Sites map
, shown above, you'll find demarcations for oil spills, tank failures, hazardous waste violations, formerly commercial spaces that are potentially contaminated by hazardous waste or pollution, hazardous waste treatment, storage or disposal sites, solid waste facilities and U.S. Superfund priority sites.
6.  Flood/Evacuation Zones and Centers
Not only is evacuation/hurricane damage difficult and expensive, but the information in this map--created by WNYC with city data--can affect your insurance rates if you're planning to buy. Zone 1 (the first area to be evacuated in the case of a big storm) is bright orange, Zone 2  is orange, Zone 3 is yellow, Zone 4 is light green, Zone 5 is dark green and Zone 6 is turquoise. The blue dots represent evacuation centers.
7. Pet-Friendliness
If you have a dog that loves to run (is there any other kind?),
this map
, which shows where the city dog runs are located, may help guide your apartment search. Be sure your local park is pooch-friendly before you move in! The highest density of dog runs is downtown, on the East River, and on the UWS, overlooking the Hudson. You can also view Google reviews of these runs before you step out with Fido. 
SOME JUST FOR FUN MAPS...
1. For Dating Purposes
2.   Coffee Shop Accessibility: 
If you're a coffee addict, you'll want to know where you can get the closest cup of joe.
The map above, from the New York City Economic Development Corporation,
 shows the city's most caffeinated neighborhoods. Among the findings: Manhattan neighborhoods have the highest density of cafes. The highest concentration of shops is in the East Village, followed by Midtown/Hell's Kitchen. The non-Manhattan neighborhoods with the highest concentration of caffeine are Williamsburg; Glendale, Queens; and Park Slope.
Brick Underground articles occasionally include the expertise of, or information about, advertising partners when relevant to the story. We will never promote an advertiser's product without making the relationship clear to our readers.