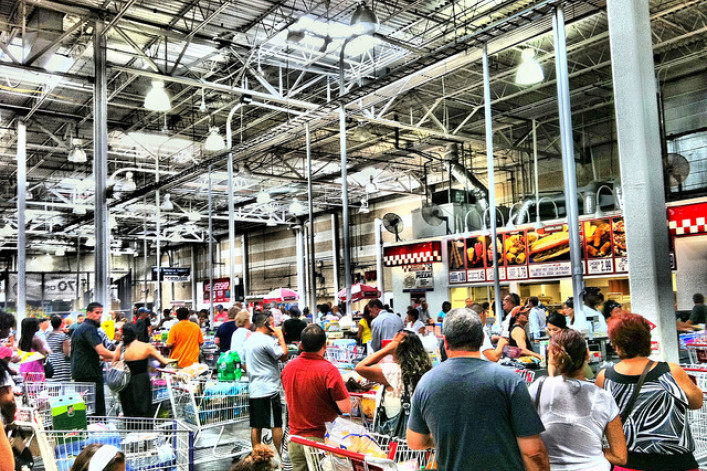 Costco, a supermarket with mega-sized products, isn't necessarily a natural fit for the residents of New York City, a place with mini-sized apartments. But even city-dwellers with tiny homes can make Costco's signature bulk-style shopping work.
That explains why there are five in the five boroughs—two in Queens (Long Island City and Rego Park), one in Manhattan (East Harlem),  one in Brooklyn (Sunset Park) and one in Staten Island (Heartland Village).
There are some general tips that'll help you survive any Costco experience in any part of the country: Namely, to have a list and try and stick to it, to avoid going during peak weekend times and to try to avoid impulse purchases as much as possible (two huge tubs of Nutella, anyone)?
But there are also specific post-Costco tips for New Yorkers. Follow the ones outlined below and you'll likely find the $55 yearly membership more than worth it. Because Costco prices are hard to beat all over the country, but when you compare them to our overpriced supermarkets and bodegas, the savings are major. 
1. Split the stuff. You may not have room to store 18 rolls of toilet paper in your apartment, but you can probably fit a few and split the rest with your friends and neighbors. You'll all save money and space. That's a win-win.
2. Plastic baggies are your friend. Some Costco packaging can be unwieldy. What we like to do is take food (for example, chicken cutlets and produce) out of their large packages and transfer them to smaller Ziploc bags. You can create single-serving portions and save on that invaluable freezer/fridge/cabinet space.
3. No car? No problem. At some Costco locations, like the one on East 117th Street, you can hail a car service to transport your stuff. And, of course, there's always Uber/Lyft/Gett.  We're also fans of renting a ZipCar to get the job done. You'll still save on costs, despite the money you shell out for transportation.
4. Bring reusable shopping bags. Costco doesn't provide shopping bags, they only have really large spare boxes you can pile your food into. That's fine if you have a car, but if you're cabbing it, those boxes can be hard to transfer.
5. If all else fails, order Instacart or Google Shopping Express. Both Instacart and Google Shopping Express allow you to order from Costco (for an added fee) without ever having to leave your couch. This is the lazy man's way of doing Costco, but it may also save you money on impulse shopping (again, Nutella anyone?).
Related:
FreshDirect, Instacart, Peapod or Max Delivery? Find out which grocery-delivery service is best for you
Your prayers have been answered: Whole Foods is launching a new, cheaper spin-off
Brick Underground articles occasionally include the expertise of, or information about, advertising partners when relevant to the story. We will never promote an advertiser's product without making the relationship clear to our readers.