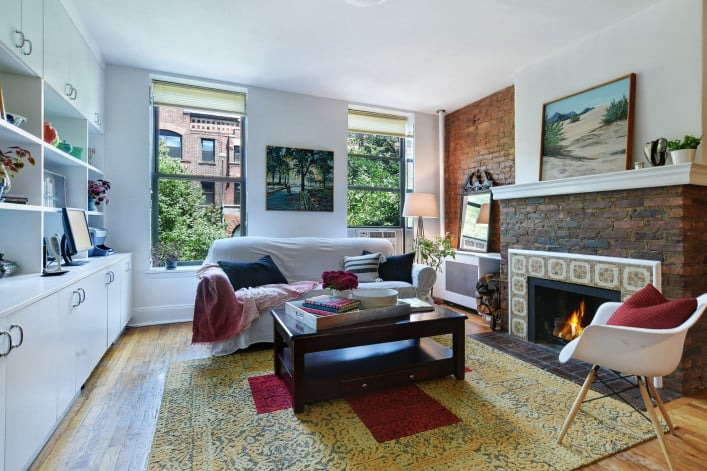 This weekend's New York Times real estate section featured a story about the importance (and economic payoff) of hiring a professional stager. But the Times focused on homes selling for upwards of a million. So, what about an apartment that's less than a million? Is it still worth it to hire a stager in that case? Or having any staging done at all?
The answer is a resounding yes, says Halstead Property agent Ari Harkov. "The impact is there at all price points. You have to understand that people have no imagination," says Harkov, meaning that it's hard for people to imagine the potential a home has until they see it staged that way.
The Times focuses on one Upper West apartment that was on the market for six months, had a price cut, and still didn't sell until it was professionally staged. Harkov says he's seen a lot of situations like that.  And while sometimes a stager is hired for the project, oftentimes the broker can do a lot of the consultation work.
THE PAYOFF
On a multi-million dollar apartment, he estimates that a staged apartment could bring in about 10 percent more money than an un-staged apartment; in a less-than-a-million dollar apartment, it's more likely to get you 2 or 3 percent higher price, Harkov says.
"I would see the benefit in terms of shorter marketing times rather than a higher price," says appraiser Jonathan Miller. "A shorter holding period can be a cost saver." But Harkov says that the apartments also often garner more bids, which translates into higher prices for the seller.
Staged apartments also tend to get more attention from the media, says Corcoran's Lesley Semmelhack, who helps her clients do a lot of the staging herself.
She gives a specific example: "Take my listing at 654 Carroll Street [shown in the main photo above]. I made some meaningful yet modest edits to the property, and it sold for 29 percent over the asking price after the first week of open houses." The two-bedroom walk-up, shown below, was listed for $899,000, and it sold for $1,156,500.
HIRING A STAGER
The biggest challenges for those not in the 1 percent is vacating an apartment when it's been shown. Harkov says in all the years that he's been selling real estate, he only saw one person stay in their apartment with staged furniture (the risk of spilling, ripping, breaking or otherwise ruining it is too high). But plenty of people who plan to stay in their apartments during the selling process will still hire stagers for consultations and advice on what to buy and throw away.
"We charge $500 for an on-site consultation," says Kyra Frankel of White Space Staging. The company won't rent their furniture to occupied apartments, but as part of the consultation, will put together a list of priorities specific to the property.  "We go to the site with our paint boards, measuring tape, catalogs of furniture and put together a document with suggestions on edits, contractor tasks and styling solutions," says Frankel. From there, people can opt to hire them for an hourly rate ($75/hr) to return and help them implement the recommendations. 
Cathy Hobbs, owner of Cathy Hobbs Design Recipes, says that the majority of her clients have luxury apartments, but plenty of the listings are average-priced. "People selling their apartments at lower price points are just as willing to spend the money on staging," she says. "In many cases, they're more willing, because the equity in their home matters so much to them. An additional $5,000 to $10,000 makes a big difference to their bottom line."
Hobbs charges a day rate—between $1,800 and $2,000 a day; furniture is additional. One- and two-bedrooms are usually done in a day, and three-bedrooms usually take a day and a half, she says. 
"If someone is selling a studio or one-bedroom, they can expect between $5,000 and $6,000 for everything, including the staging," she says. But it's an investment that pays off, both in terms of time on the market and sales prices.
Frankel says she tells people to expect to pay between .5 and 1.5 percent of the listing price on staging. That ranges based on what has to be done—for example, a kitchen update will cost more, but if you're just moving furniture around and editing your stuff it'll be more like .5 percent."
DOING IT YOURSELF (OR WITH JUST A BROKER)
These days, many brokers will help consult with their clients on staging. Often a broker who does staging will have accessories to be used in their listings, and if something has to be purchased or rented, that cost is passed on to the owner. Corcoran's Semmelhack  explains that "staging can include painting walls and cabinets, improving or replacing lighting fixtures and rethinking furniture placement for budget-minded clients."
Semmelhack says she keeps an arsenal of "goodies," which she offers to sellers for free. If she's  required to rent or purchase items like a dining room table or an arm chair, the sellers pay for it.
"I'm a fan of textiles, which are a great way to add texture and dimension to a room," she says.
Of course, you can, in fact, do it all yourself, if you'd like. For a total DIY experience, check out some of our advice on what to do, and— equally importantly, what not to do.
Related:
Staging tips to sell your place for top dollar
Hide the flatscreen, go tall and other tips from a staging expert
10 apartment staging mistakes that can cost you a sale
Selling your place? 6 tips for getting it camera-ready
Everything you need to know to show off (and sell!) your home
Brick Underground articles occasionally include the expertise of, or information about, advertising partners when relevant to the story. We will never promote an advertiser's product without making the relationship clear to our readers.