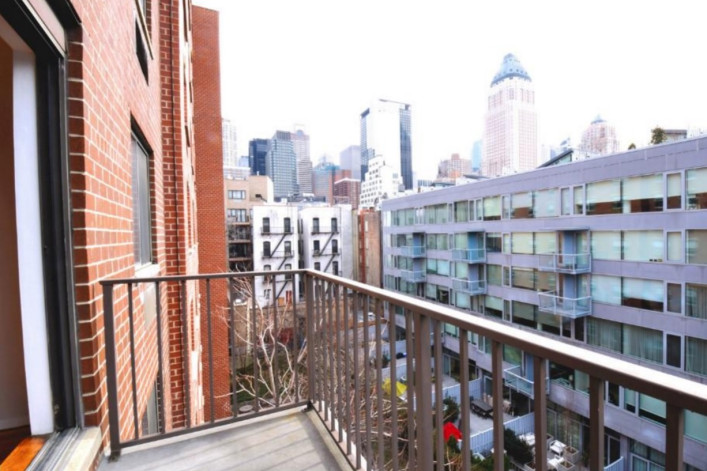 A private terrace is probably the most exciting thing about this $525,000 Midtown West studio at 414 West 54th Street (from BOND New York). The rest of the place is currently a bit of a yawn. But Jean-Luc Briguet of Jean-Luc Briguet Architecture thinks he knows what it'd take to bring a little life to the rather listless unit. His recommendations:  
Frame the entryway
"The entry hall has a lot going on with different doors and an intercom," says Briguet. So he suggests creating a 42-inch wide opening between the entryway and the room itself (with a height that matches the other doors) and frame it with new door casing. This "framed opening creates a separation between the entry and room" so you can paint the entry walls a different color or indulge in some crazy wallpaper, he says. "Make your mark since it's such a small space. Do something people will talk about."

He'd also replace the recessed light when you first walk in with a surface mounted light. "It'll give the space a little more interest," he says. "I'd try to add as much architecture as you can here. Otherwise, it's just a generic developer's box."

Price: The framed opening could run you in the $3,000 to $4,000 range, says Briguet. The new casing should be $300 to $400 or so. New fixtures from Restoration Hardware or Circa Lighting start at around $400.
Add moldings throughout
The apartment currently features clamshell molding. "It's about three inches high and it looks very cheesy," says Briguet. Instead, he recommends adding taller base moldings (five and five-eighths of an inch). "They'll really bring up the level of design and make the unit look a little more finished," he says. He'd also add three-and-a-half-inch door casings throughout the apartment.
Price: According to Briguet, installation for the moldings from a place like Dykes Lumber is usually about $12 per linear foot.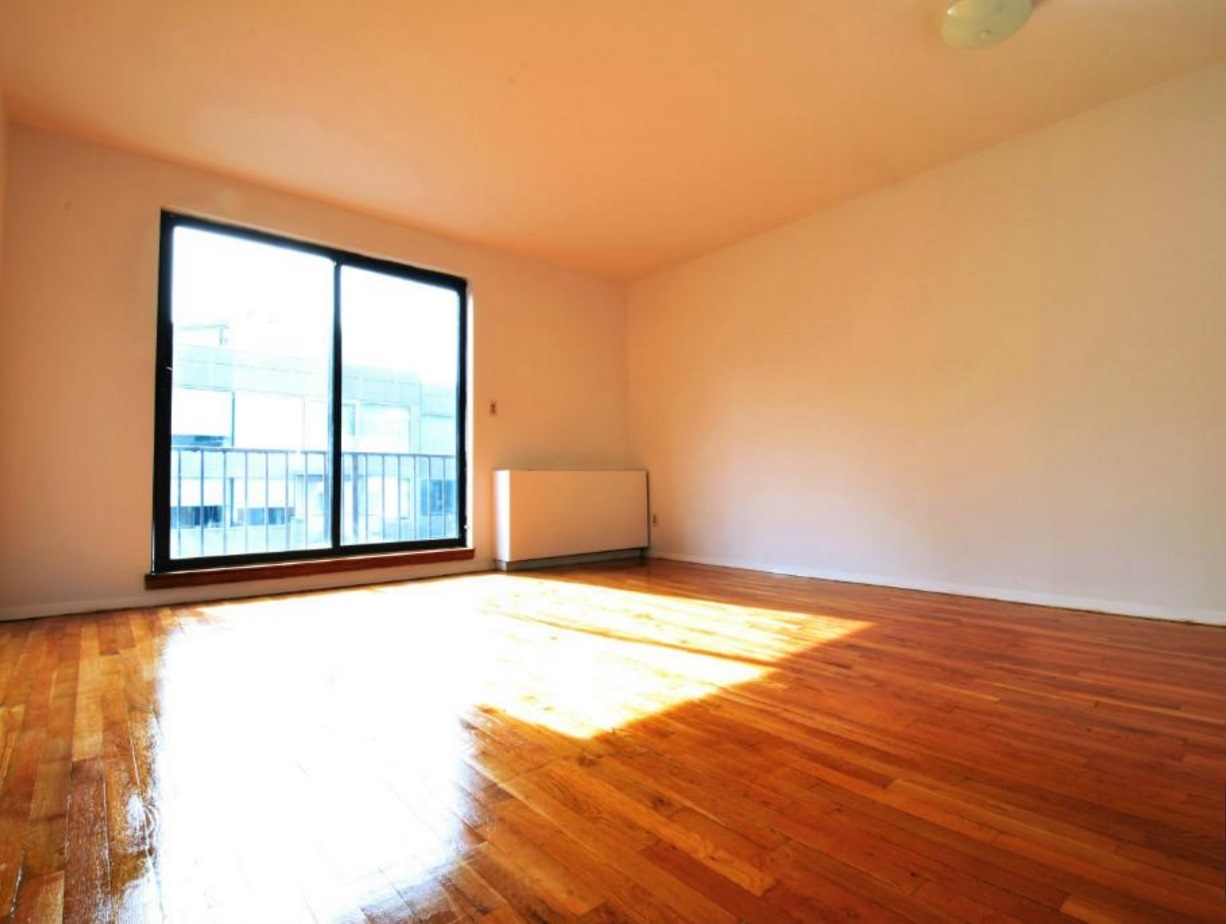 Stain the floors
"I'd stain them a darker color so they tie into the patio doors more," says Briguet. He prefers a satin finish over a glossy one since "satin shows off the wood better than gloss, and is more understated." 

Price: A can of Minwax Jacobean 2750 wood stain costs less than $7 on Amazon. Labor would obviously be more.
Change the doors
The current doors are hollow-core and as such are "somewhat flimsy." He'd replace all of them with more substantial solid-core doors. He'd also replace all door hardware.
Price: Solid core doors from TruStile should cost about $500 or $600, says Briguet. New door hardware is roughly $100-$175 at Simon's Hardware.
Repaint
As it is now, the main room is looking "a little stark," says Briguet. A fresh coat of paint "makes it look fresh and makes it your own." He recommends Benjamin Moore's Decorator's White or Linen White for the walls, Super White for the ceilings, and White Dove for the trim.
Price: Buckets of the aforementioned paints can be purchased for $69.99. Labor is extra.
Let there be (more) light
The room could benefit from more lighting, so Briguet suggests purchasing a few floor lamps.
Price: Prices for floor lamps at Home Depot start at $9.88.
Redo the kitchen
"I'd gut it completely," says Briguet. If you're on a tight budget, he suggests white IKEA cabinets and a laminate countertop. (If you have a little more money to play with, try Caesarstone, he says.)
Since the cabinets will be white, Briguet advises bringing color into the walls. Here he'd go with yellow ("maybe Benjamin Moore's Weston Flax") to make the room look less clinical. "Yellows can be very dangerous because they can be too aggressive," he says. "But it's a good color for this kitchen."
For appliances, he likes GE's stainless steel products. As for a sink, he suggests a Kohler undermount stainless steel one. He'd also add a dark porcelain tile floor and under-cabinet LED lights. "They just brighten up a kitchen," he says. "They make it easier to work and bring light where you need it."
Price: According to Briguet, IKEA cabinets will run you $7,000 to $8,000. A gallon of Weston Flax is $69.99. The appliances should be around $3,000. And the sink should be between $500 and $600. The porcelain tiles can be purchased for around $8-10 per square foot from a place like Nemo Tile. And the under-cabinet lights will run between $300 and $500. Labor will be more.
Give the bathroom a complete makeover
He'd replace it all—toilet, tub, sink and vanity—and get the replacements all in white since he believes such fixtures should be neutral. He'd also "just get white tiles for the walls so you won't get tired of it," says Briguet. (If you want to spend a little more, "try a mosaic floor—white marble with another stone—from Waterworks," he says.)
If you're keeping most of the bathroom white, Briguet suggests adding a little color to the walls. Just make sure it'll "flatter your skin tone," he says. "I wouldn't go green here."
Price: This Toto toilet is $319. A vanity should be $500-$1,000, according to Briguet. A new sink should be around $100. And a new tub should be in the $500-$1,000 range. Tiles from a place like Nemo Tile should be $8-$10 a square foot. And a can of paint is around $70. Labor will be more.
Brick Underground articles occasionally include the expertise of, or information about, advertising partners when relevant to the story. We will never promote an advertiser's product without making the relationship clear to our readers.