After a year of living in a one-bedroom apartment with two others and a dog (hello, New York!), my all-to-myself Upper East Side studio felt like a haven. Sure it was older and could use some updates, but it was mine. No roommates. No sharing a bathroom. Plus the rent was only $1,750 a month, for a well-kept, prewar walk-up on a quiet, tree-lined Yorkville street.
I was so sure that this was the perfect apartment for me that I bit the bullet and paid a 15 percent broker fee (about $3,100) – with every intention of living there for a few years (there was no two-year only sublease policy—I checked).
Of course, there were roadblocks to pinning down this apartment: Because my guarantors (aka parents) live in Florida, I was required to pay six months of rent up front (yes, really) that applied to the second half of my lease. The landlord was also skeptical of my service animal thanks to all of the schemes people have used lately to have pets in pet-free buildings.
That said, months into my lease, I asked for a two-year renewal of the lease.  
One problem: My apartment was in a co-op. And on New Year's Eve 2015, I received a certified letter stating that the apartment was going to be sold (listing photos below) and my landlord wasn't going to renew my lease.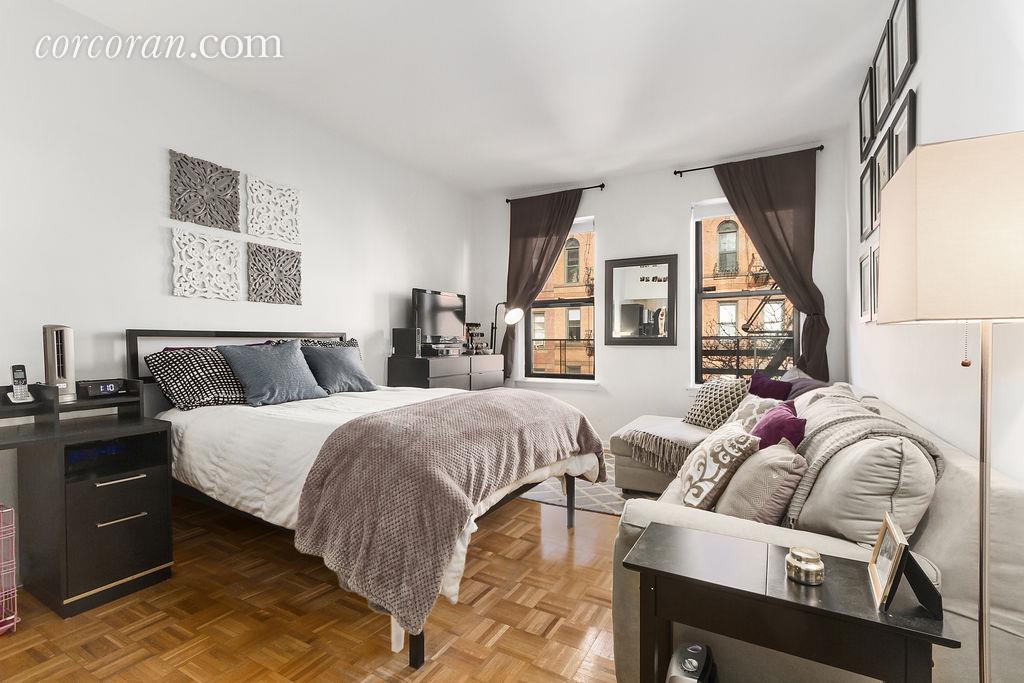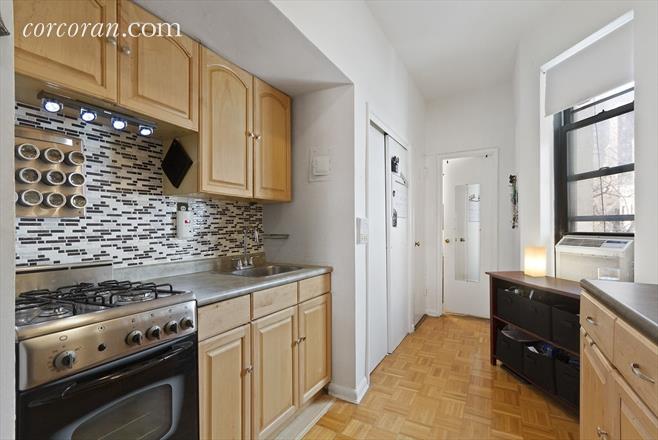 Just like that, I was on the hunt for another apartment (with the same restrictions). Thankfully, I didn't have to move until April 1st but I still had to mentally prepare for the grueling endeavor of apartment searching in New York City—and doing it with a budget of $2,100 (well over $1,000 less than the borough's median price for one-bedrooms).
I was hell bent on not paying a broker fee this time around (it seemed kismet to find Brick Underground's post on the best no-fee sites), and by avoiding the fee, I could afford to increase my monthly rent budget.
I immediately started searching on a daily basis for apartments in my budget and the neighborhoods I was interested in, just to see what was available. I knew that what I was finding in January wouldn't be available for rent in April—one of the trickier parts of the NYC search—but this research helped me figure out what I could expect when it came time to seriously look. 
I found that I could get a one-bedroom for that amount in Manhattan if I stayed in Yorkville, or I could sacrifice space and remain in a studio and move closer to a subway line. While I wasn't completely opposed to moving to another borough, my office is located in Midtown East and I enjoy being able to walk to and from work when the weather allows.
I could move to Hell's Kitchen and live in a more rundown building for that budget, or go to Central and East Harlem and live in a new building with a slew of amenities. Still, I hoped to stay in my current neighborhood. But there were challenges: I knew it would be difficult to find a landlord that would accept my parents as guarantors (again), because they don't live in the tri-state area and even though service dogs are allowed in all buildings, I figured some landlords wouldn't be happy about it. And above all else, I knew I wouldn't even consider renting a co-op or condo from a private owner again. I wouldn't risk being forced to move again in a year.
On March 1, my search officially began. Listings for April 1st move-ins were slow to come up the first week of March but by week 2, they were all on the market and I was competing with everyone else hunting for an apartment to find the perfect new home.
I looked at about five places, going straight to the management companies and bypassing brokers altogether, but I found there was always something that just wasn't right; on the ground floor, had no window in the "bedroom," and a shower in the kitchen (yes, literally, see below). Yikes!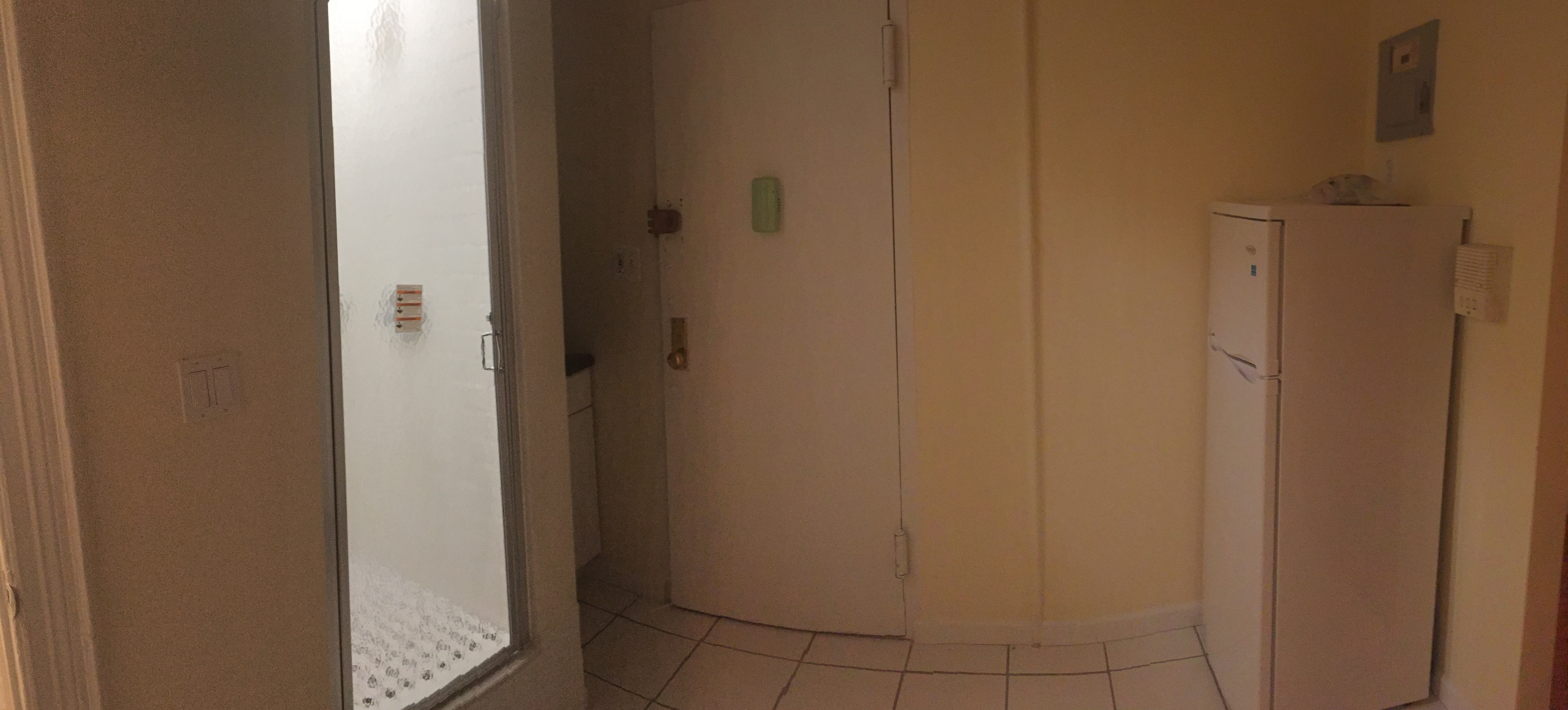 Finally, when I was frustrated and ready to cave in and get a broker, I refreshed StreetEasy and found the unicorn: a no-fee, newly renovated one bedroom in Yorkville that accepted out-of-state guarantors (I called the leasing offices to make sure). It was also pet friendly and in my budget. Even better, it was only a block away from my current apartment, which meant moving would be extremely easy (and likely less expensive—I moved the little things and only had to use professional movers for the heavier stuff).
I found the perfect-for-me apartment, signed a two-year lease and learned a lot about the NYC real estate search along the way. Among my takeaways: Make sure you have all of your documents together and be ready to put in an application as soon as you find an apartment. I beat another applicant to the punch on my apartment because they couldn't get everything together quickly.
Second, if you do your research and spend sufficient time looking, you can find an apartment on your own and avoid a broker fee, but you have to be dedicated.
Last, and perhaps most rewarding: The search for the right apartment in the right budget isn't always as daunting as it seems.