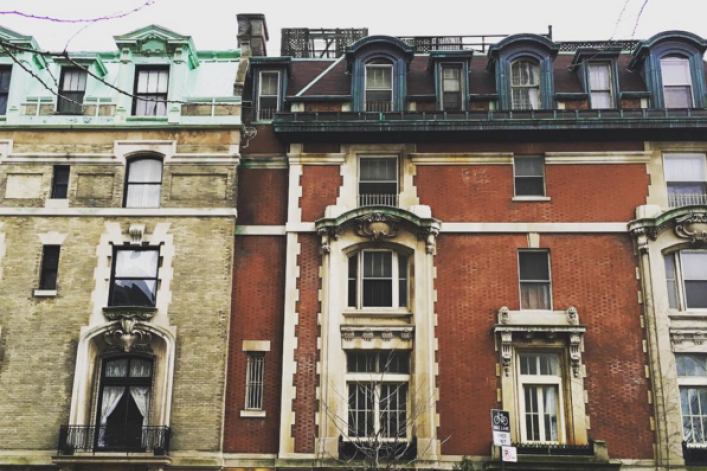 The bittersweet farewell to New York City has practically become its own literary genre—in 2013, for instance, a book of essays called Goodbye to All That: Writers on Loving and Leaving New York, offered several riffs on reasons for leaving the city from authors like Cheryl Strayed and Emma Straub. 
Author and columnist Meghan Daum was way ahead of this curve: Her essay, "My Misspent Youth," ran in the New Yorker in 1999, and chronicled the alarming mountain of debt she'd accumulated while living in the city, which she had decided to abandon for more affordable pastures. 
But now she's back. After sixteen years in Lincoln, Nebraska and, later, Los Angeles, Daum has returned to the city, and, as she writes in the New York Times, is finding it disconcertingly sanitized, compared to the thrillingly hectic and occasionally dangerous New York she remembers. 
But is it really so different? It's a common refrain that NYC has become a Disneyfied playground for the wealthy, inhospitable to the creative types who once gave it an edge. Daum herself acknowledges, "I am well aware of the unoriginality of this lament." But interestingly, parts of her 1999 essay suggest that the city has long been astonishingly expensive, brutal on any young, aspiring artist who didn't have the support of wealthy family to fall back on.
In "My Misspent Youth," Daum contextualizes how she came to rack up thousands in credit card debt: As a child of the Jersey suburbs seeking a wilder, more intellectual and glamorous lifestyle, she became smitten with New York after visiting a family friend's Upper West Side apartment. "From that moment on," she writes, "everything I did, every decision I made, every college applied to or not applied to, every job taken or not taken, was based on an unwavering determination to live in a prewar, oak-floored apartment, on or at least in the immediate vicinity of 104th Street and West End Avenue."
Daum's dream of New York, colored by the effortlessly sharp and moneyed city of Woody Allen movies, compelled her to attend Vassar and later move to her beloved UWS, where she barely managed to pay rent on her pittance of a salary that she earned in an entry-level publishing job. Even back in 1992, she observed that many of her co-workers were able to fund lavish lifestyles thanks to family: "Editorial assistants who earned $18,000 managed to wear Prada, rent time-shares in the Hamptons, have regular facials, and pay thousands of dollars a year for gym memberships and personal trainers. Many of them lived in doorman buildings in the West Village or Upper East Side, for which their parents helped foot the bill."
Lacking such a safety net, Daum nevertheless managed to support herself, and even started earning a respectable income as she advanced as a writer. But then, because she was uninsured, a series of medical bills undid much of the financial progress she had made. (Sound familiar?) Her other expenses—$1,055 in monthly rent for a 400-square-foot apartment (a veritable steal compared to today's prices!), the occasional "$45 on dinner, $20 on drinks"—further plunged her into debt.
At the end of the essay, Daum writes of her plans to relocate to Lincoln, Nebraska, a city she has visited and found appealing, and where she can rent an apartment for $300 a month. She writes: "Whether or not one is paying $20,000 a year to try to make it as a writer, New York City has become a prohibitively expensive place to live for just about anyone… These days, being a creative person in New York is, in many cases, contingent upon inheriting the means to do it."
The more things change ... and all that. It seems that even in the New York of 1999, the 1 percent had just as much of a leg up, and the young, broke, and creative struggled just as much  as they do today.
The most significant change Daum observes in her recent essay, "Returning to a Gentler Gotham," actually has more to do with the city's attitude. She's taken aback by the proliferation of chain stores, by the TVs inside taxis, by the mysterious disappearance of "punk-rock youths with mohawks (real ones, not fauxhawks) and cross-dressing hookers outside the Port Authority, and Rastafarian guys whispering, 'Smoke, smoke,' all over the village." Daum appreciates that she can now ride the subway at any time of night without fearing for her life, but worries that the city is so safe and navigable that it is becoming indistinguishable from a suburb—perhaps like the one she so wanted to flee as a young woman.
Daum wonders if what seems to her like New York's new blandness is in fact an indication that it is she who has become bland. "Honestly," she writes, "how could I not have? I'm 45, not 25."
She's certainly not alone in her longing for more grit—longtime New Yorkers like David Byrne, too, have complained that the city's once-vibrant cultural life has been overtaken by a milquetoast upper class. But nevertheless, Daum does still notice a sense of community among New Yorkers that could only come from the shared experience of finding one's way in a chaotic and cacophonous city.
She writes, "I love the garrulousness of the citizens, the way conversations with strangers can strike up as easily as flicking a lighter and then extinguish themselves just as fast (not that anyone carries lighters anymore). I love the graceful choreography with which New Yorkers move between personal space and public space, the elegance with which they can share knowing glances with a fellow subway rider and then look away and never look back."
You can read her entire essay here. 
Related:
Why NYC is so unaffordable for artists--and what can be done about it 
Brick Underground articles occasionally include the expertise of, or information about, advertising partners when relevant to the story. We will never promote an advertiser's product without making the relationship clear to our readers.