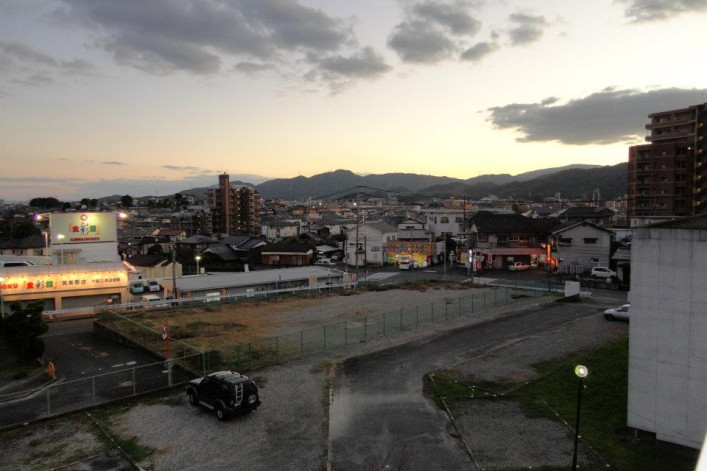 You know you're a real New Yorker when you start spending more time kvetching about living in the city than relishing it. Whether the problem is an indifferent landlord or a particularly lengthy subway delay, it helps to blow off steam by commiserating. But perhaps even more effective is getting away—in my case, far away—to see the quirks of your hometown in a new and more positive light. 
In 2009, I arrived in Japan braced for whatever living situation came my way. Having lived for four years in NYC, I'd already experienced a quirky range of habitats—
a mice-infested basement room in the East Village
, an apartment in Greenpoint where the next door neighbors kept peacocks in their yard—and considered myself prepared to adjust to residency in a new country without much fuss. I was there to teach English, and the high school where I'd work was subsidizing the rent of my new home, which my predecessor had warned me was "pretty basic." But given that I couldn't speak a word of Japanese, I was more concerned about how  I'd get around the city than I was about my new home base. 
When I arrived, though, I was nevertheless a bit surprised by the building's exterior: four stories of gray concrete in Brutalist style. When Westerners think of Japanese architecture and decor, they might envision the graceful curves of clay tile roofs, woven straw tatami mats, and shoji, the sliding doors that separate rooms. But in urban areas, nondescript apartment blocks are far more common than elegant, traditional houses. As a small and mountainous nation, Japan must make use of livable space as economically as possible, especially considering it has a population density of 836 people per square mile (by comparison, population density in the U.S. is 84 per square mile.)  My apartment did turn out to have both tatami and shoji, but they were scuffed and torn, thanks to my predecessor's three children. 
From a New Yorker's perspective, though, my new digs were huge: I had a living room, kitchen, and two bedrooms, and best of all, a balcony. (Yes, a balcony.) And the average price for such digs in my part of Japan is equivalent to under $500 per month, and because of the subsidy from my school, I paid less than half of that.  
But I was living in a suburb of Fukuoka, a city of about one million, one thousand kilometers—that's 621 miles—from Tokyo. Japan's capital is a megalopolis, the most populous city in the world, and as such its apartments rival New York's for tininess, but apartments I saw in Fukuoka—with a much smaller population than that of Tokyo—were roomier than places to which I was accustomed. It's difficult to compare apartment size, though, because Japan traditionally measures rooms not in square footage but by jo, a measurement based on number of tatami mats, one of many real estate differences between the two cities.
Tatami mats are usually 3 feet by 6 feet; 100 square feet is about 6 jo. Renters from abroad will run into more confusion if they expect to find apartments listed by number of bedrooms; in Japan, they are designated instead by the letters L, D, and K. The abbreviations stand for living room, dining room, and kitchen; my home was a 2LDK, meaning it had all these, plus two bedrooms. 1Ks—essentially a room plus a kitchen and bathroom—resemble what Americans know as studio apartments.
Tokyo is famous for taking the tiny home movement to an extreme, with its coffin-like capsule hotel rooms and apartments, but recent data shows that the average apartment size in the capital is about 650 square feet. And surprisingly, the cost of living in Tokyo is lower than it is in New York; the average monthly rent on one-bedroom apartments in the city center ranges from about $700 to $1650. 
But that doesn't take into account the barrage of fees that most new renters face. I was fortunate that my housing was pre-arranged for me and owned by the school, which spared me from paying thousands to move in. By Japanese standards, New Yorkers faced with broker fees and security deposits have it easy: In addition to a deposit and real estate agent's commission, renters must pay "key money," essentially a gift to their landlords, as well as charges for insurance, maintenance, and even new locks on the door. (
Find out what "key money" means in NYC
.)
Another striking difference between homes in New York and Japan has to do with temperature. My current Queens apartment is in a prewar building, complete with clanking, un-adjustable radiators and treacherous steam pipes; in the winter, it's near-tropical inside. Keeping warm in a Japanese apartment, however, is an ongoing challenge. When I arrived in Fukuoka, it was August and deadly humid, and I desperately wanted the weather to cool down. 
"No you don't," a co-worker told me. "Trust me."
Japanese homes traditionally have been built to withstand steaming summers, allowing for breezes to move freely through rooms. In winter, however, single-paned windows and a lack of insulation make for frigid interiors. There were times that it was so cold at home that I could see my breath; it felt more like glorified camping than apartment living. Many of my co-workers resorted to keeping warm with electric blankets, hot water bottles, and even kerosene heaters, which ran the risk of suffocating them with dangerous fumes. My preferred method was multiple layers, plus one particularly ingenious Japanese invention: the kotatsu. 
A kotatsu is a low table with a heating unit built into its underside; a heavy blanket beneath the tabletop traps the heat. All season long in Fukuoka, I read, watched television, and ate dinner at my kotatsu; I've never encountered a cozier piece of furniture. 
Japanese homes boast plenty of other clever features, too. The genkan, for instance, is a lowered platform where everyone leaves their shoes, necessitating much less sweeping and vacuuming of floors. Bathrooms are divided into two separate rooms for the bath and the toilet, which is surely more hygienic, and anyone who has used a Toto toilet, which has so many buttons it looks like it could launch a rocket, immediately wants one for themselves. 
By the time spring arrived, and with it the blossoming of cherry trees, I'd made it through War and Peace, which I'd spent the cold months reading, immobilized, beneath the kotatsu or a heap of blankets. Surviving winter in a Japanese apartment gave me the same sort of pride I experience after successfully bargaining for a smaller rent increase, or capturing a rodent, or braving a particularly rough commute in New York; I've found that wherever I live, a bit of grit is essential.
Related:
Brick Underground articles occasionally include the expertise of, or information about, advertising partners when relevant to the story. We will never promote an advertiser's product without making the relationship clear to our readers.