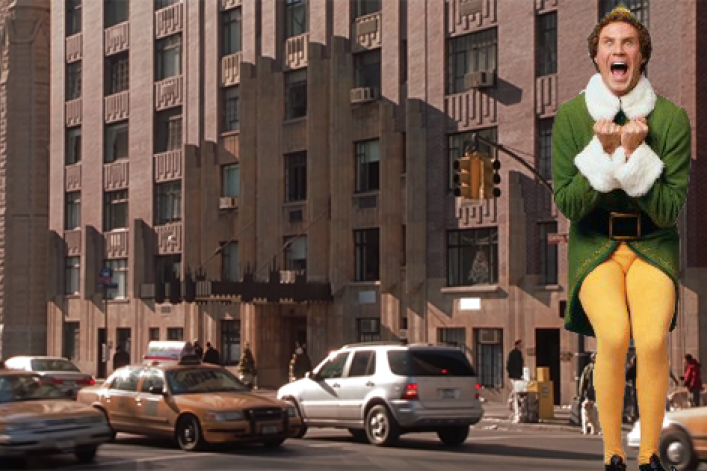 When a movie or TV show is set in New York City—and if the people making it are savvy—real estate becomes part of the story itself. In Reel Estate, we look at some of the more memorable domiciles to grace the screen.
We'll admit that for most of Elf, the 2003 comedy that has since become a Christmas classic, Buddy (Will Ferrell) has a pretty rough go of it, trekking through the Holland Tunnel on foot, getting thrown in jail and fired from his job, and, of course, repeatedly being trampled on emotionally by his withholding birth father, Walter (James Caan). But one way in which is introduction to New York is improbably cushy: Everyone he knows seems to have an amazing apartment.
Let's start with the Hobbs family spread, where Buddy shacks up after the family doctor for some reason advises Walter to let his estranged adult son who thinks he's an elf come stay in his home indefinitely:
It's an elevator, doorman building that has the looks of a classic six co-op, with enough space for Walter to have his own study, but not enough space for a guest room. (Buddy ends up sleeping on a fold-out couch in the living room; then again, perhaps the problem isn't one of space but one of paternal indifference, or honest-to-god confusion about what to do with a giant elf who thinks he's your son).
Besides a kitchen big enough for both a kitchen island and a breakfast table, it's got one interesting detail—what appears to be a fireplace (albeit probably not a working one) in the dining room:
Interiors like these aren't all that impossible to picture in a tony prewar. Nonetheless, they were apparently shot on a sound stage in an abandoned mental hospital, according to Mental Floss. The exterior of the building, however, is shown as 55 Central Park West, the same Art Deco co-op used in Ghostbusters, where in real life, a three-bedroom is currently on the market for $3.85 million, per StreetEasy. Unclear how a publisher at a small, struggling children's book press managed to land this place—maybe there's family money in the mix here? Or perhaps he was prescient enough to have bought way before today's expensive market. (In which case, lucky.)
And then there's Buddy's love interest Jovie (Zooey Deschanel), who we find out showers in the locker room at work because she's struggling financially and her water has been shut off. This seems unlikely and possibly illegal, given that hot water is included in the rent for just about every New York apartment we've come across. If anything, Con Ed might have shut off her electricity, but unless her landlord is trying to, for instance, force her out of a stabilized lease, they probably wouldn't have turned off the water. (Details, details.)
Also, we know prices were lower in 2003, but it seems suspect that a person so broke that her utilities are getting shut down has her own cozy one-bedroom in Chinatown, instead of some sort of dingy share with a bunch of roommates. (Currently, a similar apartment in Two Bridges is on the market for $2,000/month.)
Plus, note that she actually has a TV, and one that's clearly still in service, no less. (No broke people we know have TVs in their apartments, functional or no.) Either the side-job as a department store elf was lucrative enough to totally turn around her finances, or Jovie's budgetary priorities are pretty seriously out of whack. In which case, given Buddy's well-documented struggle with street smarts, maybe it's for the best that they end up moving to the North Pole—we'd hate to see them go up against a shady New York landlord, or, say, unwittingly blow all their rent money on candy.
Related: 
Reel Estate: Ghostbusters' "corner penthouse of spook central"
Reel Estate: The Upper East Side (and Urban Haute Bourgeoisie) apartments of Whit Stillman's 'Metropolitan'
Nom Wah's Wilson Tang on winning the affordable housing lottery, the best LES eateries, and more
The real Miracle on 34th Street—a house in the 'burbs
​Reel Estate: Home Alone 2 and its brownstone-turned battleground
Brick Underground articles occasionally include the expertise of, or information about, advertising partners when relevant to the story. We will never promote an advertiser's product without making the relationship clear to our readers.