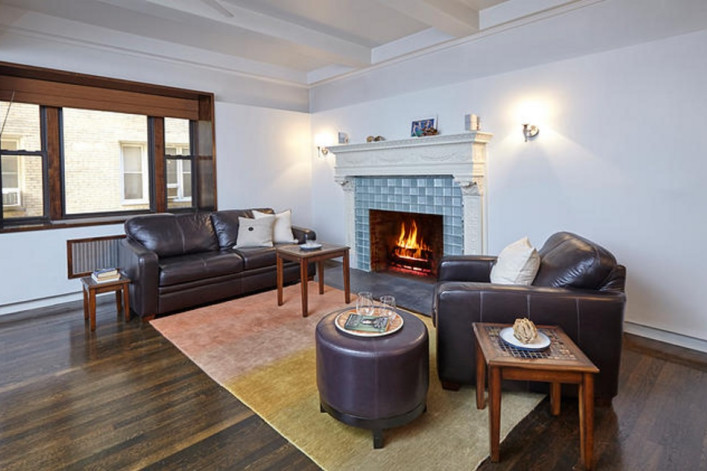 Whether the itty-bitty apartment of your dreams has an alcove or is shaped like a trapezoid, Halstead Property's W. John Thompson tells you how to successfully convert a studio into a one-bedroom in this week's Buy Curious.
THE WISH LIST:
I'd like a Manhattan studio that's big enough to convert into a small one-bedroom—a door between my bed and the rest of the apartment seems really nice. Any ideas?
THE REALITY:
Studio apartments can vary greatly in size in Manhattan. Some are so small they barely hold a desk, bed, and full-sized adult, while others are roomy enough to house whole families. Since 1987, NYC law has mandated that all new construction apartments be a minimum of 400 square feet. (The city waived zoning regulations for My Micro NY, a Kips Bay-area building of micro-apartments, allowing them to be 250 to 370 square feet, but thus far, it's the only exception.) "You can find smaller studios in older [buildings]," says Thompson, "but living in them is cramped and it would be hard to imagine creating a bedroom in one of those." Still, he says, "making the most of limited living space is every New Yorker's challenge," and converting a studio into a one-bedroom is definitely an attainable goal.
If you're looking to create a legal bedroom in NYC, the room must have "a window, a door, and be a minimum of 80 square feet," according to Thompson, so if an apartment has the space (and the window and door) necessary to create a separate room and still have a legal living room—which also must have a window—you can add a bedroom.
"Adding a room to an already small space may make the whole apartment feel cramped," says Thompson, so the first thing he advises is to search for a place with both a suitable layout and a sufficient number of windows. And remember that "even if your studio is on the larger side, the layout may not easily convert to a one-bedroom so it is a good idea to have a designer or architect look at the layout and let you know if it is possible to add a bedroom."
Now obviously, finding an alcove studio—one with a separate L-shaped nook that can serve as a sleeping or dining area—will make the most sense if you're looking to create a bedroom. ("In general, alcove studios are about 25 percent larger in square footage than a regular studio and the price corresponds to the square footage," says Thompson). But other spaces can be converted too, he says. "Look for a studio apartment with an interesting layout. Rather than the usual rectangular box, find an irregular space that is wider at one end (a trapezoid) or has irregular corners (a parallelogram). Then you can divide the space up in a more interesting way."
Thompson also suggests loft apartments. "You can still find large lofts downtown and in some parts of midtown where you can add walls and design the space the way you like," he says. "Lofts usually have the advantage of super-high ceilings and you can either create a loft bedroom or create a bedroom that doesn't reach the ceiling and have additional storage space above."  
If you do manage to find a studio that's suitable for conversion size-wise, you might also want to make sure it has a few other variables that'll make the space seem less claustrophobic (as many a studio can) before signing on the dotted line. "Good windows, high ceilings and a southern exposure will make the space feel more open," says Thompson. "Higher ceilings also allow you to create more shelf space to organize your books and memorabilia."
In addition, Thompson has a few other tricks up his sleeve for making your studio feel bigger. "Use area rugs and [creative] furniture arrangements to create separate spaces for… lounging, watching TV or working. Also, bookshelf dividers are a great way to create separate areas within your studio, while maximizing shelf space for books, etc. They still allow light to penetrate the space, keeping a nice, open feel."
Where exactly should you look for this studio? According to Thompson, downtown locales, including the Lower East Side, Little Italy, Greenwich Village, Soho and Tribeca are the most expensive, with condo studios averaging $1,571 a square foot (according to Halstead Property's listing database) and co-op studios averaging $1,195 a square foot. The Financial District and the Upper East Side are more affordable, so those will be a good bet if you're looking to get a good deal.
And they may be better investments than your typical studio box. "In NYC, residential real estate is always about space—the more the better," says Thompson.  "Studio apartments that can be converted to one-bedrooms tend to command higher prices [than regular studios], and once you convert them can often command prices like some one-bedrooms, so they make excellent investments."
Check out these options:
West Chelsea studio, $775,000: Located at 555 West 23rd Street, between 10th and 11th avenues, this high-floor condo is easily convertible into a junior one-bedroom. Amenities in the condo building include a fitness center, a movie theater, a lounge with a fireplace and a pool table, and outdoor common areas.
Upper West Side co-op studio, $439,000: This alcove studio at 150 West End Avenue, between West 66th and West 70th streets, features a wall of windows, a huge walk-in closet and a sleeping alcove that fits a queen-sized bed (and can easily be made into an actual bedroom). Building amenities include a 24-hour doorman, a bike room, laundry/dry cleaning services and on-site parking.
East Village loft, $599,000: This pre-war co-op at 226 East 2nd Street, between avenues B and C, was recently updated and offers high ceilings, a sleeping loft, a large walk-in closet, and a redesigned kitchen with stainless steel appliances. The building allows pets, and has laundry in the basement. The sleeping loft can be left open to the main living area below or closed off for more privacy.
Midtown East studio, $520,000: At 825 square feet, this co-op at 303 East 57th Street, between First and Second avenues, is larger than many true one-bedrooms in the city. The apartment has sound-proof picture windows, walk-in closets, a renovated kitchen and a marble bathroom. The sleeping alcove is approximately 11 feet by 11 feet and there is already a divider in place. Just add a door and you've got a one-bedroom.
Greenwich Village co-op studio, $650,000: Located at 101 West 12th Street, between Sixth and Seventh avenues, this alcove studio offers a nearly 18-foot wall of windows, an updated pass-through kitchen and central air. The sleeping area can be easily partitioned off to make a one-bedroom. The pet-friendly building has a full-time doorman, concierge services, a garage and a roof garden.

Related:
How do I find a studio that doesn't feel like a jail cell?
Brick Underground articles occasionally include the expertise of, or information about, advertising partners when relevant to the story. We will never promote an advertiser's product without making the relationship clear to our readers.