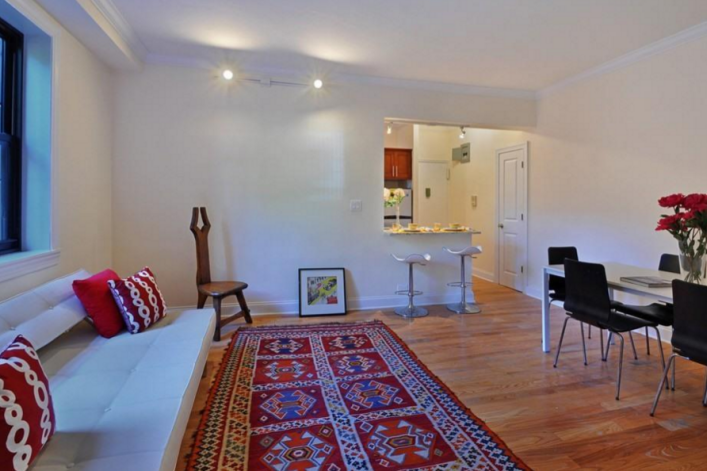 Can't seem to squirrel away 20 percent for a down payment on a New York City co-op? Guest broker Josh Thissell of Citi Habitats tells you how you can still become a homeowner in this week's Buy Curious.
THE WISH LIST:
I don't have a large amount of money for a down payment, can you find me some 10 percent down co-ops (non-HDFC)?
THE REALITY:
The requirements that buyers need to meet in order to purchase a property here in New York City—usually 20 percent down plus at least a year's worth of monthly payments in the bank after closing—can be so outlandish that for many, actually purchasing a unit seems all but impossible. "Those that are looking to buy for under $500,000 have a difficult search [already]," says Thissell. Inventory is limited: A quick search on StreetEasy reveals a total of 335 co-ops—and just 31 condos—currently on the market in Manhattan for less than half a million. "If they were to add the factor that they are only able to put 10 percent down, their search results are reduced to single digits."  
Pro Tip:
Getting ready to buy? Work with a local expert from the brokerage that saves New Yorkers an average of $23,000 per transaction. With Prevu, you'll pocket a rebate of two-thirds of the commission paid to the buyer's broker at closing. Click here to learn about Prevu's Smart Buyer Rebate.
According to Thissell, the majority of properties listed under $500,000 are co-ops and the vast majority of co-op boards do, indeed, require 20 percent down and cash reserves. "To most buyers this would seem like a losing battle and they would give up the dream of ever owning real estate in New York City," he says.
One solution: sponsor units. The apartments, which were owned by the original developer of a building that's been turned into a co-op from  rental and are being sold for the first time, usually require only 90 percent financing. 
But know that "because these units are still far and few between they might not be in the section of town in which the buyer was hoping to own," he says.
Buying a sponsor unit also means that the purchaser gets to skip over the dreaded board interview, as there's no board approval required. "This means that there will be very little, if any, review of their financials and liquid assets in order to obtain the unit.  Much like buying a condo, the mortgage is the only thing they need to obtain in order to purchase," he says.
Just remember that even if a building accepts 10 percent down, you could have some trouble qualifying for a mortgage with that amount, Thissell says. Since the 2008 financial crisis, banks are hesitant to lend more than 80 percent. And even if you are lucky enough to find one that will give you a 90 percent loan, know that you'll have to pay mortgage insurance—typically a few hundred a month depending on the amount of the mortgage. And, if your credit score is less than perfect, you might also be charged another fee on top of that.
In addition, you specifically mention wanting a co-op—probably because they tend to be the more affordable choice—but you should know that many condo buildings will happily accept just 10 percent down. So you can definitely go that route if only you can find one within your price range. However, says Thissell, "there are very few condos available under $500,000 and none below 96th Street in Manhattan."
So why is that some co-ops are ok with accepting 10 percent down? The answer's unclear, says Thissell. "There a slight chance that they might be in better financial shape [than other co-ops]. However, it could also mean they are being mismanaged. A 10 percent co-op signals extra due diligence to me."
Check out these units:
Inwood one-bedroom/one-bath co-op, $344,900: Located at 95 Park Terrace East between West 217th and West 218th Streets, this 820-square-foot one-bedroom sponsor apartment offers an eat-in kitchen, a windowed bathroom and a spacious bedroom with two closets and corner windows. There's also a large entry foyer and a sunken living room. The co-op building has a live-in super and a new laundry room, and allows 85 percent financing—which isn't quite 90 percent, but it's close.
Upper Manhattan one-bedroom/one-bath co-op, $379,000: This sponsor unit at 330 Haven Avenue between West 180th and West 181st Streets has a stainless steel kitchen with black slate countertops and a common outdoor patio. If the buyer is interested, there's also a garage space available for a monthly fee. The building allows for 90 percent financing.
Hudson Heights four-bedroom/two-bath co-op, $590,000: Located at 752 West 178th Street between Fort Washington and Pinehurst Avenues, this sunny sponsor unit has high ceilings, large bedrooms, multiple closets and even a washer and dryer. No load-bearing walls are present between the bedrooms, so a buyer can easily alter the layout if he'd like. The building's co-op board is flexible and allows 90 percent financing.
Hudson Heights one-bedroom/one-bath co-op, $375,000: This large one-bedroom sponsor unit at 245 Bennett Avenue at West 192nd Street doesn't require board approval and only asks for 10 percent down. There's a renovated bathroom, a modern kitchen and multiple exposures.

Related:
I've saved $60,000 for a down payment. What can I get in Manhattan?
I'm coming up short on a down payment. Will I ever be a home owner?
Getting past the down payment problem -- probably your biggest hurdle in buying an apartment
Brick Underground articles occasionally include the expertise of, or information about, advertising partners when relevant to the story. We will never promote an advertiser's product without making the relationship clear to our readers.