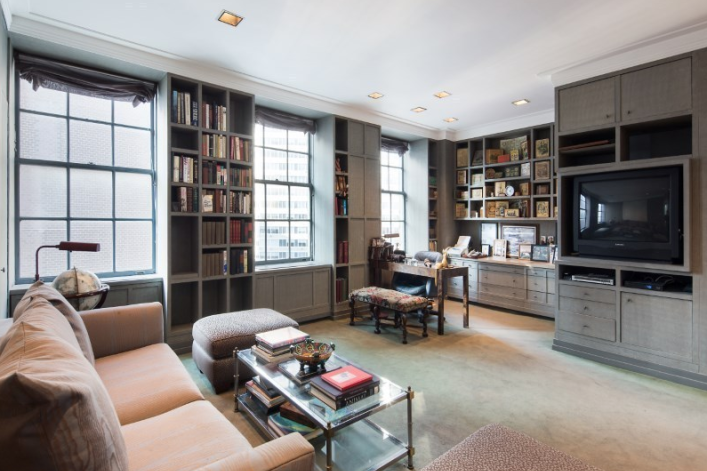 Sellers are most often advised to minimize all evidence of their own presence in an apartment, the better to allow buyers to envision themselves (and their stuff) in the new space. But what if you're hoping not to unload just your apartment, but all the furnishings inside?
There are any number of reasons sellers might want to do this, whether you're working with an estate sale, moving out of the city, or simply moving into a home where the decor you'd painstakingly picked out for your old space no longer fits. (The perfect couch for a studio might make no sense for a massive suburban living room, for instance.) Whatever your motivation, here's what you need to know if you're looking to sell more than just the apartment:
KNOW YOUR AUDIENCE
As a rule, buyers most interested in furnished apartments are those on the hunt for pied-a-terres, whether they're foreigners looking for a vacation home, or workers sick of paying for hotels on business trips to the city. Apartments like this are often listed as "turnkey," meaning a buyer wouldn't have to do more than walk in the door and unpack their luggage to be set up at home. 
"Investors also like to see the apartment fully furnished, because they can ask higher rent," adds Citi Habitats agent Angel Dominguez. "For instance, an apartment that might normally rent out for $3,600 could get $3,800 if it comes furnished."
Having furniture already included can also be a plus for budget-minded buyers, as a way to subtly include the cost of furnishing the apartment into the purchase price you're getting financed, meaning your mortgage will also be defacto covering the furnishings, and you'll have more cash on hand once you part with the down payment.  "It gives you the advantage of more liquidity after closing," explains Real Direct founder and CEO Doug Perlson. "And you don't have to deal with the up-front cost of furnishing the apartment." (That said, Perlson notes, the furniture won't become a part of the apartment's appraised value, and it will need to be appraised by the bank at its higher, furnished price on its own merits.)
DON'T GET YOUR HEART SET ON A SPECIFIC NUMBER
This one goes for both the pricing and the amount of furniture you actually end up selling, as no one wants to limit their potential audience for an apartment. And as a rule, most brokers we spoke with didn't recommend adding an extra lump sum to the asking price. "You don't want to scare people off [with that higher number] right off the bat," Dominguez explains.
Pro Tip:
Thinking of selling?  To find out what actual buyers are willing to pay for your co-op, condo or brownstone, consider discreetly "pre-marketing" it.  New York City real estate brokerage Triplemint has an entire data-driven pre-marketing platform that provides a way to quietly test your asking price and your marketing strategy  among real-life qualified buyers before publicly listing your home. There's no charge to participate and no obligation to enter a traditional listing agreement at the end of the pre-marketing period if your place hasn't sold. Click here for more information.
Instead, you'll frequently see listings note the option to purchase furnished, and pricing is discussed once a buyer shows interest. "We normally offer apartments both ways, and if buyers are interested in buying everything, it's just another piece of negotiation," says CORE NYC agent Steve Snider, who adds, "Unless the pieces are exquisite or high-end, the seller's idea of value might be very different from a buyer's."
Translation: While you'll likely make some extra cash from rolling the furniture into the deal, you might want to manage your own expectations about how much you can really get out of the transaction.
"For instance, if a $1 million property has $100,000 worth of furniture in it, is a buyer really going to pay $1.1 million?" ask Snider. "For that money, they could go out and furnish it exactly the way they want." More realistic, he says, is a recent sale of a $3.2 million loft that, for an extra $38,000, was sold fully furnished by a professional stager. The return on investment varies wildly case by case, and everyone we spoke with shied away from giving even a ballpark estimate on how much furnishings typically add to the sale price.
Perlson adds: "From an investment standpoint, I wouldn't say it's worth it to [go out of your way to] furnish in hopes of getting more, unless you're doing it at the very high end."
BE READY TO PART WITH JUST A FEW PIECES
One of the reasons it's so tough to come up with a set value on all your furnishings? Buyers will frequently want to take a more a la carte approach, picking and choosing items they want to keep and discarding the rest. Naturally, bigger ticket, newer items—or anything custom fit to the apartment—tend to be more popular than, say, your well-loved set of kitchen chairs. One example: an acquaintance of Snider's who recently bought and gut-renovated an entire apartment, but still kept a $50,000 table that had been custom built for the space, because it was such a good fit. Buyers of small apartments also tend to show interest in large pieces (couches, tables, etc.) that fit perfectly into the apartment already, as these  can be difficult to track down on their own.
"If a buyer's going to actually live in the apartment, they'll often pick just a few items they think are expensive, like nice fixtures," says Citi Habitats agent David Balk. "They want  to bring in their own bed, for instance, but everyone always says, 'leave the TV.'"
Another example: on a listing they're currently selling in Midtown, CORE agents Alyssa Soto Brody and McKenzie Foster recently decided that instead of marketing the apartment fully furnished and at a higher price, they'd leave the options more flexible and drop the asking price. "You don't want to pigeonhole yourself into just the pied a terre market," Foster explains. "So we priced more aggressively," with the option to buy either partially or fully furnished. 
Of course, this could mean you're still on the hook to get rid of the rest of your furniture after closing, and if you're still hoping to rake in some cash, there are an ever-growing number of websites out there to help you find an interested buyer. (And if you're donating, Housing Works offers free furniture pickup for items that qualify.)
On this front, it may even be worth enlisting the help of your broker. "At the end of the day, the responsibility [for the furniture] really does rest with the seller," says Snider, "but I do see three or four emails a week from other brokers saying 'my client is selling their apartment and would love to sell the furniture, here are photos if anyone's interested.'"
DON'T TAKE IT TOO PERSONALLY
While it might sting to have buyers assessing (and worse, rejecting) your lovingly selected home decor, keep in mind that it's all a matter of personal taste, and that giving an elaborate backstory isn't likely to help your cause. (A perfect example: the season four episode of Million Dollar Listing where Ryan's boss enlists him to sell his apartment along with its, let's say, less-than-universally-appealing art collection.)
"One of the things that I always tell my sellers and buyers is that if we happen to run into the other party, please refrain from commenting," says Snider. "You don't want a widow selling her house talking about how her husband built that bookcase, while the buyer is thinking 'the first thing I'm doing is tearing out that bookcase.' It's a sensitive topic."
"You never want to impose your taste on a potential buyer," adds Perlson, unless you have pieces that are custom-made or otherwise a perfect fit for your home. One example of a scenario where more custom or stylized furnishings might be appealing? Snider notes that selling furnished often works well with lofts, which call for a specific style less interchangeable than, say, furnishings that could seamlessly move from one Upper East Side apartment to another. (For a more ripped-from-the-headlines illustration of this principle, consider the co-ops being marketed specifically based on its unique renovations by a noted "leather daddy" designer.) For truly unusual or high-end furnishing, Snider says, he'll write up a tip sheet with information about the pieces (though not the prices), and give it to buyers if they express interest in adding the furniture to the deal.  In that case, it removes the obstacle for the buyer of figuring out what to do, and could possibly push someone in the right direction or make the decision to purchase that much easier," says Perlson.
Related:
Cool data tool: you can now keep a digital dossier of your home
Sellers: why pricing your apartment lower can get you more money—even in a hot market
Want free furniture? Head to Philly, land of neglected stoop sales
11 tips from top designers for staging your apartment like a pro
Brick Underground articles occasionally include the expertise of, or information about, advertising partners when relevant to the story. We will never promote an advertiser's product without making the relationship clear to our readers.