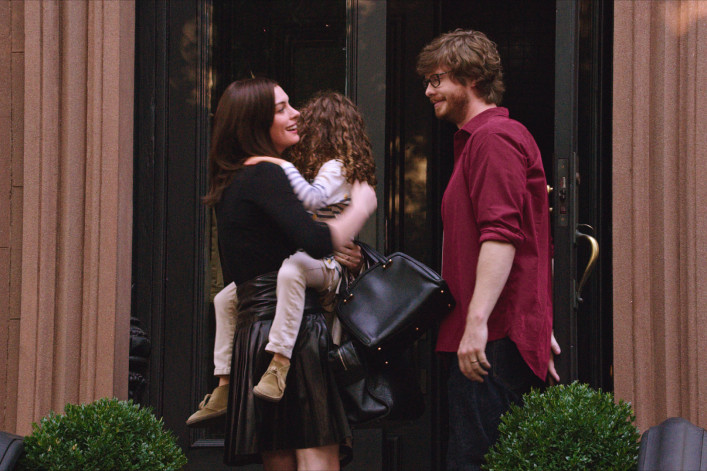 When a movie or TV show is set in New York City—and if the people making it are savvy—real estate becomes part of the story itself. In Reel Estate, we look at some of the memorable homes to grace the screen.
It's been a few weeks since Nancy Meyers' new movie, The Intern, hit the big screen and it took me this long to recover enough to write this. Not because it's particularly deep (though I did find myself responding to the empowering lessons Hathaway's young CEO character, Jules, acquires along the road of hard knocks). It's because I'm so stricken with real estate envy after watching it that I needed to simmer down before I started evaluating the film for its, well, property values. 
But first, the basics: Jules Ostin (Anne Hathaway) is the founder and CEO of a fashion company so successful, her backers wonder if she's too overwhelmed to handle it all and are trying to goad her into hiring a new CEO. Meanwhile, she's also juggling a marriage to a supportive husband who quit his job to be the lead parent at home (and is now buckling under the weight of that enormous responsibility), and her role as mother to their lovely daughter. Enter Ben Whittaker (Robert De Niro), the 70-year-old retiree hired as part of the company's "senior intern" program, who's now been assigned to Jules. She doesn't think she wants an intern, but perhaps she woefully needs one, because Ben just might be the one to help her gain perspective. 
Now onto the real estate. This being a Nancy Meyers movie, the backdrops are unapologetically gorgeous. The office scenes, which (understandably) comprise a bulk of the movie, are the fantasy dot-com offices of lore: lofty, industrial-chic spaces so manicured they can't possibly be where work happens nearly 24/7. (In fact, one subplot has Jules obsessing over one very messy desk—one!—in the entire place. Where are the coffee stains and potato chip bags and torn Luna bar wrappers? Is this, in fact, a real startup?)  She also bikes around the office, which reads more San Francisco dot-com to me than Brooklyn startup, but perhaps the set designer knows something we don't. 
The residences are even more obscene (that is, in a good way). De Niro lives in a townhouse in, we're guessing, Park Slope, just a few avenues over from the office, which apparently is tucked into a converted warehouse somewhere, we imagine, in Gowanus. (He could also be in Cobble Hill, and the office in Red Hook, then?) There are no stills available showing his place, but it's visible in some of the scenes in the trailer. (The Intern was, in fact, filmed in Carroll Gardens and Cobble Hill.)  
From what we can glimpse, his place has lovely details—sturdy wooden balustrades, high ceilings, an airy kitchen—but nothing too flashy, as it's the kind of townhouse that many of us yearn to find: old school, lovingly lived-in, good bones. And his gigantic closet, which neatly organizes his fine suits and matching ties: What a find! 
But it's Jules' townhouse that's killer. It's a Dwell magazine shoot come to life (or maybe One Kings Lane, which recently sold some of the furniture used on set), with Meyers' signature creams and whites punctuated with flashes of color and crisp blacks and grays. Her kitchen has a massive island where she and her daughter and her husband and her intern all congregate—it's that big—and a fireplace(!) flanked by open cabinetry with perfectly placed bowls and glasses. (See it in this Architectural Digest article on The Intern's set design.) It also has a living room styled within an inch of its "beautiful house, beautiful people" life. (No surprise, Meyers tells AD that she turned to Pinterest for inspiration.) It's probably what many brownstone aficionados dream their homes would look like post-gut-renovation. 
Meyers' movies, it has been said, are as known for their beautiful sets as their women-centric plots. The Intern is no exception. And in a city where real estate envy is a sport, if you see it (and you should—it's fun), and don't happen to already own an enviable Brooklyn brownstone, expect to feel like the sidelined athlete watching as others claim their medals on the podium.
Related:
Finally, you can live (and decorate) like a real-life Nancy Meyers character
99 Homes takes real estate scamming to a whole new level
Brick Underground articles occasionally include the expertise of, or information about, advertising partners when relevant to the story. We will never promote an advertiser's product without making the relationship clear to our readers.