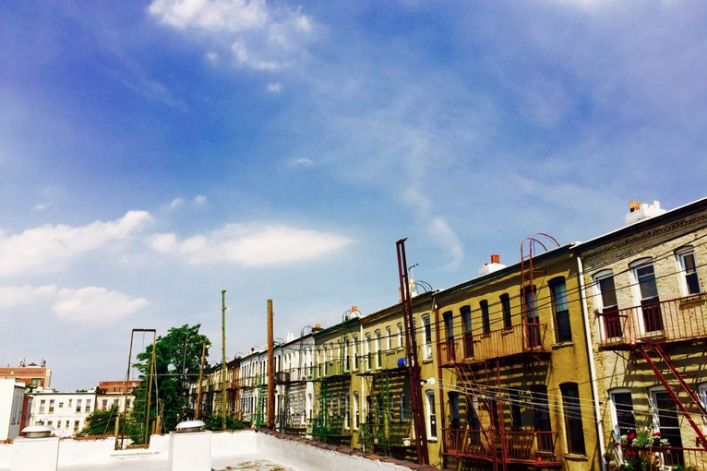 Trend piece after trend piece, Ridgewood has been hailed as the next "hot" neighborhood for hipsters migrating from Bushwick, its increasingly high-priced neighbor to the south. And while it does have (relatively) cheap rents and some loft-worthy warehouses, there's a whole lot more going on in this picturesque, close-knit Queens community than a spillover of artists and bars from Brooklyn (though there's plenty of that, too). For this edition of Take Five, we spoke with Sarah Feldman, author of the blog Ridgewood Social, about those lesser-known facts that make the neighborhood special:
1. It's still got a strong middle class community.
"When people say this is the next Bushwick, I kind of roll my eyes," says Feldman. Ridgewood is a mostly quiet, residential neighborhood of low-rise townhouses rather than art galleries or warehouse parties. It's also retained a solid community of middle class New Yorkers while many other New York neighborhoods have become home to increasingly wealthy residents. According to Feldman, local politicians worked to keep this a family-oriented, livable neighborhood through the 1970s, when crime in New York was high. (A tree planting initiative during that time has ensured many leafy streets today.) And like many neighborhoods in Queens, Ridgewood is a blend of old and new immigrants: people from places like Egypt and Albania have joined existing German, Polish, Italian and Romanian residents. There's also a strong community board, tenant organizations, and what Feldman calls "a big stoop culture"—homeowners often hang out on the stoop, the neighborhood is social and people say hello to passerby. "The natives, as we call them, tend to be very accepting of the people moving in," says Feldman. 
2. There's a very distinct architecture here.
Much of present-day Ridgewood was built between 1905 and 1915 to house immigrants who were working in the breweries and knitting factories along the Brooklyn and Queens border. In that time, a single developer came into prominence: Gustav Xavier Mathews. He was known for building "Mathews Model Flats," apartments that were spacious, airy and attractive, built inexpensively enough to be affordable to the average working family. (The apartments pictured above are a good example.) These buildings went up block-by-block in Ridgewood, putting the neighborhood on the map. The architect Louis Berger went on to design several variations of the Mathews Model Houses, building more than 5,000 homes in the area. They were mostly built in the Romanesque Revival style, using a distinctive pale yellow brick manufactured by the Kreischer Brick Company. The neighborhood remained largely untouched by construction after that, with many of those centrally-planned blocks of homes and tenements, as well as an incredible display of Kreischer bricks, still in good condition.
3. Ridgewood has a boozy history that's making a comeback.
At the beginning of the 20th century, the two largest industries in Ridgewood were breweries and knitting mills. In fact, breweries dominated the Bushwick and Ridgewood border, due to an influx of German immigrants who were eager to recreate the beers of their homeland. There were at least six Ridgewood breweries in production until Prohibition hit in 1920, which all but killed the industry. "Unintentionally, there are a lot of micro breweries coming back to the area," noted Feldman. Finback Brewery is now open in the neighborhood, Keg and Lantern Brewing Company operates on the Ridgewood and Bushwick border, and Queens Brewery plans to open here soon. Bridge and Tunnel Brewery is also located in the adjacent neighborhood of Maspeth.
4. The Ridgewood/Bushwick border has always been hazy.
You'd be forgiven for confusing the border between Bushwick and Ridgewood, as it has historically been murky (so real estate brokers aren't totally to blame for the blurry overlap between the two 'hoods). Confusing attempts to draw the Queens and Brooklyn border date back to the 1700s, when border disputes between the Dutch tried to distinguish Bushwick from what was then called Newtown. In 1873, the border was drawn as a diagonal line without any regards to the street grid, meaning that someone's house could fall into both Brooklyn and Queens at the same time. The line was redrawn as a zig-zaging border in the 1920s, but until the 1970s both Ridgewood and Glendale were served under the Bushwick post office and retained Brooklyn zip codes. It wasn't until 1977, after the looting and riots in Bushwick during the Great Blackout, that area residents fought to lose the Brooklyn zip code and establish itself as a neighborhood in Queens.
5. There's some Dutch history left here.
While many New York City neighborhoods have erased much of their early Dutch history over the years, Ridgewood still has a major historic landmark still standing. The Vander Ende-Onderdonk House was built in 1709 by Paulus Vander Ende on farmland granted to him by Peter Stuyvesant. (The building was actually a prominent marker in the 1769 settlement of the boundary dispute between Bushwick and Newtown.) Adrian Onderdonk expanded the home in the 1820s; he designed a typical Dutch house of the time with a gambrel roof, Dutch doors and double hung windows. The property, damaged by a fire, miraculously stood until the Greater Ridgewood Historical Society was formed in 1975 to prevent the demolition of the structure and reconstruct it. It opened to the public in 1982 as the oldest Dutch Colonial stone house in New York City.

Related: 
Ridgewood: the dirt cheap, radioactive Queens nabe that may be the next Greenpoint
​How much does it cost to rent along the JMZ line in Brooklyn?
Bushwick Daily: locals love free beer and cheap tacos, but don't call them "settlers"
An insider's guide to Flushing, Queens
Henderson Place: a charming corner of Manhattan probably never heard of
Brick Underground articles occasionally include the expertise of, or information about, advertising partners when relevant to the story. We will never promote an advertiser's product without making the relationship clear to our readers.