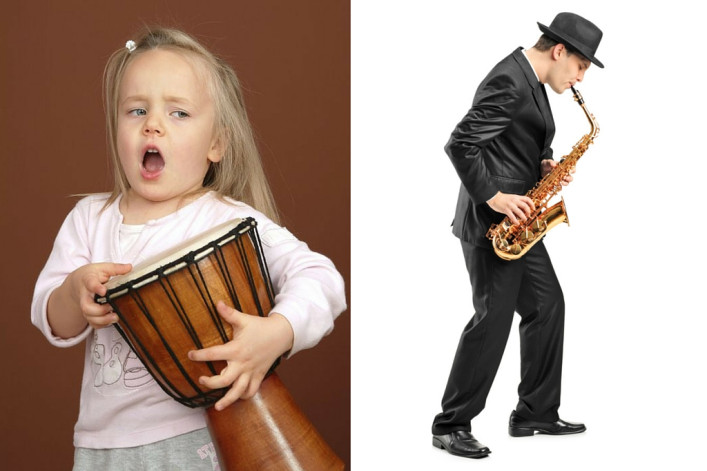 New Yorkers don't only live wall-to-wall with their neighbors, but floor-to-ceiling as well. We asked five city dwellers: When it comes to upstairs neighbors, who's the lesser of two evils—loud musicians or a loud family?
Keeping up with the Von Trapps I don't mind either one because we are such a family! We have young kids, and we love to also make music. If the family is nice we would have friends. If I had to choose which noise to deal with, I would rather hear music than crying children, of course! —Andre, East Harlem
Good rules make good neighbors Our building prohibits making loud music after 10 pm. So, I'd rather live below musicians, then I'd know that the noise would have to stop or else I'd have the building management on my side. With a noisy family, I would have no recourse! —Mariah, Upper West Side
One of them I'm a musician, and I've taught piano lessons from my apartment. Nobody has ever complained. You know why? Because I've invested money into soundproofing my space, as any considerate professional musician should! It doesn't take much labor or money. I'd live beneath a musician any day over a noisy family. Many families resist complying with the 80 percent carpet rule! —Vee, Harlem
Music to my ears, please! I would probably choose to live below a musician because I like the sound of music being played well! I have nothing against hearing a lovely piano every once in a while. I even lived near an opera singer once who would practice at the top of her lungs so that the neighborhood could hear her, but it didn't bother me. —Susan, Harlem
Parent trap Well, we hope to have kids soon, so I'd rather live beneath a loud family than musicians. A) They will understand if we get loud from our apartment and B) They won't bother our kids with loud band practice! If you're going to be a parent, you can't escape the noise, anyway. I know this from all my friends who have kids. You're constantly surrounded with noise from your other kids and the kids around your kids. Can't wait! —Cherie, Long Island City
Verdict: The sound of music!

Related:
Childfree vs. families: A shrink neighbors how to keep the peace
Can I force my noisy upstairs neighbors  to get more carpeting?
Brick Underground articles occasionally include the expertise of, or information about, advertising partners when relevant to the story. We will never promote an advertiser's product without making the relationship clear to our readers.