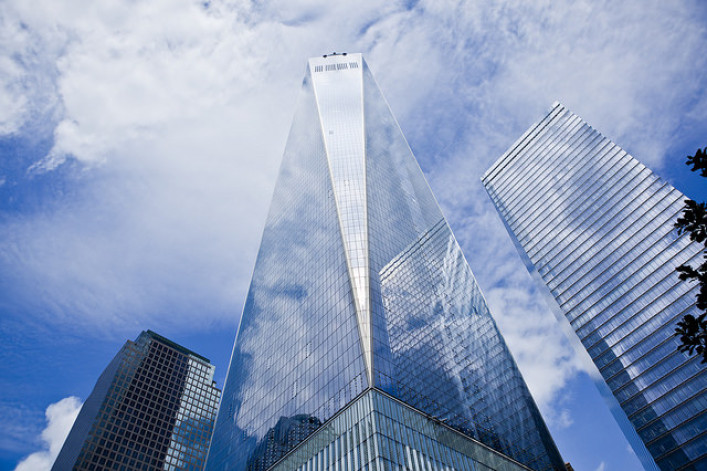 It's been said that necessity is the mother of invention: Fourteen years after the horrific events of 9/11, lower Manhattan is dramatically different. From the immediate months after the tragedy to the concerted revitalization efforts in the years that followed, and onto the boom-and-bust cycle of the aughts to the current boom period, this slice of downtown—which includes Tribeca, Battery Park City, the Financial District, and Civic Center—has been the subject of much speculation and hopeful curiosity. Today, we take a look back on how the area's changed in the past decade and a half, what buyers and renters will find there now, and what the future holds:
THE RECENT PAST:
One of the many shock waves that rippled through the city in the aftermath of the September 11th attacks was a real estate market quickly grinding to a halt, particularly downtown. "The Financial District, Civic Center, and areas right near Ground Zero got hit the hardest," says Noah Rosenblatt, founder of real estate analytics site, UrbanDigs. "For months after, there wasn't much deal volume, and you'd see 30 or 40 percent discounts." (Indeed, according to data from the brokerage firm Douglas Elliman, the average price in Tribeca dropped 34 percent from the fourth quarter of 2001 to the first quarter of 2002.)
Then came a number of incentives to the rescue. Created to spur growth, they consisted of the Fed lowering rates, New York state offering tax abatements to developers, and as we've written previously, landlords giving renters steep discounts to stick around downtown.
It worked, and lower Manhattan prices eventually got swept up in the 2007 bubble along with the rest of the city, though the lay of the land was very different than the 2015 version. "Back then, if you couldn't afford to live in Tribeca, you'd look in the Financial District or Battery Park City, which weren't considered as desirable as they are today," says Douglas Elliman Insights vice president Sofia Song, who lived in Tribeca between 2003 and 2011. Adds Warburg broker Deborah Lupard:"When I started in the neighborhood in 2007, prices in the Financial District were around $900 per square foot, compared to $1,200 in Tribeca ".
Downtown was also still seen as a largely transient neighborhood, the rental-heavy turf of traders, investors, foreigners, and pied-a-terre owners. And the housing stock reflected the trend accordingly. Smaller apartments were the norm and, Song notes, "[in some new developments], the kitchens basically weren't functional. They weren't designed for family living."
THE CURRENT BOOM:
With the completion of One World Trade, the 9/11 Memorial Museum, the shopping center at Brookfield Place, and the long-time-coming new Fulton Center subway hub (pictured above), one could correctly assume that years of investment and development efforts have started to coalesce. "No matter what you're looking for, you have more options than you did in the last couple of years," says Downtown Alliance President Jessica Lapin. "There have been $30 billion in private and public funds invested here in parks, schools, buildings, etc. You'd be hard pressed to find investment on that scale anywhere else in the world." 
And all the broker chatter you hear about areas like the Financial District getting more family-friendly seems to be true; per a Community District 1 report from early 2014, while the city-wide population of residents between ages zero and 19 decreased 7.3 percent between 2000 and 2010, and downtown's Community District 1, it spiked 83.6 percent. Hence, the 2012 opening of Peck Slip, a public school that just moved into its new home at the South Street Seaport, as well as what AM New York reports is an ongoing push to bring a new public school to FiDi's overcrowded system. "You walk down the street and see people walking dogs, pushing baby carriages," says Lappin.
As for prices,  we asked UrbanDigs to chart the median price-per-square-foot in Lower Manhattan's neighborhoods and compare them to the overall Manhattan median. As the charts below show (click to enlarge), Tribeca still leads the pack, but most of the area is enjoying a steady climb, with the exception of Civic Center. If you isolate the Financial District, you'll see that in early 2015, price per square foot finally surpassed the Manhattan median. (As we wrote earlier this year, the neighborhood's days as a relatively affordable downtown oasis are rapidly waning.)
The Downtown Alliance's full second quarter Lower Manhattan real estate market overview report from August also points to an ongoing building boom downtown: construction is underway on more than 3,500 residential units in Lower Manhattan (evenly split between 44 percent rentals and 41 percent condo), and in 2015 alone, 927 new apartments will come on the market, in large part due to two major new developments at 70 Pine Street and 20 Exchange Place.
WHAT'S AHEAD:
In a nutshell: more of the same. (Barring any sweeping changes in the city's overall market, that is.) "I think there's a tremendous upside for further development and expansion in [areas like the Financial District] as residential," says appraiser and Miller Samuel president Jonathan Miller.
The Downtown Alliance's report points to major developments in the pipeline over the next few years: 5 Beekman, 50 West Street, and 100 Barclay Street are all slated to open in 2016, and Lappin notes that the trend of converting commercial buildings to residential is likely to continue. The South Street Seaport museum (and more development at Pier 17) is also still underway, as is the final WTC tower, 2 World Trade.
Also likely to continue? Price hikes. (You knew that one was coming, didn't you?). Song refers to it as Tribeca's "halo effect" of bringing up values in its bordering neighborhoods. (See also: what Williamsburg hath wrought on the rest of north Brooklyn.) Of the newer developments, Lupard says the real trend she's seeing these days is new construction "driving up prices in older condos, and making them more valuable."
Related: 
11 years later, a Tribeca native longs for a pre-9/11 Lower Manhattan
9 NYC nabes where you can still get a bargain
Living near the 9/11 memorial means street closures and "angry spirits"
Check-in: is the Financial District still an "affordable" downtown alternative?
Stop calling Battery Park City 'sleepy,' because it's not
A No. 7 Sub coming to Tribeca? Blogger Erik Torkells would "cry tears of joy"
Brick Underground articles occasionally include the expertise of, or information about, advertising partners when relevant to the story. We will never promote an advertiser's product without making the relationship clear to our readers.