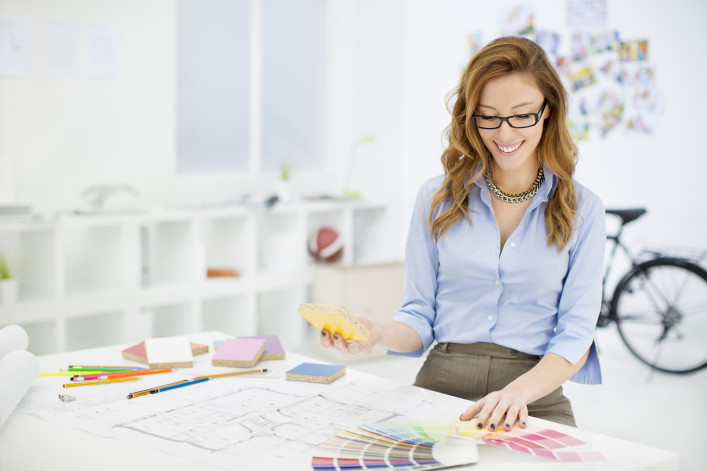 You can shop online for everything today, which makes it oh-so-tempting to ditch the weekend subway crowds—we get it, we'd rather be brunching than sourcing coffee tables all over the city, too—and decorate your apartment via your laptop. But furnishing an apartment is a more complicated process than picking out produce or a pair of pumps. You want to make sure what you pick not only fits your decorating scheme, but your apartment building's doors and hallways, too. (It's hard to shimmy a massive bed frame through a walkup's tight corners.)
Plus, the info gleaned from touching, feeling and seeing an item in person is lost in the translation from virtual to actual reality. "The Internet has made the world a much smaller place," says NYC-based interior designer Casey DeBois of DeBois Design, who points to access to a greater variety of more unique housewares, real-time availability of merchandise, ease of searching (often you set your specs and click "find" for quick list of items that meet your exact criteria) and inexpensive delivery among the pros of online shopping. On the other hand, frequently, not everything is as it appears in a picture online. Items are often photo-shopped to look their best, scale and sizing can be misleading and you lose the ability to touch, feel and experience a furnishing in person.
Here, she shares her tips for making the most of home shopping online.
To buy or not to buy: DeBois suggests limiting online shopping to smaller accessories and styling items like vases and art. They're easy to visualize in a space and—bonus—much more simple to ship than a couch or a coffee table. "Rugs are also fairly easy to buy online since the sizing is pretty straightforward," she says. On the other hand, furnishings that are chosen based on comfort as well as looks—think sofas, office chairs and mattresses (where you spend a third of your life!)—should be experienced in person because the choice is more individual.
What to consider before clicking: Map it out and have a plan. DeBois recommends starting with a scaled and detailed floor plan, a budget and an inventory list of the rooms and items to be sourced.  "It simplifies the process, inspires direction and makes it the whole process less overwhelming. You're also less likely to buy unnecessary items."
Next, know exactly how much clearance you have in doorways and elevators.  "Angles can get tricky and I've heard horror stories about people who have to cut an expensive piece of furniture in half (or worse yet – abandon it) because they couldn't squeeze it through the front door." 
And avoid shopping from a single online store or resource. While the items may be readily accessible and shipping is quick and easy, too many pieces from one store can lead to a space that looks more like a showroom and less like a home. "The styles of these retailers (while interesting and unique) often start to look very consistent and you want to have variety, while sticking to a consistent theme."
Choose furniture that multi-tasks: When it comes to furnishing a New York City apartment, it's a good idea to be especially conscious of what you buy. Get the basics, but aim to choose items that are multi-use and very purposeful, says DeBois. "Whether your coffee table is also a storage trunk or your bed frame also has drawers underneath; when you're in a small space everything should have a dual purpose," she says.  That said, also invest in pieces that are worth it – vintage or one of a kind items that will come with you to your future home.
A few of DeBois' favorite online resources:
Chairish: An online consignment marketplace of curator-approved vintage furniture and décor (plus jewelry and accessories).
Etsy: An online marketplace of one-of-a-kind and vintage items. "I like to add at least a few items to give homes a unique feel," says DeBois.
1stdibs: Antique and modern furniture sourced from the finest dealers, shops and galleries worldwide. "A great reseller of designer items."
One Kings Lane: A furniture and home accessories sales website. "Great items and low prices."
Rugs USA: Area rugs at discount prices and with free shipping.
Penny: Shopping via Instagram with a hashtag. "They have really unique, one-of-a-kind items."
Krrb.com: An online classifieds resource. "Kind of a curated Craigslist."
Wayfair: An e-commerce furniture resource. "Great items and good return policy."
This story was updated in August 2016.
Brick Underground articles occasionally include the expertise of, or information about, advertising partners when relevant to the story. We will never promote an advertiser's product without making the relationship clear to our readers.