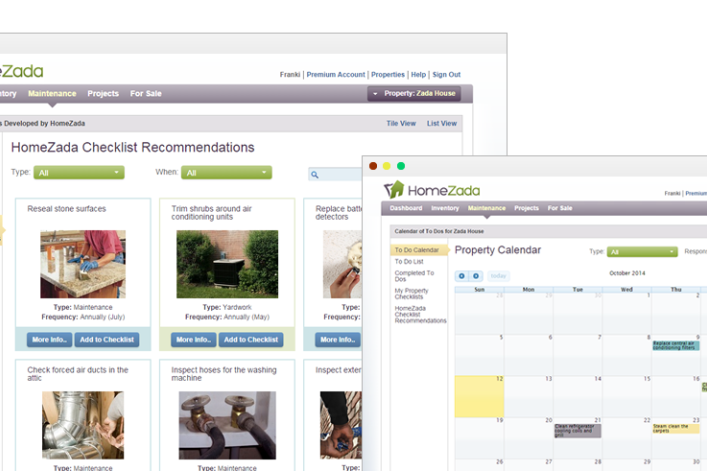 Even for the most well-organized among us, owning property is nothing if not a logistical headache, between bills, paperwork, and maintenance tasks you once happily outsourced to the super. So it's no surprise that a startup has stepped into the fray to help homeowners keep track of it all.
"We try to take the thinking out of 'what do I have to do this month to maintain my home?," explains HomeZada co-founder Elizabeth Dodson, who bills the site as "a digital place to store all the information about your house."
The site, which launched a couple years back, allows users to upload everything from photos to contracts to closing documents to equipment serial numbers and user manuals (the better to throw away all the old electronics guides cluttering your designated paperwork drawer). More recently, they launched an option to let users create listings once it comes time to sell, though it hasn't quite caught on yet with the New York market (the majority of sales listings are based in Northern California). 
Once you create a profile for your home, the site automatically creates a customizable home maintenance calendar to keep track of regular tasks, like changing smoke detector batteries.
There also templates for 50 common home improvement projects (kitchen and bathroom remodeling, backyard landscaping, etc.) to help you budget, create a list of necessary materials, find reputable contractors in your area, and track past, current, and future projects. "You can even make a note of a specific paint color you used in a room," says Dodson. "Also, a lot of new homebuyers want to create efficiencies. In cities, it's usually related to making sure their energy bills and equipment are more efficient."
While  a tool like this is likely more useful if you own a big suburban house with a yard to maintain, than, say, a 600-square-foot New York apartment, it could also be a handy option if you own and maintain a vacation home, investment property, or are helping an elderly parent manage a home. (Indeed, Dodson tells us that the majority of HomeZada's New York users live outside the city.) 
However, city-dwellers might find it useful for an unexpected reason: insurance purposes. "We saw a trend in New York because of Hurricane Sandy," Dodson explains. "People want to protect themselves, and identify what they own. [When disasters strike], 10 percent of things you own aren't claimed, because people forget."
In the "inventory" section of your HomeZada profile, you can track your possessions room by room, differentiating between "fixed" assets like floors, cabinets, etc., and possessions that you'll want to get insured, like expensive electronics. (Consider it a more manageable, detailed version of the information you provide on typical home insurance forms.) "It helps you reclaim as much as possible," says Dodson.
With so much sensitive data in one place, HomeZada's promotional materials make a point of emphasizing the site's 256-bit encryption, the same level of security typically used by banks.
 Users can choose between a free "essentials" package that lets you track inventory and get "news & recommendations" from the site, or a $5.95/month (or $59/year) "premium" package that includes all tracking features except for listings (which'll cost you extra, natch). So what do you think—worth the extra cash to streamline your system, or will you be sticking to your old-school home management methods?
Related: 
5 steps for installing a lawn in your brownstone's backyard
Save on hiring a contractor: 4 pro tips
10 apps to download the minute you move to New York
8 questions you MUST ask before buying renters' insurance [sponsored]
Brick Underground articles occasionally include the expertise of, or information about, advertising partners when relevant to the story. We will never promote an advertiser's product without making the relationship clear to our readers.