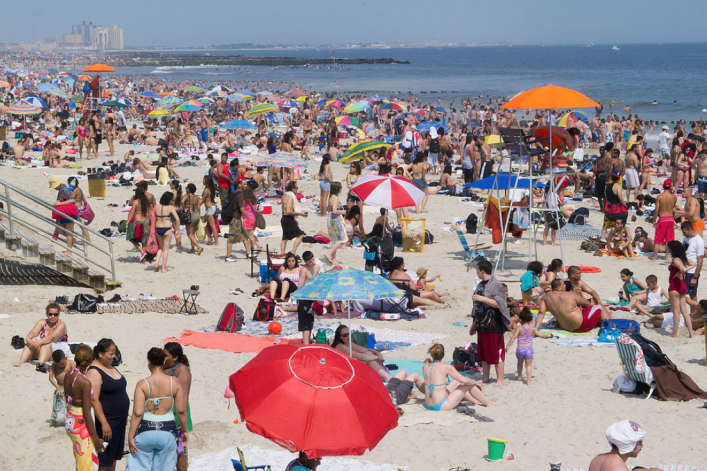 While we're focusing our attentions on escaping New York this week, there's something to be said for the kind of "escape" that can be achieved without much more forethought than throwing a towel and sunscreen in your bag and hopping on the train, even if you're technically not straying from the five boroughs. Hence, the ever-booming popularity of the Rockaways.
While most of us have at least been there for a lone beach day, I recently took it one step further in the name of exploring the area's potential as a full-blown vacation destination (and let's be honest,  solid means to an end for eating as much of the food there as possible in a 24-hour period). Because there's nothing as convenient and cheap as getting away without actually going away. Below, our guide to a 24-hour Rockaway holiday.
THE GETTING THERE:
As we mentioned above, getting to the Rockaways is as easy as hopping on the A train, albeit usually with an additional transfer to the S shuttle that takes you from Broad Channel to the stops between Beach 90th street and Rockaway Park 116th Street. To head further west to Fort Tilden or Jacob Riis Park, you'll need to hop on the Q35 or the Q22 bus, which run regularly along Rockaway Boulevard.
If you're lucky enough to have a car, there's free street parking all along the peninsula, and a large, free parking lot at Beach 95th Street. Bushwick Daily also has a handy mapped bike route for Brooklynites, as well as a rundown of the various beach buses that'll shuttle you back and forth from North BK for as little as $10 each way.
THE DIGS:
If you're looking to stay overnight in the Rockways, it'll be largely at the whims of Airbnb, which has scores of options that mostly run between $100 and $150 a night—provided you can get hosts to respond to you. (I tried to land a spot in a $150/night houseboat on the harbor, but as a brand-new Airbnb user with no past host reviews, I never could get anyone to bother writing back to my booking requests. If you're in a similar—ahem— boat, but still want to try one of these, start planning reasonably far ahead of time.)
In lieu of a houseboat or bungalow, we ended up booking a room at the Playland Motel off the Beach 98th stop, an institution probably better known for its downstairs bar/restaurant and backyard parties — try their cocktail made with cucumber, dill, and Hendricks — than it is as a place to actually sleep; so much so that the hotel only takes guests aged 21 and up (no kids or pets allowed). As for the actual sleeping quarters: while the artist decorated rooms are appropriately beachy and a welcome change of pace from the usually drab world of hotel decor, I'm not fully convinced that $139/night is a sane price for what amounts to just a room with a bed (no mirror, no dresser, no TV, no nothing) and shared, dorm-style bathrooms and showers. Particularly since you're likely to be serenaded to sleep by the sounds of loud drunk people chattering just below the windows about, for instance, their recent move from the Financial District to the Upper East Side. (And around this time of year, constant fireworks.)
It can be invaluable to have a place to catnap, stash your stuff, and shower if you're spending serious time at the beach — and to have a busy restaurant and full bar right downstairs for easy entertainment — but if you go with this particular option, just know what you're getting into for the duration of your stay.
THE EATS
To eat through all the Rockaway concessions in a 24-hour span is to render yourself far too bloated and comatose for the actual beach (and also possibly bankrupt). But one can still try. Since my home base was right around Beach 98th, I mostly stuck with options nearby, though just 10 blocks east at Beach 86th you'll find Roberta's-affiliated beer-and-burger shack Rippers, which is always a worthy (and reliable) option. (Thrillist also recommends that Rockaway Beach Surf Club as an alternative, but I've never been, and therefore can't vouch.)
As for the area right around Beach 98th, the options are numerous to the point of near-absurdity. The Playland Grill at the motel itself has serviceable beach staples like nachos, clam fritters, and fish tacos, and right next door you'll find Whit's End, a tiny wood-fired oven pizza spot run by the so-called "Pizza Nazi." Sadly, I didn't get the chance to try this place myself, but given the crowd that packed the place even on my first night there — a rainy, empty Thursday — it's worth a return trip.
A couple of blocks west at Beach 96th — around the former home of Rockaway Taco — is a cluster of small vendors including cafe Anna Bow (which had surprisingly transcendent breakfast burritos with the best pico de gallo I've ever encountered); The Summer Shift, which is hosting a rotation of local chefs all season; and La Newyorkina, which turns out a variety of Mexican sweets, most noticeably their Paleta popsicles. (Soon, this block will also be home to a mud-bath-slash-seltzer-dispensary, as the New York Observer reported last week.)
There's also a huge roster of concessions on the beach itself at Beach 97th (Rockawayist has a full rundown here), though on a busy holiday weekend, this was a better place to wait in a 40-minute line for a tiny, $14 pork sandwich — and in another 20-minute line if you wanted to get beer or wine — than it was to kick back and snack. 
For a full list of these season's eating options in the area, Gothamist has you covered—as does the Village Voice—but if I had to issue a lone Rockaway recommendation, it'd be for Uma's, an Uzbeki restaurant on Beach 92nd street. (The food is from the same region as beloved Brighton Beach staple Kashkar Cafe.) This is heavy-duty, rib-sticking, meat-and-potatoes-and-dumplings kind of fare, so your best bet is to work up an appetite all day at the beach, load up on manti dumplings, lagman noodles, and halva ice cream, then roll yourself back to the train, or wherever you're staying for the night.
THE ACTIVITIES
Not that there's anything wrong with opting for "lazing on the sand" and "eating" as your lone weekend activities, but since I had a little more time to kill than usual, I felt it was time to expand my horizons. My first morning I attempted a trip to the relatively new Rockaway Flea by the Sea, but apparently, since their last Facebook update in May, the place has transitioned from "scrappy flea market" into "abandoned junkyard." The gate  was still open, so we poked around for a while, until a woman showed up asking if my boyfriend and I were the new owners—she's been repeatedly trying to get whoever's behind the former flea to get all of their trash off the lot, to not avail. So, not the best thrifting I've ever encountered:
Disappointing, yes, but if there's one way to bounce back from any kind of letdown in life, it's with jet skis. Back by Beach 90th on the edge of the peninsula that faces Jamaica Bay rather than the ocean, head through the back deck of Thai Rock — a rock-and-roll-themed Thai restaurant and bar, of course — and you'll find Rockaway Jet Ski, a water sports equipment rental service that offers up jet skis, kayaks, and paddleboards that you can take around the Bay. An hour in a two-seater Kayak runs $30, and is an ideal chance to get a closer look at the houses on stilts and a large shell of an abandoned boat you always see from the A train on the ride across broad channel. (It's also a good way to burn off the previous night's Uzbeki food.) The company gives jet ski harbor tours for $150, but for a little less — $80 for a single and $95 for a two-seater — you can rent a jet ski to take around the bay for 30 minutes at your own discretion. Expensive and ridiculous, sure, but entirely worth it. (Rockaway Surf School offers lessons nearby for a similar price, if you're more interested in being one with the ocean than running roughshod over it on a glorified ATV.)
If, like me, you feel like doing a little off-roading from the scene around the Rockaways and stopping at the Resorts World Casino next to the Aqueduct Race Track on your way back into the city — it's only two stops away from Broad Channel, after all — one word to the wise: Exit on the left side of the subway platform, not the exit on the far right, unless your idea of fun is walking under a shady, unmarked underpass and footpath to get to the actual casino. Other than losing your leftover vacation cash at a (probably rigged?) Sex and the City slot machine, there's no faster way to feel your beach vacation slam to an abrupt halt.
Related: 
Come to the Rockaways for affordable apartments and hyper-local eateries, but beware of free-floating sand
I'm looking to buy a summer place in the Rockaways. What do I need to know?
Brick Underground articles occasionally include the expertise of, or information about, advertising partners when relevant to the story. We will never promote an advertiser's product without making the relationship clear to our readers.