Neighborhood Intel
Now that it's really happening, here's what you need to know about that NYU expansion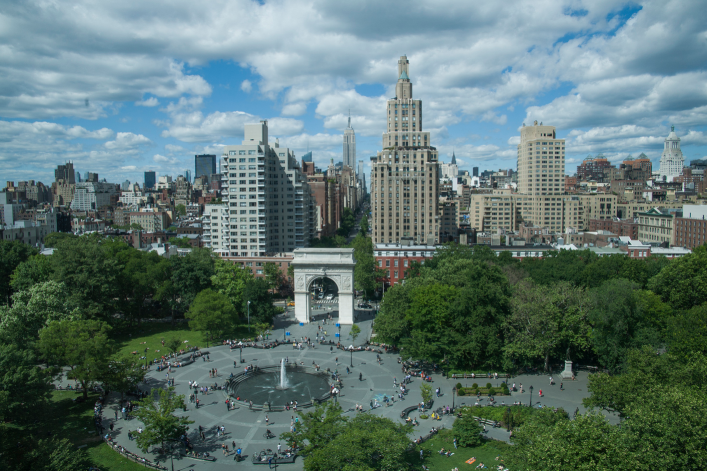 Following a years-long battle in both the court of public opinion and the actual court system, NYU is moving forward with its massive planned expansion in Greenwich Village, after New York state's highest court of appeals ruled in their favor last week that sites intended for construction are not, in fact, legally protected parkland. (You can read the full ruling here.)
So after numerous lawsuits, protests, rulings, reversals, dramatic headlines, and attempted interventions by celebrities, where does this all actually leave us? Below, the TL;DR version of the controversy thus far—and what the latest ruling means for Greenwich Village:
WHAT IT IS:
NYU 2031, a large-scale plan to "maximize NYU's existing footprint" by adding around 2 million square feet of new development to the university's campus, primarily on two "super blocks" south of Washington Square Park, the area bordered by West 3rd and Houston Street, and LaGuardia and Mercer. (Full details of the plan—including an interactive map—can be found on NYU's website, and the Wall Street Journal also has a handy infographic of current and planned future buildings in the area.)
A good deal of that new development will be underground (the university estimates around a quarter of a third of the total square footage). Additionally, the school is planning expansions in its remote locations in the "health corridor" in the East 20s and 30s near the NYU Langone Medical Center; the area of downtown Brooklyn surrounding its Polytech campus; and a new campus on Governor's Island. The expansion plan also includes ambitious "climate commitments," part of NYU's stated goal to become climate neutral by 2040.
Much of the controversy and legal wrangling around the plan centers around the Greenwich Village development, however, and the attendant 20 years of construction it will entail in the neighborhood.
The plan was approved by the city council back in 2012, but has been in and out of courts (and appeals courts) over a lawsuit claiming that since some of the land on which NYU intends to build had been used for decades as parkland, it qualified as "implied parkland," and that the school would therefore need permission from the state to build on top of it.
In last week's ruling, however, the court stated that just because  "a portion of the public may have believed that these parcels are permanent parkland does not warrant a contrary result," and that there was no conclusive proof the city had intended the space for permanent use as public parkland.
WHAT THE CRITICS ARE SAYING:
In short: Lots—and loudly. Community activists, preservationists, most NYU professors, and the aforementioned celebrities (including the likes of Mark Ruffalo, Susan Sarandon, and Fran Lebowitz) have raised a bevy of concerns about the loss of public park space; a flood of new residents in a small, already-oversaturated neighborhood; and the admittedly daunting prospect of a two-decades-long construction project in their historic neighborhood (and that's if everything actually stays on schedule). Some critics also supsect that the multi-billion-dollar cost of the expansion means an inevitable raise in NYU's  already notoriously high tuition fees, placing the burden of debt on the students. (NYU faculty have also voiced concerns that the high cost of the project could mean cut corners—and lowered admissions standards—to pick up the slack.)
Among the opposition's leaders is the Greenwich Village Society for Historic Preservation, which has released studies detailing the expansion's potential negative impact on the neighborhood, and questioning NYU's claims that they need extra facilities within a 10-minute walking distance of Washington Square Park, among other things.
"It will be an enormous intrusion into the neighborhood," Andrew Berman, the GVSHP's executive director, tells us. "Beyond that, it means thousands more people connected to the university. And that sort of delicate balance we have between neighborhood and university, we feel falls over a tipping point, and a vital diverse neighborhood becomes a company town, in effect."
"I think it's very sad what's happened, because this expansion is really a privatization of public land that, and that, to me, is the main principle involved," says Enid Braun, President of Lower Manhattan Neighbors' Organization (LMNOP), a community organization that's been heavily involved in the pushback against NYU 2031. "NYU has a history of assaulting that area through acquisition of buildings, and making promises in the deal-making process that they don't keep."
Given the seeming finality of the recent ruling, Berman says that area activists will now focus their attentions on holding NYU to various promises made in their development plan, including planned public outdoor space; affordable space for neighborhood nonprofits; and a new neighborhood school. Since the development will be done in bits and pieces over the next two decades, there will likely also be chances along the way for concerned locals to get involved at different stages of the process. (In particular, Braun tells us, it's important to keep an eye on the development around Washington Square Village—and if the school makes any efforts to evict the building's rent-stabilized tenants—when work begins on the north of the two superblocks 10 years down the road.) "As far as what a community member should do," says Braun, "Stay on top of it, go to meetings, and be engaged, because it may be that there are opportunities to have some effect over the next 20 years."
WHAT NYU AND ITS SUPPORTERS ARE SAYING:
In a statement after last week's ruling, NYU spokesman John Beckman wrote, "This project has been the subject of years of planning and review, been approved overwhelmingly by the City Planning Commission and City Council, and now has been given the go-ahead by the State's highest court. [...] The project not only keeps NYU academically competitive and helps fulfill our educational mission, it also benefits New York, as does today's decision."
Beckman's statement cited, among other positives, job creation and other economic benefits (the school will be hiring a lot of construction workers, after all); the creation of new public open spaces including playgrounds; the school's increased contribution to the city's educated workforce. "There may be a temporary inconvenience for some of these spaces, but it will end up creating better parkland maintained at NYU's expense," Parks Comissioner Adrian Benepe told the Wall Street Journal last week.
"The decision removes the threat to thousands of beloved green and recreational spaces around the state posed by the opponents' legal theories," Beckman added. On this particular point, NYU had some rather surprising bedfellows in the affordable housing community, who entered the fray back in April. Their stake in the game? De Blasio's plans to build affordable housing on the sites of numerous community gardens around the city, a project that could have been significantly complicated by a ruling against NYU on the "implied parkland" issue.
As for what's next, NYU is supposed to release a more specific timeline of plans within the next month, and Beckman tells us via email that the first order of business will be replacing the Coles sports center at 181 Mercer with a new facility that will house classrooms, specialized education and performance spaces; student and faculty housing, and a replacement for the current gym.
Stay tuned...
To dig deeper:
NYU expansion plan approved by state court of appeals (WSJ)
NYU 2031 plan overview (NYU)
Too big to fit: How NYU's controversial plan to add 2.5 million square feet of new space in the Village contradicts how university growth needs are being addressed across the country (GVSHP)
The MYTH of the 10-minute walk from Washington Square: how NYU's claim its facilities must be constructed in the Village belies the experience of universities across the country (GVSHP)
The impacts of New York University's proposed expansion in Greenwich Village (GVSHP)
5 reasons why NYU's expansion plan reeks of 1% greed (Alternet)
Affordable housing groups jump into NYU expansion battle (Curbed NY)
Related:
Graphic novelist Christine Norrie adores her 'tiny' apartment, doesn't miss her fly-infested Brooklyn loft, and doesn't pine for old New York
De Blasio's big rezoning plan: what you need to know now
50 years on, the landmark law is still hotly debated
10 quality of life factors to check before buying a NYC apartment (sponsored)
Brick Underground articles occasionally include the expertise of, or information about, advertising partners when relevant to the story. We will never promote an advertiser's product without making the relationship clear to our readers.