Improve
Forgot to sign up for a CSA in the city? These alternatives will sate your fruit-and-veggie thirst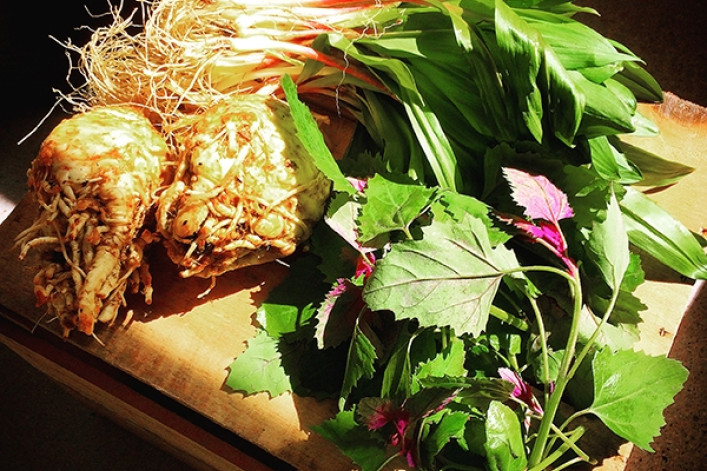 If you love the idea of a CSA (Community Supported Agriculture) but didn't get yourself organized in time for this season, which kicked off in early June, you're in luck. A number of CSA-alternatives are available to satisfy your desire for local produce—without the 22-week commitment and, often, with door-to-door delivery.
FreshDirect recently introduced three CSA boxes of rotating, in-season produce from Lancaster Farm Fresh Cooperative, a non-profit co-op of over 75 organic farmers in Lancaster, Pennsylvania. The Local Organic Vegetable CSA Box (originally 34.99, though on sale this week for $27.99) includes approximately 8 to 10 different vegetables. The Local Organic CSA Box with Eggs and Cheese ($49.99), includes about 8 vegetables, plus a dozen eggs from pasture-raised chickens fed only certified organic, antibiotic-free, non-GMO, and hormone-free supplemental feed and a half-pound of Lancaster County organic cow, sheep or goat cheese. And the Local Organic CSA Box with Eggs, Mushrooms, Cheese and Yogurt ($49.99), includes five local vegetables, a dozen eggs and half pound of cheese, plus one pound of plain organic farmstead yogurt from Seven Stars Farm and a half-pound of local organic mushrooms.
One of the city's first organic produce delivery services, Urban Organic offers weekly delivery of boxes of certified organic produce, groceries and dairy from (local when possible) individual farmers, farmers' co-ops and distributors. Their signature Original Value Box ($34.99) includes 14 to 18 different fruits and vegetables. The Little Box ($24.99) omits some of the items from the Value Box. An Extra Value Box (44.99), is packed with everything in the Original Box, just more of it. And the Juicing Box ($34.99) is an assortment of typical fruits and veggies used for juicing (think apples, pears, carrots, beets, etc.). For all except the Juicing Box, you can choose up t three items you never want included. Boxes are delivered on the same day each week (based on their delivery schedule) and recipes are available on their website.
Rustic Roots has been delivering organic and sustainably grown produce, meat and fish from New York, Pennsylvania and Connecticut (plus some fish from Alaska) to Brooklyn, Manhattan and Queens since 2011. In addition to basic delivery of local mixed fruit and vegetable baskets, Rustic Roots operates a CSA that runs from June 1 to October 25 with pro-rate shares, so you can join at any time throughout the season. With 14 weeks to go, an Original Share of about 12 local fruits and vegetables is now $910 ($65/week), while an Early Bird Share, which includes fruits, vegetables and a dozen eggs is $1001 ($71.50/week) and a Surf, Turf and Earth Share packed with regional fruits and veggies, plus $50 worth of local meat and $50 worth of fish is $2310 ($165/week).
For a more customized experience, Nextdoororganics curates weekly packages of sustainable, traceable (that is, you can easily trace its origins and they are often nearby) foods from nearby farms and small-batch food makers. First, choose your delivery or pick-up time. Next, select one of five produce subscriptions—Basic (vegetables, fruits and herbs for $20/order), Small+ (everything in the Basic, plus one small-batch item, $30/order), Medium+ (more variety of Basics, plus one small-batch item, $40/order), Large+ (even more variety of fruits and vegetables, plus one or two small-batch items, $50) or Snacks (a sampling of 20 snacks, $50/order)—and frequency of delivery (weekly, bi-weekly or monthly). Then, add on any additional items, like free-range eggs, local cheese, a loaf of freshly baked, locally made bread, to make your delivery truly your own.
Local Roots NYC offers a unique CSA model that's based on two 12-week periods instead of the more traditional single six-month season. The CSA culls local vegetables, fruit, meat, fish, cheese, eggs, milk and more from 15 regional sustainable and organic farmers and food producers. The fall season begins the week September 8 and orders are due August 21st (late orders will be pro-rated and charged a fee). Customize your order by choosing what you want to take home weekly: A vegetable order of 4-5 items/week (enough to feed 1-2 people) is $192 for the season. A fall fruit order is $99, a weekly half-gallon of Ronnybrook milk is $60 and weekly order of a dozen free-range eggs is $70. Add that all up and it works out to $35/week. Pick up is available from one of Local Roots' neighborhood location or Delivery is available to Lower Manhattan and Brooklyn (7-10pm on Wednesdays and Thursdays for $96) or you can pick up your weekly take from one of Local Roots' neighborhood locations.
Related:
7 fruits and vegetables you can grow in a NYC apartment
How to start a garden in even the smallest New York apartment
A garden for even the most space-challenged apartment
Brick Underground articles occasionally include the expertise of, or information about, advertising partners when relevant to the story. We will never promote an advertiser's product without making the relationship clear to our readers.