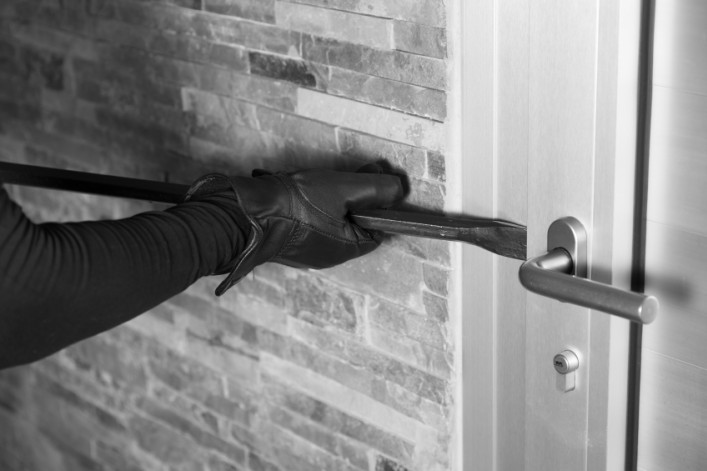 The last thing you want to come home to post summer getaway is an apartment that's been burglarized or damaged while you were away. To avoid becoming a worst-case scenario, here's how to keep your home on lockdown:
1. Suspend your newspapers
A New York Times pile-up outside your door is a clear sign you're not home. Suspending your newspaper delivery should be first on your pre-vacation to-do list.
2. Ask a neighbor to pick up your packages
Assuming  you don't have a doorman, you should have someone nearby store any packages you might receive while you're away. As with newspapers, piling up Amazon boxes is a dead giveaway, not to mention an outright invitation to steal.
3. Hide expensive items in places burglars wouldn't think to look
Often the first places burglars will go to find valuables are dresser drawers, says Jon Troutman, co-founder of wireless security system Canary. Consider putting them in places like the kitchen and kids' room. Just be sure to remember where you hid them so you don't come back to an accident (e.g. running your diamond bracelet through the blender).
4. Consider surveillance
Surveillance cameras can be really pricey, but Canary (see photo above) is a rather affordable, new high-tech way to keep an eye on your apartment and monitor it through  an app on your phone. You get alerts if something is off in the apartment, and can immediately contact your home police department or fire department, explains Troutman. You can also set a siren to go off. The device starter pack is $329, but you can spend as little as $289 on for two indoor devices. Yearly membership is $149 a month (but you save $50 on your first year). Bonus: If you're out of cell phone range during your holiday vacation, you can also allow someone else access to the app to keep an eye on things for you.
5. Don't flaunt your plans on social media
Got a Twitter obsession? Cool it a bit while you're on away. Remember that many of your followers are probably strangers, and constantly uploading photos of your vacation tells them that you're not home. The humblebragging can wait until you get back.
6. Give a neighbor a set of your keys
Assuming  you know (and trust) your neighbors, consider leaving someone a key so they can go in and check on the apartment every once in a while, says retired NYPD detective and CNN security consultant Harry Houck. "Also, ask them to keep an eye out for anything strange."
7. Make sure all windows are closed 
It may seem basic, but this advice holds. "The most common way burglars enter apartment is through the window," says Houck.
8. Consider buying an automated light/TV switch
With automated switches like the $26.95 Autochron, you can have your lights go on and off while you're away so people think you're home. You can also go the higher-tech route with WeMo's wi-fi-based products, which allow you to control lights and electrical appliances through your iPhone or iPad.​ The $39.99 WeMo Switch (shown above), for example, is an adapter you can plug into an electrical outlet. You then plug in a light, and control it from anywhere using an app on your phone.
9. Make sure you're covered by insurance
If you're leasing out your apartment while you're away, your apartment insurance could be voided, so check with your broker, says Jeff Schneider of Gotham Brokerage (a Brick sponsor). If you're not, and you're robbed, or a pipe bursts and causes water damage or there's a fire while you're away, you should be covered.
If you're planning to be away for an extended period of time, Schneider suggests you have a friend or family member check in on your place occasionally, because if major water damage results from a leak that goes on for a very long time, you may not be fully covered. You may also want to have your liability covered extended to a temporary location. But call your insurance company to check whether you already are, advises Schneider.
***This post originally ran in December 2015, and was updated in July 2017.
Brick Underground articles occasionally include the expertise of, or information about, advertising partners when relevant to the story. We will never promote an advertiser's product without making the relationship clear to our readers.