Due Diligence
The Naked Cowboy lives in Queens, doesn't need a lot of closet space and dreams of living in a penthouse — in his underwear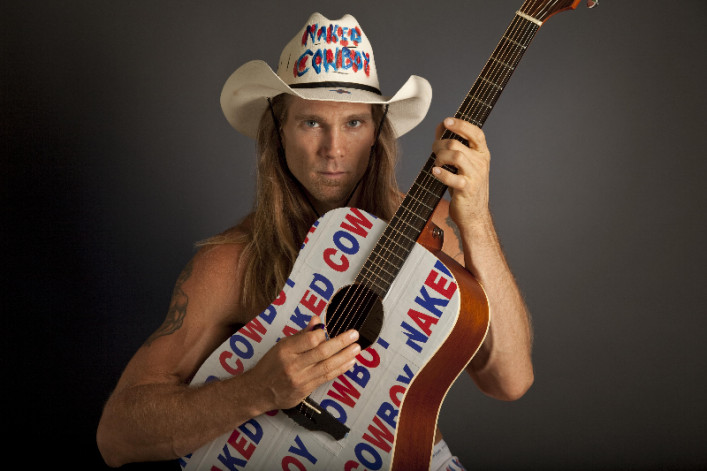 If you've spent any time at all in Times Square, you've likely seen Robert Burck —  or one of his "franchisees" — performing the role of
Naked Cowboy
. You may even have spied him ordaining a wedding, which he does for $499 a pop. And did you know he also has a line of
Naked Cowboy Oysters
? Us neither.
Burck, who's originally from Cincinnati, Ohio, moved to Queens a little over two years ago when he got  married. (Sorry, ladies.) Before that, he'd been living in a $50-a-night hotel in Secaucus for about five years. He'd drive into the city everyday and, thanks to some product placement, park for free in an Icon garage. ("The tips ended up costing about $30 a day," though, he says. Ah, New York!)
He's been the Naked Cowboy for about 15 years, but when he first came to New York he worked as an exotic dancer, and later shot for Playgirl. "I wasn't trying to live here, I was just trying to get rich and famous," he says. 

As you might have expected given his lack of attachment to clothing, he swears by a minimalist lifestyle—who needs a lot of closet space when you wear tighty whities, cowboy boots and a hat most days? He stores half of his wardrobe in his car— mostly said underwear, hats and boots — and his guitars, which are placed strategically on his body when he's out on the field.

If you've never seen him in the flesh (pun intended), you can check him out at the FreshDirect headquarters in Long Island City next Monday, where he'll make a celebrity appearance.
1. What neighborhood do you live in?
Woodside, Queens. 

2. Is this your dream neighborhood or is there someplace else in NYC you'd prefer to settle in?
It's not optimum. I'd like the top-floor penthouse in the tallest building in Manhattan,  and I'd stay in underwear all day. That's the long-term goal.

3. Do you own or rent?
Rent.

4. How'd you find it?
My wife had been living with a bunch of her sisters [Editor's note: She has nine] in Jackson Heights, and she wanted to move out. Patty didn't want to live in the hotel, so we looked for a new place together. Two of her sisters, one of which is a Naked Cowgirl franchisee, still live with us. Our landlord is great — I married him in Times Square. 

5. What's the one thing you love the most about it?
It's simple, clean, and there's nothing in it. Both bedrooms have the perfect view of the skyline. It's also close to the Queensboro Bridge, so it's pretty easy access to the city.  The girls take the train; they're there in 10 minutes. 

6. If there's one thing you could change about your apartment, what would it be?
We'd rather not have roaches. But I've never been in a building that didn't have any.  Honestly, though, it's a really nice, clean building. The hotel had squirrels in the ceilings, if not rats.

7. In three words, describe the first apartment you've ever lived in.
Clean, simple, efficient.

8. Do you prefer old NYC or this NYC?
This NYC. 

9. Tell us about your favorite apartment you've ever had.
The one I'm in now.  I'm Tony Robbins — everything's great at all times.

10. And the worst?
Never had a bad one. 

11. Name one NYC service you couldn't live without.
Food delivery service. We order Chinese food every night. When I lived at the hotel, I got the same steamed chicken and vegetables every night. I still do that here;  now we order from Lin's Kitchen.

12. What's your favorite spot in the city?
45th & Broadway — that's where I've played for 15 years.

13. Which would you rather: Brooklyn brownstone or a penthouse in a shiny, new condo?
Shiny, new condo.

14. If you could live elsewhere, where would it be?
Rancho Palos Verdes, California, where my manager lives. There are rows of fruit trees and it's just beautiful there. The views are incredible. That's where I married my wife.

15. Any advice for a recent New York transplant?
Make sure you have a job first. I came as Naked Cowboy — it was the first and last thing I've done here.  You can't make it here without a job or some serious planning. In New York, you can go straight up or straight down.
Brick Underground articles occasionally include the expertise of, or information about, advertising partners when relevant to the story. We will never promote an advertiser's product without making the relationship clear to our readers.