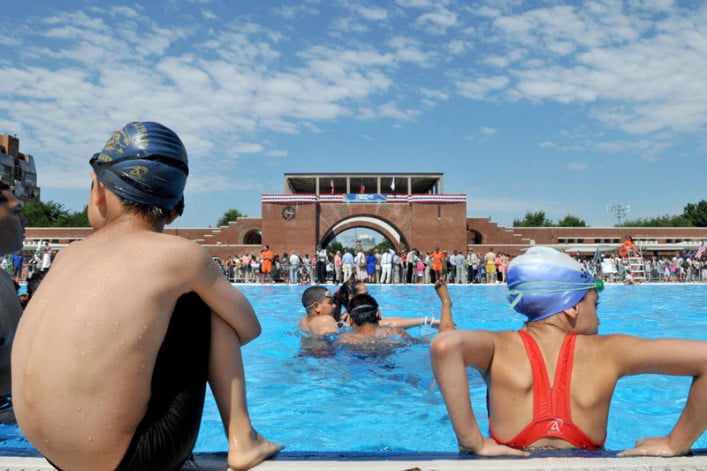 Forget what the calendar says: For some of us, it's officially summer in New York City when the public outdoor pools (finally!) open. And that'll happen tomorrow—Thursday, June 29th.  And this year pool season has been extended by about a week, so you can swim and bathe as much as your heart desires until September 10 (though mini pools will close on Labor Day).
The lowdown
There are a total of 55 outdoor pools and a dozen indoor pools (more on those later)—11 of them Olympic-sized. They're open from 11 am to 7 pm, (though they're closed for cleaning from 3 pm to 4 pm, so plan accordingly). Some pools also offer lap hours between 7 am and 8:30 am, and then again between 7 pm and 8:30 pm (in July) and 7 pm and 8:15 pm (in August). You'll need to register for lap swim on the Parks Department website.
Helpful tips
Besides not arriving between 3 pm and 4 pm, we have this intel to share: New York's pools are really cold. The temps feel great on a 90-plus-degree scorcher, but otherwise, be prepared to feel the chill when you first jump in. Also—and this probably goes without saying but we're putting it out there anyway—they get really crowded on super hot weekends.
Some of our favorite pools are the intermediate pool and the diving pool at John Jay Park, at 77th Street, east of York Avenue; the (pretty unknown and therefore fairly quiet) mini-pool at Frederick Douglass Playground on Amsterdam Avenue between 100th and 102nd streets, and the Olympic-sized Lasker Pool, at 110th Street and Lenox Avenue.
The rules
All public pools follow the same rules, according to the city's Parks Department. Read up on them carefully before you head out, including:
You need to have a bathing suit to enter the pool area.
All clothes you wear over your bathing suit have to be white. 
You have to have a sturdy combination lock for storing your clothes in the lockers while you swim.
You have to wash off in the shower before going in the pool.
Floaties are not allowed for children who cannot yet swim. Use the shallow end if you're going with someone who can't swim. (You can register for swim lessons from age one-and-a-half and up, but acceptance is decided by lottery. There are three sessions you can still apply to, which run from July 21st to August 18th).
If you simply can't stand the idea of being outside at all on the hottest days, the city also has a dozen indoor pools. Unlike outdoor pools, you'll need a membership to access them if you're over 18 at a cost of $150 per year for adults over 25 (though you can also get a six-month membership for $75) and $25 per year for seniors and adults ages 18 to 24. Anyone under 18 gets in for free. Sign up for memberships directly at one of the centers. 
Of course, you could pay your way in to one of the city's many private pools for a day, or try to make friends with a resident in one of these NYC buildings with a pool. If you have an in, lucky you.
***Updated June 27, 2017
Brick Underground articles occasionally include the expertise of, or information about, advertising partners when relevant to the story. We will never promote an advertiser's product without making the relationship clear to our readers.