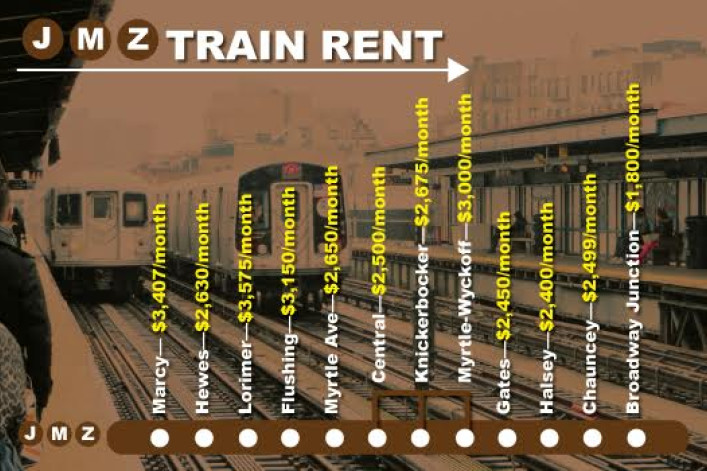 It's no surprise that the farther you live along a train line, the cheaper it probably is. But by how much? Recently, we examined how much it costs to rent at every Brooklyn stop along the L train, and what you will or won't save the farther away you move from its Bedford Avenue epicenter. Which brings us to this follow-up question: What happens if you move a little bit south, along the JMZ line?
Throughout much of Williamsburg and Bushwick, the JMZ runs nearly parallel to the L along Broadway; we'd hesitate to call it north Brooklyn's "best kept secret" — it's sort of hard to keep a massive above-ground public transportation line a secret, per se — but for the most part, high-end developments haven't yet worked their way south, and as such, the apartments are far more affordable. As a rule, plenty of new bars and restaurants rotate through the area in addition to a lot of the older businesses in these traditionally Hispanic and Hasidic neighborhoods, and while there's still access to over-the-top options you'll find along the L train, we've often found the areas around the JMZ to have a more laid-back, neighborhood-y feel.
As with the L train data, we asked Streeteasy to crunch the numbers, pulling the median rental price within a five-block radius of each stop based on active listings for May 2015. "Some of the highest rents along the JMZ lines are exactly where you would expect them to be: the westernmost points near Williamsburg," Streeteasy data scientist Alan Lightfeldt tells us. "The Lorimer Street, Hewes Street, and Marcy Avenue stops have the most expensive rentals on the whole. However, rents in areas to the east are growing fast."
Here's exactly what you'll pay at each stop along the way:
MARCY (JMZ)
Median rent: $3,407/month
Change from 2014: 13 percent increase
Commute to Essex: 7 minutes
Whether you're more interested in the steaks at Peter Luger, the bands and booze slushies at Baby's All Right, or that guy who stands on Broadway proselytizing into an insanely loud stereo system every weekend, it's fair to say there's something for nearly everyone in this particular stretch of south Williamsburg. You'll pay a pretty high premium for the convenience, and with several new developments underway in the area around the Williamsburg Bridge, we suspect prices will only climb higher over the next few years.
HEWES  (JM) 
Median rent: $2,630/month
Change from 2014: 1.1 percent increase
Commute to Essex: 8 minutes
Essentially the same drill as the Marcy stop, since Hewes is less than four blocks away, though with far fewer new developments (hence the dramatic dropoff in median rents). This stop is also just a few blocks away from the Broadway G, which gives you an edge over your other JMZ-dwelling friends when it comes to transportation options (if the G's actually running, that is). 
LORIMER (JM)
Median rent: $3,575/month
Change from 2014: 40 percent increase
Commute to Essex: 10 minutes
To us, the area around Lorimer always feels like it gets lost in the shuffle between the stops in south Williamsburg, and the busier hubs around Flushing and Myrtle-Broadway. That said, it's an easy walk over to Graham Avenue, which has exploded with new venues, restaurants, and watering holes over the past few years. As far as the dramatic spike in rents between 2014 and 2015, Lightfeldt explains that it's got a lot to do with larger—and therefore more expensive—apartments hitting the market in the area as of late. "The proliferation of larger units, some as large as five bedrooms, have pulled the median asking rent around the Lorimer stop far higher than it was last year," he says. "A penthouse unit at 16 Meserole Street, a new development building in the neighborhood, was listed for $6,200."
FLUSHING (JM)
Median rent: $3,150/month
Change from 2014: 7.7 percent increase
Commute to Essex: 11 minutes
Right next to the Woodhull Medical Center (and that can't-miss-it sign for the Fat Albert warehouse), the area around Flushing is a bustling hub with just about every kind of business you'd need in your day-to-day, including both a Planet Fitness and the long-awaited Bushwick branch of Crunch that finally opened this spring. A number of bus lines also run through the neighborhood, and if you're itching to head over towards the action around the Morgan stop, it's a short walk along Flushing Ave.
MYRTLE-BROADWAY (JMZ) 
Median rent: $2,650/month
Change from 2014: 9.3 percent increase
Commute to Essex: 12 minutes
Mercifully, attempts at "Stuyshwick" and "Bush-Stuy" labels haven't stuck, but Myrtle-Broadway can rightly be considered the midway point between Bushwick and Bed-Stuy. It's loud, seedier than you'd expect, and seemingly ignored by the city's street sweepers. (Seriously, the garbage-on-the-street situation is a problem.) That said, it's got multiple grocery stores, an ever-growing roster of good restaurants like recent newcomer Little Mo, DIY venues and party spaces (supposedly the Market Hotel is opening back up any day now), actual nightlife over at the Bossa Nova Civic Club, and one of the borough's best gay bars, Happy Fun Hideaway. Depending on your priorities, the pros can far outweigh the cons here.
CENTRAL AVE (M Train)
Median rent: $2,500/month
Change from 2014: 7 percent decrease
Commute to Essex: 16 minutes
This is where the M starts to branch off on its own, but as it's just a few blocks away from Myrtle-Broadway, you'll still have access to essentially the same amenities, with the added bonus of a shorter walk to Bushwick, and quieter, more peaceful neighborhood vibe.
KNICKERBOCKER (M)
Median rent: $2,675/month
Change from 2014: 4.5 percent decrease
Commute to Essex: 18 minutes
Here, you're essentially equidistant between everything that surrounds Myrtle-Broadway, Myrtle-Wyckoff, and the Dekalb L stop, meaning that you might have to walk a bit, but you'll have options. As with most areas along the JMZ, you'll definitely find some newly renovated apartments, but usually in smaller buildings rather than huge new developments.
MYRTLE-WYCKOFF (LM)
Median rent: $3,000/month
Change from 2014: 43.9 percent increase
Commute to Essex: 20 minutes
This is where the L and the M finally join forces, and as we wrote in our L train rent roundup, it's become a destination in its own right, as it's right on the Bushwick/Ridgewood border. In addition to basics like drug stores, grocery stores, and a Planet Fitness, there are plenty of cafes, bars, and restaurants to choose from (though our favorite is still the no-frills Taqueria Acatalan—formerly Taqueria El Paisa—home to some of the best tacos in the entire city). A few developers are trying to stake their claim here early (hence, the above "cloud city" condo listing), so rental options in the area are likely to include a few newer, more expensive and amenity-packed listings.
KOSCIUSZKO (J)
Median rent: Insufficient data
Commute to Essex: 13 minutes
If you're looking for apartments near the Kosciuszko stop, you'll have options in the big, majestic old buildings along Bushwick Avenue, as well as the brownstones and other smaller buildings on the other side of Broadway into Bed-Stuy. The area's an easy walk to everything around Myrtle-Broadway, but is pretty convenient in its own right when it comes to groceries, delis, dry cleaning, etc., and is a little more peaceful, too.
GATES (JZ)
Median rent: $2,450/month
Change from 2014: 2 percent increase
Commute to Essex: 14 minutes
I spent my first several years in Brooklyn living off the Gates stop, and while everything else in Bushwick seemed to change at a rapid clip,  this area, well, mostly stayed the same (other than the grocery store cobbling together a new, overpriced "organic" aisle). For the most part, prices have stayed at around the same level, as well. Again, lots of apartment options over on Bushwick and Evergreen, the latter of which is pleasantly residential and ideal for a stroll or bike ride.
HALSEY (J) 
Median rent: $2,400/month
Change from 2014: 3.8 percent decrease
Commute to Essex: 16 minutes
By the time you get to Halsey, you're pretty far out into Brooklyn, and your rent should reflect the commute accordingly. As with all parts of Broadway you're covered when it comes to the basic amenities, plus some nice green space, with Saratoga Park just a couple of blocks away from the train.
CHAUNCEY (JZ)
Median rent: $2,499/month
Change from 2014: 35 percent increase
Commute to Essex: 17 minutes
Located in Bed-Stuy's Ocean Hill neighborhood near the Evergreens Cemetery, the Chauncey stop is actually just a few blocks away from the Bushwick-Aberdeen L train, meaning you're way out in Brooklyn, but you've got pretty solid transportation options. Numerous new developments and recently renovated apartments seem to be hitting the market in the area—and StreetEasy registered lots more available apartments this year than last—which is likely explains the relatively steep increases in prices.
BROADWAY JUNCTION (JZ)
Median rent: $1,800/month
Change from 2014: 15 percent decrease
Commute to Essex: 22 minutes
As we wrote when looked at the L train data, this transit hub on the border of Bed-Stuy in East New York is still far cheaper than any of the options farther west along the JMZ or L lines. We didn't find a ton of available listings in our search, but what we did find was significantly more affordable than the rest of North Brooklyn. Besides the J and Z, you can also catch the L, C, and A trains at Broadway Junction, as well as the LIRR.
Related: 
Renting along the L train: how much you'll save the farther east you move
The 10 best NYC neighborhoods for college grads in 2015
An affordable rental in Williamsburg? Now's the time to prepare
The 8 best websites for finding a no-fee apartment in New York City
Brick Underground articles occasionally include the expertise of, or information about, advertising partners when relevant to the story. We will never promote an advertiser's product without making the relationship clear to our readers.