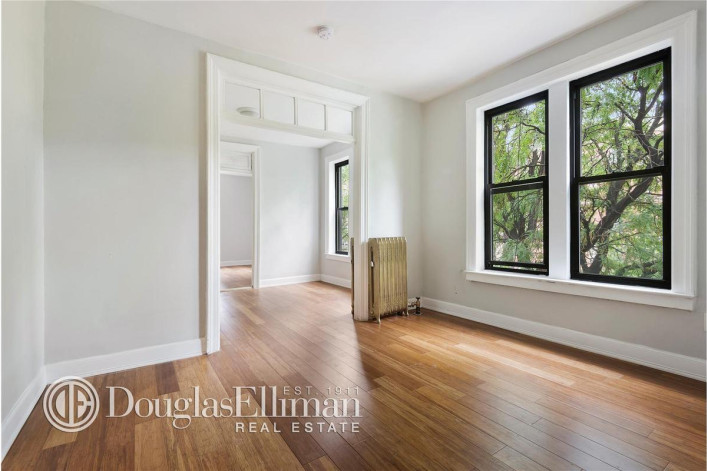 In New York's crazy real estate market, it's pretty common for prospective buyers to offer all cash and sweeten the deal with their seemingly bottomless bank accounts. And even for those who do opt for a mortgage, many drop as much on a down payment as other Americans spend on their entire house (and hey, that's only 20 to 30 percent of the cost).
Considering that the average Manhattan apartment is going for almost $2 million these days, that's a lot of greenbacks to put down at once. Though many condos will accept only 10 percent down, it's much more rare for a co-op — almost always the more affordable choice — to take a gamble like that.
"A co-op's requirements supersede the bank's requirements," says Sunny Hong, sales manager and mortgage expert at Citizens Bank. "A co-op is a corporation, so they don't want to subject themselves to any downturns." Translation? The less money a buyer pays up front, the less they're technically invested, and co-ops want tenants who are all in, so to speak.
Many variables go into the process of getting a 90 percent mortgage, too, based on your credit scores and the loan amount you're borrowing from the bank. Hong says that most banks will give out 90 percent loans, but there's a catch – you'll have to pay mortgage insurance, usually around a few hundred more a month based on the amount of the mortgage. What's more, there could also be an additional fee if your credit score isn't sparkling—usually around 700 or above. 
A lot of properties we found (though not all) are a particular kind of co-op called a Housing Development Fund Corporation, or HDFC, many of which have stringent requirements on income (usually under six figures for an individual, and sometimes stretching to mid-$100,000s for a couple or family).
Rebecca Brooksher of Warburg Realty, who's helped clients buy HDFC apartments, estimates that about half of the HDFC apartments that allow financing (many require all cash), allow down payments of just 10 percent.
"There's going to be an added fee somehow for 10 percent down co-ops," Hong adds. "It sounds good on the surface, but you're actually still paying more ...  because the bank is taking on a bigger risk." It's always a numbers game, he says, so it still might be better to buy a 10 percent down co-op and pay the extra fees.
Brooksher suggests offering 10 percent down but being willing (if you're able) to up it to 20 percent if necessary. "If a client of mine does want to make an offer with 90 percent financing, I recommend they offer 80 percent contingency, to have a competitive offer. Meaning, if their offer is accepted, they can move forward seeking 90 percent financing. But if the bank decides they can only offer 80 percent, you cannot get out of your contract," she says.
Meantime, we've done some digging for you, and have found those magical unicorns of NYC home ownership: co-ops that allow only 10 percent down payment. Most are in the outer boroughs or are way uptown, but there are a few to be had in some very desirable areas. Some have income restrictions, others don't. We suggest you take a close look below:
• 214 Bradhurst Avenue, Apartment 10, Central Harlem
Asking price: $235,000
This spacious one-bedroom (convertible to two) is old-meets-new done right with original details but updated appliances, and is perfect for someone's starter apartment. We especially love its modern kitchen and the whimsical clawfoot tub. It's an HDFC co-op, so income restrictions apply: $97,020 for individuals, $110,880 for two, $124,740 for three and $138,435 for four people.
• 7 West 92nd Street, Apartment 45, Upper West Side
Asking price: $749,000
True, this is advertised as a "fixer-upper" (interestingly, there are no pictures of any of the actual interiors), but for the price, this three-bedroom, one-bathroom co-op is a steal for the space, not to mention it's half a block from Central Park. Note: It's also an income-restricted HDFC apartment.
• 300 West 135th Street Apartment 4L, Central Harlem
Asking price: $499,000
This one-bedroom, one-bath, income-restricted co-op (household income can't exceed $150,000) has plenty going for it: a large bedroom and living room, dining area, lovely redecorated kitchen, as well as plenty of building amenities like parking, gym, laundry, Zen garden, and 24-hour concierge. The worrying part? There doesn't appear to be a window in the bathroom, which could bring on the mildew.
• 300 West 145th Street, Apartment 7N, Central Harlem
Asking price: $649,000
Ten blocks north and another $150,000 will get you this three-bedroom, two-bath income-restricted co-op (max combined household income is $215,750), built only 10 years ago. While we can't say we're wild about the latte-colored carpeting in the living room and bedrooms, the space offers a lot for the price, including a 24-hour concierge, gym, in-unit washer and dryer, and some rather nice built-in shelving.
• 529 East 12th Street, Apartment D5, East Village
Asking price: $850,000
Hold onto your hats, because this 900-square-foot three-bedroom, one-and-a-half-bath is asking only 5 percent down. Yes, you read right. Though it looks a little Jane Eyre-dark and Gothic inside (why would you photograph a listing with the blinds drawn?), there's plenty to work with here, including a bespoke kitchen, marble details, and three exposures.  It's HDFC income-restricted, too, and the income cap is $113,520 for two.
• 100 Bennett Avenue, Apartment 2H, Hudson Heights
Asking price: $745,000
It's not often you find a huge, family-friendly co-op with three bedrooms, two baths and an eat-in kitchen for under $1 million, but this Hudson Heights property delivers on all fronts.
• 415 West 57th Street, Hell's Kitchen
Asking price: $320,000
Want to live on West 57th Street, a.k.a Billionaire's Row, on a middle-class budget? You can, albeit in a Lilliputian studio with one tiny window. Hey, at least all of the appliances look rather new.
Brick Underground articles occasionally include the expertise of, or information about, advertising partners when relevant to the story. We will never promote an advertiser's product without making the relationship clear to our readers.