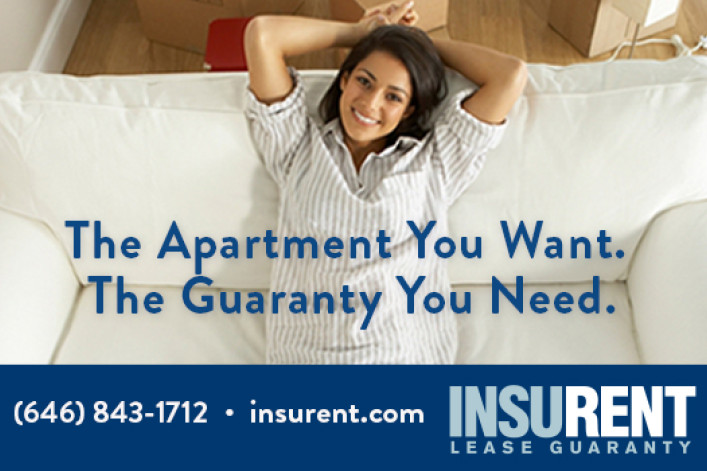 Finding a great apartment in a killer nabe at an affordable price may feel like winning the Triple Crown of New York City real estate, but to claim victory in this high-stakes derby, you need to get approved by the landlord—and that's where the race is really won.
To qualify for an apartment, New York City landlords typically demand an applicant have stellar credit and an annual income of 40 to 50 times the monthly rent (or be able to come up with a single co-signer in the metropolitan area making 80 to 100 times the rent).
That's where Insurent comes in. Accepted in over 300,000 NYC apartments, Insurent will guarantee a lease at an average cost of about 85% of a month's rent if you have U.S. credit (110% if you don't).
It's a quick and easy way to seal the deal and get on with your move to the big city.  Here, what real-life renters and brokers have to say about the program: 
• "After weeks of looking at apartments, I found the perfect place and applied, feeling relieved for the search to be over. That is, until my roommates and I were denied due to insufficient income. Our credit scores were excellent, but we could not getenough guarantor money together to secure the apartment. The building manager then suggested Insurent, spoke highly of their rapport with the company, and advised us to contact them. In less than 2 days we had our apartment. Insurent worked with us to fulfill the building's requirements, and even had people at the office in off-work hours to accept our paperwork. What a relief! They are the perfect solution for a young professional moving into Manhattan."—Rebecca W.
• "I used Insurent 3 months ago to get an incredible 3 bedroom apartment. It is the best option for recent college grads who are successful and don't want to use their parents as guarantors. The process was really easy and now I'm hopefully set for all future NYC apartments.—Zach J.
• "I just moved to NY from the West Coast. Even though my new job gave me a decent enough salary to pay for a place, I still couldn't apply for a place to live on my own because of the NY rule of having to make a salary of 40 times the rent! This was something new for me that I had never heard of. In less than half a day, …Insurent checked my credit quickly and now I can proudly say I'm living on my own!"—Carlos R M.
• "I moved to New York from another country to start a new job. I didn't have any paperwork to show aside from my letter of employment and contract. Initially, I couldn't apply for an apartment due to the lack of paperwork. But with Insurent, we got our dream apartment!"—Genevieve K. 
• "Insurent was great! As a recent graduate applying with a couple of roommates, our application was reviewed and approved within hours. It was such a relief not having to worry about the ridiculously high income quotas required by all the NYC landlords!"— John C.
• "I'm a broker in New York City. The rental market in the city is nothing like anywhere else in the world. In the past, I had a problem qualifying some of my clients, that is until Insurent came along… I've had the pleasure of saving a few deals with them and all I can say is, thank you for making it such a simple and painless process and helping my clients get their dream home. I look forward to working with you in the future."—Danielle R.
• "I had a client from Puerto Rico, and even though his parents were American citizens, a major US landlord would not accept them as guarantors. We called Insurent in the morning and literally within 45 minutes of our providing the most basic of information, we had approval. They contacted the landlord, who then immediately approved the lease. It was an amazingly quick, simple process. The deal would not have gotten done without Insurent. Absolutely THE BEST."—R. Beacham 
Want to know if Insurent will work for you? Click here to apply online and find out whether you're approved in about an hour; the guaranty is usually delivered to your landlord within 24 hours.
Click here to view the buildings and landlords that accept the Insurent Program.
---
Insurent Lease Guaranty is the first and only institutional guarantor of residential leases in New York City. To qualify and get the apartment you want, visit www.insurent.com or call 646-843-1712.
Brick Underground articles occasionally include the expertise of, or information about, advertising partners when relevant to the story. We will never promote an advertiser's product without making the relationship clear to our readers.