Neighborhood Intel
Enough already with the coffee shops, and other insights from a Crown Heights lifer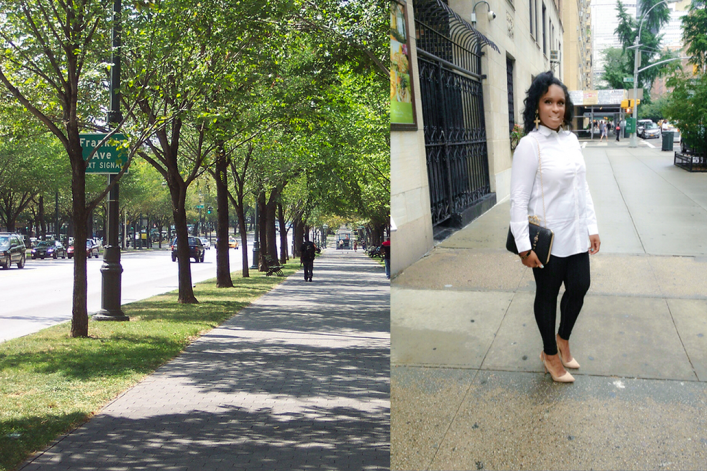 While Crown Heights has been the subject of many a trend piece in the past few years, few people know it better than Ayanna Prescod. A lifelong resident of the neighborhood, Prescod is also the editor behind OurBKSocial, a site that covers Brooklyn development, news, style, food, and nightlife. For a much-needed dose of reality amidst all the hype, we checked in with Prescod about pushy brokers, her advice to newcomers, the upside to that new Starbucks on Franklin, and more:
What was it like growing up in Crown Heights?
Growing up in Crown Heights was always an adventure. On my block in particular, as kids, my neighbors and I all played together. Our families knew each other and respected each other. We all looked out for one another. If I was in trouble with my neighbors' mother, I was then in trouble with my own mother. When it wasn't about homework or "before the street lights came on" we were outside playing games, talking about life and our goals for the future. Now those people I spent most of my time with are no longer living here.
Can you pinpoint an exact moment when you thought, "the neighborhood is changing"? 
Believe it or not, when they started building the Dunkin Donuts on the corner of Nostrand Avenue and Eastern Parkway in summer 2009, I knew the neighborhood was about to have a major makeover. From there I began to see new faces moving in slowly, and new businesses, specifically coffee shops and bars, popping up.
Around what year did gentrification really start to take hold?
I want to say shortly after the 9/11 attacks, I began to see more of a change in Crown Heights. It has picked up significantly in the last 10 years.
Over the years, how has the neighborhood's increased popularity—and increased prices—affected your family?
Besides my favorite local shops closing down and friends being displaced, I find myself having to travel longer distances to places that cater to my culture, which is upsetting. For instance, there are a few still standing beauty supply shops Downtown Brooklyn on Fulton Avenue that I have to travel to in order to purchase natural products for my skin and hair. But those are also in question as Fulton Street is changing extremely quickly. 
These new shops in Crown Heights are appealing to the newcomers and not the people who have been here and are not going anywhere. Like ANOTHER coffee shop is getting ready to open on Rogers Avenue. Really? How much coffee and bagels does the neighborhood need?
What about your friends—have most people stayed, or have they had to leave?
A majority of the people I grew up with on my block are no longer here. They either moved to the south or other more reasonably priced parts of New York. It's extremely sad to see families I grew up with have to leave to make room for families who don't even have the desire to get to know you.
You talked to Gothamist recently about pushy brokers constantly offering to buy your family's home. What's the most brazen pitch you've ever had?
Well my home is constantly receiving flyers with offers to buy my home. It hasn't been more pushy than that. But my cousin who also owns a home a few blocks away (in Crown Heights) had a man ring the doorbell and say, "I want this house for my family." Bold... Just bold... 
Have there been any positive changes to come out of Crown Heights' rapid gentrification?
At the beginning it was a lot more diversity, which is always great. Now, not so much so. 
Have any neighborhood businesses closed that you're still mourning?
Oh man, this list could get overwhelming! Several fruit stands I was accustomed to visiting, where the staff knew everything I wanted. One in particular on Nostrand Avenue between Eastern Parkway and Lincoln Place. Also a nail salon where their eyebrow specialist was the best in Brooklyn. Never have my eyebrows been the same. Discount stores and beauty supply shops that carried everything I needed at reasonable prices. Feeding Tree Restaurant (which was there before Lula Bagels) would feed the poor after hours every night with all their leftover food. These places were affordable, friendly, concerned about the neighborhood. The places coming into the neighborhood are overpriced, and have yet to build a "family" mentality with repeat customers.
What about your favorite new spots in the neighborhood?
I always wanted a Starbucks in my neighborhood. It's my favorite coffee (sorry, small businesses)! So when the Starbucks on Franklin Avenue and Eastern Parkway finally opened, I was probably like a kid in a candy store.
I also enjoy the avocado, egg and tomato sandwich at Lula Bagel on Nostrand Avenue and Lincoln Place.
There's a small Mexican Restaurant next door to Lula Bagel, Chicka, that has been on my hit list. I mean, you don't have to pay extra for guacamole! Score! Their fish tacos are impeccable! (They recently had a small fire, not sure if they opened back up yet.) [Ed note: according to their website, Chicka is still closed for repairs.]
What would you tell someone new moving into the neighborhood?
It's a neighborhood. Get to know the people, the history and the culture. There's room for everyone but don't have a "takeover" mentality. Don't move into a neighborhood just because it's changing. Move into the neighborhood because you can see yourself living in the community at the present moment. Crown Heights has always been an amazing place to live. There's more to it than a few overpriced coffee shops and bars.
And to business owners who plan to move into Crown Heights, see what the neighborhood is lacking. Conduct focus groups and a needs analysis to see if your business is right for the community. Because another coffee shop is so not needed.   
Related:
$800,000 in Crown Heights will (still) get you far
What happens when your neighborhood becomes a historic district?
Bushwick Daily: Locals love free beer and cheap tacos, but don't call them "settlers"
The Bed-Stuy Blog: Why the neighborhood needs better bagels, but will never be "the next Williamsburg"
Brick Underground articles occasionally include the expertise of, or information about, advertising partners when relevant to the story. We will never promote an advertiser's product without making the relationship clear to our readers.