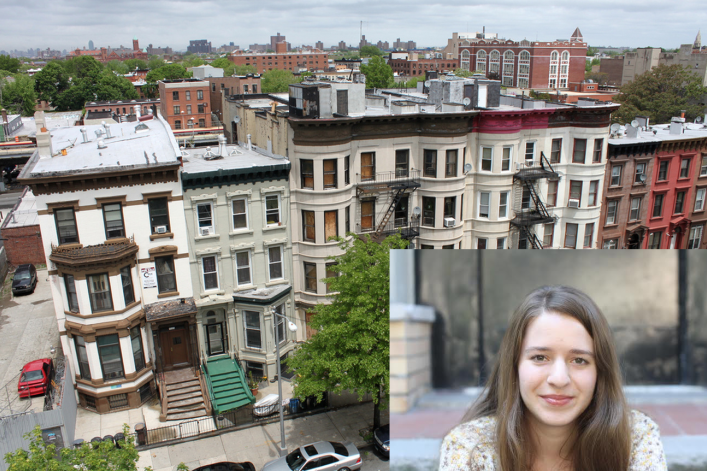 One of the best ways to get a feel for a place is by reading a neighborhood's blog. In our Confessions of a Neighborhood Blogger series, we speak to the writers who chronicle the controversies, preoccupations and happenings of their chosen slice of the city. 
We're always on the hunt for new neighborhood blogs to help us get our New York news at the micro-level, and recently, journalist Emily Nonko stepped up to the  plate, launching The Bed Stuy Blog in late March.  Having written for publications including the Wall Street Journal and Brownstoner, Nonko's now turning her attentions to her own Brooklyn neighborhood, and  chatted with us about where you can still find a cheap apartment, the area's architectural gems (and architectural disasters), the best place to grab a cocktail, and more:
What inspired you to start a blog about Bed-Stuy?
For many years I wrote for Brownstoner, and really fell in love with the blog format. It allows you to cover types of news that major media outlets are missing, and it's much more connected to its readers and how they're living in their neighborhood. So I've been writing about Bed-Stuy for awhile, but in the greater context of Brooklyn. Once I moved to Bed-Stuy, I couldn't figure out why there wasn't a site dedicated to this neighborhood alone. There's such an amazing community here, and it felt natural that there should be a one-stop shop for local news, events—whatever people want to hear about. The neighborhood is also going through an incredible amount of change and I thought that it would make sense to document that, as well as resident's concerns and hopes about these changes. 
What other sources do you look to for news in the neighborhood?
Both Brownstoner and DNAinfo do a great job. I also like the
Brooklynian
forums. In most of the major outlets, however, you see a lot of crime coverage for this area, and that's not what I'm interested in focusing on.
What would you tell someone moving in?
You're moving into a neighborhood with an incredibly strong existing community. People say hello to strangers here, and neighbors know each other. Many of the homeowners have lived here and invested in this neighborhood way before the Bed-Stuy hype came around. You'll get the most out of Bed-Stuy if you connect with the people around you, show up to an occasional community board meeting, visit the local businesses, and talk to people about the neighborhood.
Where are the best deals in the neighborhood in terms of real estate? What about in terms of dining/entertainment?
Sadly, it's difficult to buy in Bed-Stuy these days. Brownstones are going for $1 million or more, and the demand from buyers doesn't really show any signs of slowing. The rental market is more approachable. I found a very affordable one-bedroom in the neighborhood through Craigslist, but it was still a rough search. I know a lot of people renting cheaply because they know the owner of the property, or they share with roommates. It's definitely still an affordable neighborhood for apartment shares, especially closer to the border of Bushwick.
As for dining, I love Peaches HotHouse! You can eat so well there without spending tons of money. I also buy my wine at Olivino — on Tuesdays, there's a 10 percent discount if you purchase two or more bottles. Bed Vyne Brew and Black Swan are my two favorite places to go out in the neighborhood for beers.
 What's the most coveted location within the neighborhood to live?
I think younger renters tend to look around Bedford and Franklin avenues, where there are more bars and restaurants. But the best location of Bed-Stuy, hands down, is the Stuyvesant Heights Historic District. I'm the type of person who loves to be surrounded by great architecture. Stuyvesant Heights has some of the best, not just in the neighborhood, but in all of Brooklyn. And I'm not just saying that because I live here! A lot of people don't realize the incredible variety of buildings in Bed-Stuy. People like Brooklyn Heights or Fort Greene because there are rows of brownstones. I get it. But Bed-Stuy has the most eclectic collection of 19th century residential architecture, and I think it's a lot more fun.
Is there a dream building in the neighborhood?
Yes! Can I give you 20? Or how about just one block? My favorite block in all of Brooklyn is Hancock between Tompkins and Marcy. The architecture that lines that block is stunning. My favorite building — not just in Bed-Stuy, but in the borough — is 246-242 Hancock Street, which was designed by the architect Montrose Morris. It's actually separate properties that were brilliantly designed to look like a much larger home. The property isn't in perfect condition, but there's something about it that stops me in my tracks every time.
Any buildings that feel out of place with the feel of the neighborhood?
That's a huge concern in the neighborhood right now. The newer buildings coming in are usually out-of-context and, as many would say, pretty ugly. The Stuyvesant East Preservation Action League recently started documenting these new developments in an attempt to dissuade building design that doesn't really fit in with the neighborhood.
That's another reason I wanted to start the blog — to start calling out these ugly new developments. I'm calling those installments "Bed Stugly," and I have a huge backlog of photos of these buildings that I need to get through.
 Any real estate-related controversy brewing or currently happening in the neighborhood?
Gentrification is obviously a huge concern when you have homes selling for millions of dollars. Prices that high really threaten to change the fabric of the neighborhood. There's also lots of concern about the numerous bars and restaurants that want to move in — many Bed-Stuy residents want to be sure that the residential streets stay relatively quiet. There's a lot of talk about not wanting the neighborhood to become the next Williamsburg.
How has the neighborhood changed in the past five years? Any projections on how it will change in the next five?
Five years ago, I was just starting to write about Brooklyn. That wasn't too long ago but there still have been so many changes. In the past five years, there have been incredible strides in landmarking the neighborhood. We got Select Bus Service along Nostrand Avenue; before that, the thoroughfare was a total mess. There are cocktail bars now open here. The real estate prices skyrocketed. And you can catch a green cab along Marcus Garvey Boulevard!
The next five years will be really interesting. I think we'll see more of Bed-Stuy landmarked. More businesses opening, for sure. The Community Board puts a lot of thought into the changes coming to the neighborhood, so they will remain an active presence. I think the prices will continue to rise, and that this mansion [on the market on Hancock] will set a crazy record for the neighborhood.
What do you think your "sister" neighborhood might be?
I moved to Bed-Stuy from Crown Heights. The neighborhoods are similar in a lot of ways, including the architecture, commercial growth, and the rising real estate prices. When I lived in Crown Heights, I saw Franklin Avenue transformed into this nightlife destination with a Starbucks open on the corner. I always loved Bed-Stuy so it was a natural place to settle after Crown Heights. I hope the pace of change doesn't completely mirror Crown Heights', however, because I want to stay settled in this neighborhood.
Which neighborhood feels like the opposite of your neighborhood?
While there are those who worry that Bed-Stuy could become something like Williamsburg, I think the neighborhoods are dramatically different. In Williamsburg, development rules. Change is rapid, it's everywhere you look, and I think that it has lost some community along the way. Bed-Stuy is not moving that fast. The community is deeply ingrained and invested in the neighborhood. Also, zoning ensures that new buildings are modest compared to the towers that have gone up in Williamsburg.
What is one of the biggest misconceptions about the neighborhood?
I recently overheard a young broker speaking with someone who asked about Bed-Stuy. "It's kind of a bad neighborhood," he said, and the conversation was done. I HATE that that is a conversation people are having — but if you're the type of person who believes everything a real estate broker tells you, I don't want you moving to my neighborhood, anyway.
People assume things about Bed-Stuy without ever coming here. They don't know about these amazing blocks of architecture, the people that live here and love their neighborhood, the local businesses, the walking tours, the community gardens, the greenest block competitions, the fried chicken at Peaches, the guys that sell flowers out of their truck every day on this corner of Throop. Simply put, there's a lot of great stuff happening, and you'd be crazy to say "I heard it's a bad neighborhood, it's not worth checking out."
Many New York institutions are shuttering. What recent Bed-Stuy closures shocked you?
You know, Bed-Stuy is a little different. In my opinion, we have lots of vacant storefronts along the main drags of east Bed Stuy that are waiting to be filled. I'm not an expert on commercial rents around here, but from what I can see, this is still a neighborhood where a small business can survive, and will be supported. I know Bedford Avenue is a somewhat different story, as the growth there is faster. Last year, a famous barbershop closed on Bedford Avenue after 70 years in business due to rising rents.
What new places in the neighborhood should we check out?
Bed Vyne Cocktail is my favorite new spot. The owner also owns Bed Vyne Brew and Bed Vyne Wine. All three places are neighborhood institutions that attract pretty much everyone in the area. Casablanca serves a mean cocktail, too, and the atmosphere is great in there. Lackawanna Coffee is another great small business owned by a local resident; it's both a cafe and a boutique. And there's a new juice bar on Throop and Halsey that I really like.
What is the neighborhood missing—any service or amenity you'd like to see?
Bagels! I would love a great bagel place. And a bookstore. I also want better C train service — it's ridiculous how bad this train is, given how many people live along the line. Thankfully, Rider's Alliance is doing some great work to fight for better service.
Related: 
The best NYC neighborhood blogs: 2015 edition
Bushwick Daily: locals love free beer and cheap tacos, but don't call them "settlers"
This Brooklynite wants cheap rent—and he's willing to renovate for it
More affordable housing options, including one in Clinton Hill with "reflecting pools with cabanas"
Brick Underground articles occasionally include the expertise of, or information about, advertising partners when relevant to the story. We will never promote an advertiser's product without making the relationship clear to our readers.