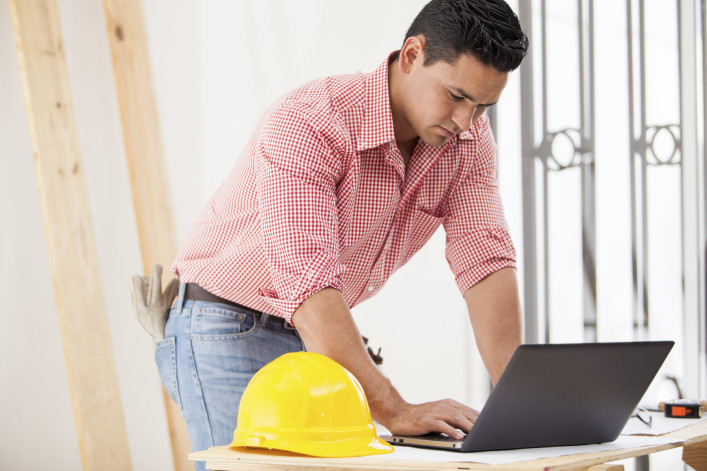 It's probably the truest cliché in the homeowners' handbook: There are few things more stressful or disruptive than a renovation. So, what can you do to mitigate the trauma? Anybody who has gone through a remodel will tell you that it begins and ends with hiring the right contractor. We talked to the pros to get their take on their own industry, and how to vet your candidates.
First things first:  "You  need to cross a very basic box off the checklist: make sure that your contractor is licensed as a home improvement contractor in NYC — if you already have the name of a contractor, you can search for his or her license at IsMyGClegit.com," says Jean Brownhill Lauer, founder and CEO of Sweeten, a New York City-based online matchmaking service that handpicks renovation experts for residential renovations.
Here are some pointers from our renovation experts that will steer you in the right direction.
1. They must be punctual and responsive.
"They must be on time for meetings and prompt returning calls and emails (i.e. respond within only a few hours)." — Jeff Streich, owner, Prime Renovations
"Take note if they return your initial connection attempt within a reasonable amount of time. Are they on time to your initial meeting and keep all meeting times?" —David Przywara, contractor, Crafted Home NY
"Punctuality and preparedness —  those are the first indicators renovators get.  Was the contractor on-time and did they have proper materials like brochures and measuring tape? And also, do they get the proposal to the client by the time they said they would?"  —Ben Pitt, remodeling consultant, MyHome Design and Remodeling
2. They should be transparent — about costs and past experience.
"Contractors should demonstrate a willingness to show their work and give new clients the opportunity to speak with past clients. They should  also be willing to pass on discounts from suppliers to their clients. If we both agree to move forward, I offer a free design of a designated portion of the space with guaranteed pricing. This is to show what we are capable of doing and what it will cost to hire us. And nothing is hidden in my pricing — it is rare that I have a change order, unless the client changes their mind." —Streich
"Avoid those who over-promise and under-deliver. Being upfront about pricing/ pricing schedule is one good indicator. But also judge your experience with the first consultation and the second meeting when ordering materials is discussed.  Was the contractor promising me lots of 'extras' but not giving specifics, like additional costs ?" —Pitt
3. Professionalism is key.
"Do they have all necessary insurance and licenses [for the various trades that will be used on the project]? Do they have good staff? For example we have one person who is responsible for all orders, to make sure the client orders everything correctly."  —Streich
"Ask yourself if they are running their business in a way that makes you feel like it's professional.  You should expect a sound business structure. How long have they been running their business and have they managed similar projects? This is different from actually doing the work. Managing a project and hammering a nail are very different things. Do they have a team or is it one guy and a hammer?"  —Przywara
4. They should not be "yes" men — and go the extra mile

"I run my business like we are consultants for the clients — not a plumber that just looks at your project and throws you a quick estimate. Contractors should ask appropriate and challenging questions that make you think about what you want to do. They try to educate you about the process." —Przywara

"There are contractors and there are installers. Good contractors will help in every facet of the project, from alteration agreements to ordering supplies.  Installers, on the other hand, will only install what you give them and not really help with the overall project. Ask how they handle change orders. Avoid someone who tells you what you want to hear —  which is usually about how long the job will take.  This is why you should get multiple estimates to compare in terms of work scope and time. If it sounds too good to be true, it will take double or triple the time." —Streich
5. You need to be comfortable with them.

"They should be polite, attentive. The contractor or designer should be listening to the clients needs, not pushing his or her own agenda." —Pitt
"If you are doing a medium to major renovation, you will talk to the contractor very frequently. When you first meet, you need to get a feel for what the future will be like working with them. It's a job interview and you are the interviewer —  Do you want to work with this person for the next several months? They don't have to be your best friend, but there is a balance between just getting the work done and working with you. You will be the boss, is this going to be a good 'employee?'" —Przywara
Related:
5 pro tips to keep the peace with your contractor
Avoid our mistakes: A brownstoner's advice for picking a contractor
New Yorkers' biggest home improvement delusions
Renovate without conflict: Why notifying your neighbors helps, plus 3 sample letters that worked
Brick Underground articles occasionally include the expertise of, or information about, advertising partners when relevant to the story. We will never promote an advertiser's product without making the relationship clear to our readers.