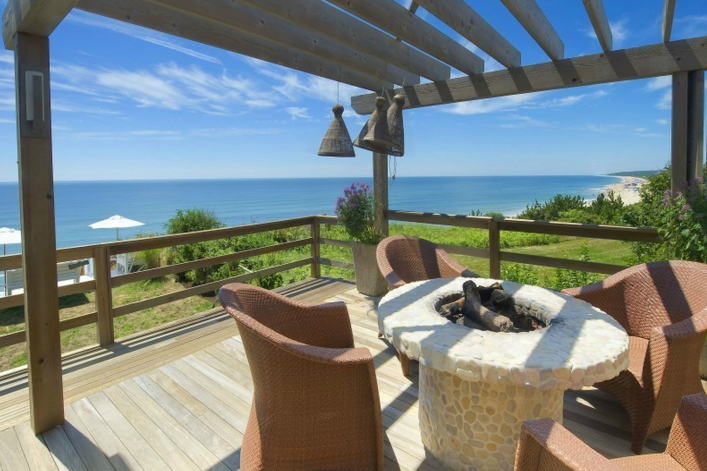 Last week, we put together a guide to Hamptons short-term rentals for the noncommittal (or  non-multi-millionaire?) summer renters out there. This week, we're diving headfirst into the old-school option: the month- or season-long Hamptons house. 
Of course, even if money is no object (no need to rub it in), this is easier said than done. Finding a rental on the East End is a different beast from apartment-hunting in the city, and can leave even veteran renters ill-prepared. Below, our tips:
WHEN TO LOOK (hint: ASAP)
If you're just starting to plot your Hamptons summer now, you could already be behind the curve. "The best time to start looking is usually right after the new year," says Jordan Daniel, an East Hampton-based agent with Douglas Elliman, who adds, that an April search would normally be considered last-minute. There will still be houses available if you do your search in the spring or even early in the summer, but you'll have fewer options to choose from. 
However, this polar vortex is actually a boon to stragglers; thanks to the snow that's been piling up and interrupting potential showings, there are far more rentals left than usual, notes Daniel. "Any other year I would say the prime time is January or February," he says, "But there's still quite a bit left and a lot of owners who have normally rented out their homes still have places available."
WHERE TO LOOK, AND HOW TO HANDLE THE HUNT
Even compared to the city's unwieldy apartment-hunting gauntlet, the Hamptons can feel like the Wild West. The most comprehensive, if hard-to-navigate, source for brokered rentals is Hamptons Real Estate Online (HREO.com). Prepare to dig around: Daniel notes that since brokers don't have exclusive listings in the Hamptons, "every rental is an open listing, so the same place might show up 8 times." StreetEasy also has a section for Hamptons listings, and you can search directly on brokerage sites like Douglas Elliman, Brown Harris Stevens, Saunders, Town and Country, Corcoran, and Sotheby's Homes, as well.
If you'd prefer to work with a broker (or more likely, work with several WHY?), there's one big bonus the Hamptons have over the city: out there, owners pay the broker's fee (generally around 10 percent of the total price), so you'll be getting help finding a summer home completely free of charge. (If you'd rather handle the search on your own, some of the properties listed on short-term rental sites are available for longer stints.)
As for the search itself, most brokers do recommend trekking to Long Island to house-hunt in person. "You should understand the home's location within the town, the layout of the house, etc.," says Daniel. But If you absolutely can't hop on LIRR (or the Jitney), though, there are ways to get creative. If that's not possible, go the extra mile via your Smartphone or laptop. For a client based in California, Mala Sander, a Corcoran Hamptons broker, "FaceTimed her from each listing" to narrow down the options.
In any case, if you've done your research and no red flags were raised, act fast. "Since brokers don't have exclusives, they don't always have control [over the process]," says Keller Williams broker Adina Azarian, who resides in the Hamptons year-round. "Someone can come right behind you and put down a deposit."​
HOW MUCH YOU'LL PAY
Suffice it to say, prices vary. "You can get something for $10,000 a month, you can get something for $100,000 a month, or you can get something for $100,000 for a week," says Sander. Indeed, a cursory search of Memorial Day to Labor Day 4-bedroom rentals on StreetEasy turned up one option for $75,000 for the season, and another for $650,000. "Our average [full-season] rental last year was $58,000," Andrew Saunders, founder of longtime Hamptons brokerage Saunders & Associates. "The big misinterpretation of the Hamptons is that it's all about these headline-making $1 million-a-season transactions, but that doesn't represent the critical mass of rentals" adds Saunders. Naturally, prices vary by neighborhood, bedroom and bathroom count, location, and amenities—if you're hoping to save cash, skip the pool and opt for something farther away from the beach.
"For example, there's a neighborhood in East Hampton called Northwest woods," says Azarian. "It's cheaper than being south of the highway [and closer to the water], but the closer you are to town, the more expensive the house will be." While an area like Amagansett that's closer to the water will likely command higher prices—around $60,000 for a full-season rental in a 3-bedroom with a pool, says Daniel—take your search to East Hampton, and "you can find a really nice three-bedroom for $30K or $35K," he adds. 
Keep in mind that prices will also vary based on when you rent. For renters not opting to stay the entire summer, August is the most popular (and thus the most expensive) season, followed by July (which is cheaper but gaining in popularity, says Saunders), and June, the most budget-friendly time to rent. "If I'm looking for something in June that's in the $12,000 range, in August, the same place would be more like $18,000 and up," says Town Real Estate agent, and frequent Hamptons renter, David Gomez Pearlberg. As a rule of thumb, Saunders notes that that you can expect the price of an August rental to run about 50 percent of what the full season in the same place would cost. If you're able to get away in September, prices for rentals plummet post-Labor Day, and the weather's still conducive to whiling away entire days on the beach (or poolside).
THE INEVITABLE EXTRA EXPENSES
There's one major extra cost to take into account: the "utilities deposit." In addition to a standard security deposit, almost all Hamptons rentals require a utilities deposit that will cover the cost of electricity, cable, pool heating, landscaping, pool maintenance, and air conditioning, all to be paid up front. "I generally give a ballpark estimate that the utilities deposit will be 10 percent of the total rental price," says Sander. This helps landlords protect themselves against renters blithely running the A/C 24 hours a day, and you're not likely to get any of it back, unless you really scrimp on your use of the facilities.
Be prepared to pay all of this up front, as most Hamptons landlords will want your utilities and security deposit and your lease paid up in advance. It's a lot of cash to pay all at once, but there's one silver lining: Since they're already getting your money before you move in, Hamptons landlords generally don't require things like bank statements, pay stubs, etc., so no need to come to viewings with a stack of paperwork in tow. 
As we mentioned last week, most Hamptons beaches require parking passes, which cost $375 apiece, and sell out early after they become available in February. "It would be wise to get your beach pass immediately if you know for sure what area you're renting in," advises Azarian. These can generally be acquired from local authorities, though check with your broker or landlord for the correct protocol in your specific town.
THE FINE PRINT
Besides the usual factors you'd check for in a rental hunt—general cleanliness, water pressure, etc.—summer rentals come with an extra set of details to consider.
Most summer rentals come furnished and with linens included (though be sure to check), and you'll also want to inquire whether the home has central air, heating for the pool (no use in a pool that's too cold to use most of the time), an outdoor grill (if you plan on hosting barbecues), the option to bring in a cleaning service (for long-term stays), wifi, cable, and good cell phone service. "Some areas out here are dead zones," says Daniel, "And a lot of tenants want to make sure they'll have decent cell coverage."
Parents renting with children in tow should also inquire about a rental's level of childproofing (or lack thereof), and the option to put up a safety gate around the pool.
WHERE TO FIND A BARGAIN
While you're not too likely to find something cheap in famously upscale areas like Sagaponack, Bridgehampton, or Southampton (which has a street known as "Billionaire Lane," if that gives you an idea of the situation ), whatever part of Long Island you're looking in, there's one major rule of thumb to keep in mind: the farther you are from the water, the less you're likely to pay. 
In a lot of Hamptons neighborhoods, this means looking for rentals north of the main highway. "The highway is the big demarcation line," says Saunders. "South of the highway is closer to the water," and therefore more expensive, he explains. "On the cheaper side you're going to have to be willing to drive from wherever to the closest beach," adds Sander. Keep an eye on the wording in listings, which often specify whether a home is north or south of the highway. While Montauk has long since ceased to be a sleepy hamlet for bargain hunters, northern neighborhoods like Springs, North Haven, and North Sea still have reasonable deals for renters. (If you want to save even more money, there's always the North Fork.)
In addition to location, rental prices are also based on size and amenities, notes Daniel, so if you're dead set on something within walking distance from the ocean, it may be time to give up dreams of that heated private pool (or tennis court). ​But keep in mind that areas farther east are significantly longer drives from the city (especially with the inevitable traffic), so if you're going to be regularly commuting instead of shacking up for the full month, it may be worth looking into options in western neighborhoods like Westhampton, Quogue, or even East Quogue that are a comparatively close drive back to the five boroughs.
Related:
Hamptons a la carte: how to pull off a short-term rental on the East End
Is the North Fork still the affordable anti-Hamptons hot spot?
The Real Housewives' Luann De Lesseps on summer hosting and where to shop home decor
The price of a Manhattan one-bedroom goes surprisingly far in the Hamptons
The Bronx's seaside oasis: City Island
I'm looking to buy a summer place in the Rockaways. What do I need to know?
Brick Underground articles occasionally include the expertise of, or information about, advertising partners when relevant to the story. We will never promote an advertiser's product without making the relationship clear to our readers.