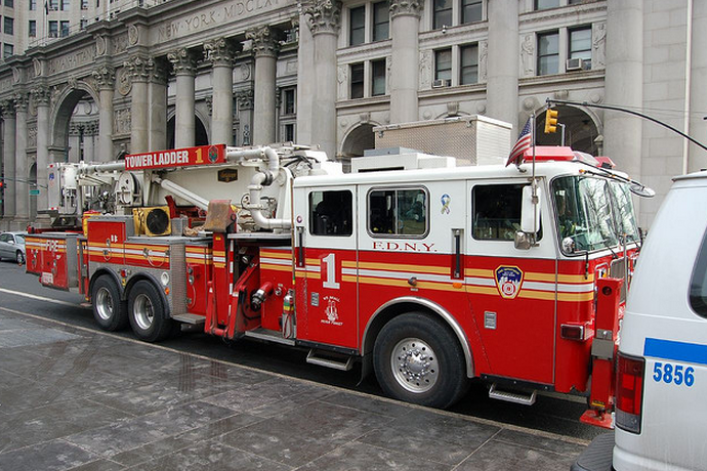 Lately, it seems like there have been a lot of horrifying apartment fires in the news. Just this week, a blaze thought to be the result of a faulty extension cord killed a Dutch artist and his dog in their East Village apartment, according to DNAinfo. It's all a rather unwelcome reminder that fires actually become more of a hazard when it's freezing out, and we're all plugging in extra appliances to stay warm.
In the interest of safely riding out these last few freezing weeks of winter, no time like the present to review key fire safety tips for your apartment:
Besides making sure you're not cramming all of your appliances into a lone outlet, you'll also want to make sure you're not overloading the voltage. Check to see how many amps of electricity yours supports (15 is standard, but varies), and don't put in a combination of appliances that'll take the voltage count over this amount.
Opt for a quality surge protector—not the cheapest thing at your local hardware store—with an Underwriters Laboratories mark, which indicates that it's been safety tested by a consumer protection organization.
Sometimes a nest of cords is inevitable, but whatever you do, keep them tidy. The FDNY advises against letting extension cords get pinched against furniture, hanging them from nails, or running them near especially flammable items like rugs or your stack of un-read New Yorkers. (A frayed-looking extension cord is a cord that should be replaced ASAP.) Lots of devices are now on the market—for instance, the CableCube—to help keep your excess wiring neat, safe, and out of sight.
If you're using a space heater, choose one that's been approved for indoor use, and keep it well out of range from any "combustible" materials like curtains and clothes—at least three feet, per the FDNY.
An oldie but a goodie: make sure you've got smoke detectors installed in each room—and within at least 10 feet of any area used for sleeping—and test them often. Or, if you're a renter, make sure your landlord has done this, as they're legally obligated to.
Related: 
Fire alert: is your electrical outlet a hazard? Find out
After a fire in a cluttered Harlem apartment, how to protect yourself
8 questions you must ask before buying renters insurance (sponsored)
Brick Underground articles occasionally include the expertise of, or information about, advertising partners when relevant to the story. We will never promote an advertiser's product without making the relationship clear to our readers.