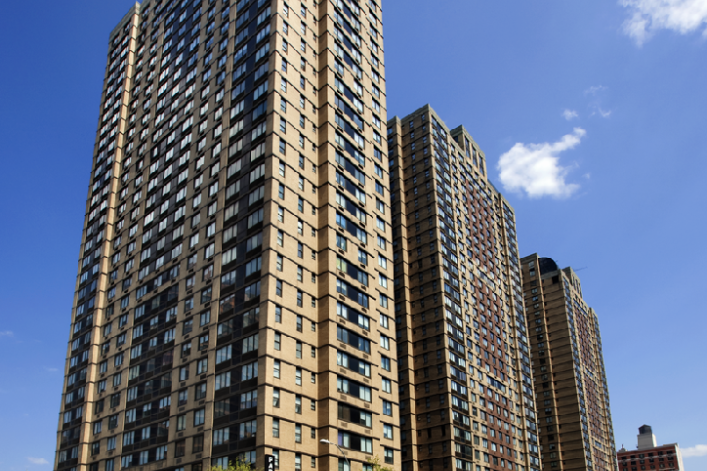 A lot of New Yorkers will pay a premium to live in an elevator building, but when your apartment's lift goes on the fritz, well, things can get ugly. Such is the case at Upper East Side rental complex Normandie Court, where broken elevators in one of its 34-story towers have residents waiting in line for up to 45 minutes for a ride to the top, DNAinfo reports.
Elevators at 215 East 95th Street (where one-bedroom rents are upwards of $3,200 a month) haven't been replaced since the building went up three decades ago, and three of 12 of them have been down for repairs for the past few months. Residents says sometimes none of the building's elevators are working, period. Not exactly ideal if you live on one of the higher-up floors, or just want to take a load of clothes to the laundry room. (To avoid this situation entirely, you can look up elevator wait times at different buildings online.)
We spoke with a resident of a different Normandie Court tower, who told us that her building (at 225 East 95th Street) also had serious problems. "I've had to wait upwards of 15 to 20 minutes for an elevator, and they're not even working on ours," she said. "I've also gotten stuck on elevators and had to use the emergency button to call for help. At this point, even just getting the elevator to shut all the way so that it can open on a floor can be a hassle—it's funny to see people band together to push the door closed or try holding the 'door close' button to make it work." 
One bright spot: the landlords are trying to do right by the fed-up residents, and are offering the option to either break their leases with no penalty (with 30 days notice), or renew at a lower-than-market-rate rent. Our tipster says she hasn't received any notifications about the possibility of a break on rent, but notes that the building has set up benches in front of the elevators with the longest waits. And suddenly, life in a walk-up is starting to look better and better.
Related: 
You're not crazy: most elevator "close" buttons don't work (plus, a solution)
Why high rise living may not be all it's cracked up to be
Is your elevator too slow? Find out
How much extra will it cost to live in an elevator building?
Brick Underground articles occasionally include the expertise of, or information about, advertising partners when relevant to the story. We will never promote an advertiser's product without making the relationship clear to our readers.